Item Specification
Product Description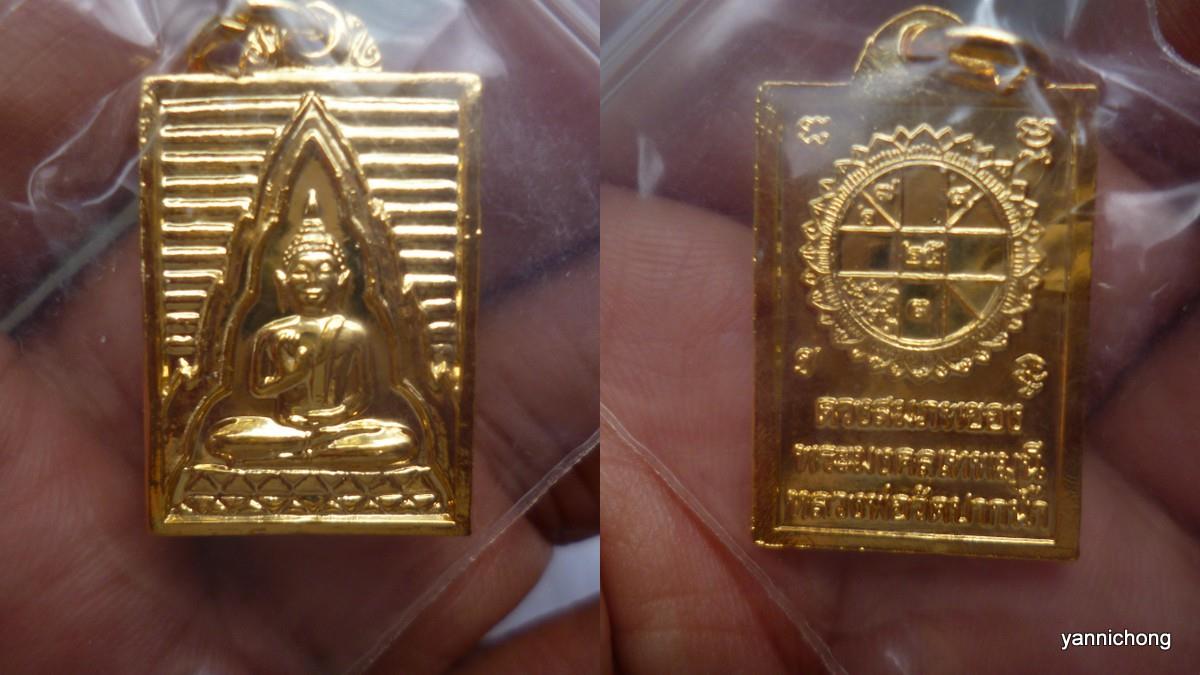 WAT PAKNAM BUDDHA
GOLD PLATED
Wat Paknam Bhasicharoen, sometime spelled as Wat Paknam Phasi Charoen, commonly called Wat Paknam, is a royal temple located in Phasi Charoen district, Bangkok. Wat Paknam belongs to MahayanaNikaya fraternity and is the origin of the Dhammakaya Movement. It is a large temple which is quite popular and well-supported by a prosperous community of high social class.
Wat Paknam was built in the Ayutthaya period or around 400 years ago. The temple became widely known because of the meditation master Luang Pu Sodh Candasaro, who was abbot there in the first half of the twentieth century. Somdet Chuang Varapuñño became the new abbot after Luang Pu Sodh's death. When he was appointed as Supreme Patriarch (acting head of the Thai monastic community) in 2015, he made international headlines but he was finally withdrawn. The appointment was interpreted as political which has led to debate and protests in Thailand. \
Luang Pu Sodh Candasaro (10 October 1884 – 3 February 1959), also known as Phramongkolthepmuni (Thai: พระมงคลเทพมุนี), was the abbot of Wat Paknam Bhasicharoen from 1916 until his death in 1959.[note 2] He founded the Thai Dhammakaya meditation school in the early 20th century. As the former abbot of Wat Paknam Bhasicharoen, he is often called Luang Pu Wat Paknam, meaning 'the Venerable Father of Wat Paknam'. He became a well-known meditation master during the interbellum and the Second World War, and played a significant role in developing Thai Buddhism during that period.[6] He is considered by the Dhammakaya Movement to have rediscovered Vijja Dhammakaya, a meditation method believed to have been used by the Buddha himself. Since the 2000s, some scholars have pointed out that Luang Pu Sodh also played an important role in introducing Theravada Buddhism in the West, a point previously overlooked.


---
PAYMENTS THRU MAYBANK TRANSFERS, OVERSEAS BUYER , PAYPAL OR WESTERN UNION.FOR OVERSEAS BUYER PLEASE CONFIRM WHICH TYPE OF PAYMENT.
DELIVERY THRU POSLAJU , FOR LOCAL TOWN , P. MALAYSIA CHARGES ARE RM9. 00 AND EAST MALAYSIA IS RM11.00 FOR NORMAL BELOW 500 GRAMS MAILING. ABOVE 501 GRAMS , POS LAJU CHARGES ARE AS ACCORDING TO POS LAJU RATES.
FOR OUT SIDE MALAYSIA , SHIPPING CHARGES AS ACCORDING TO POST OFFICE .
PLEASE DO INQUIRE , COMMUNICATE WITH ME , IF YOU ARE NOT SURE ABOUT THE ITEMS, OR ANY MATTER BEFORE BIDDING.I WILL REPLY YOU ASAP.
FOR EXPENSIVE OLD AMULETS , PLEASE MAKE VERY SURE YOU KNOW THE ITEM AND YOU UNDERSTAND THOROUGHLY WHAT YOU ARE BIDDING FOR.
ANY QUESTIONS PLEASE ASK .