Item Specification
Product Description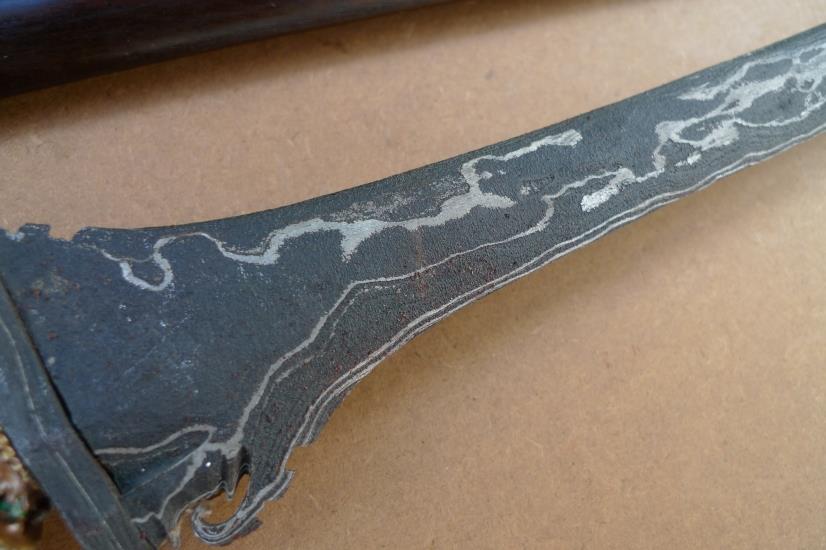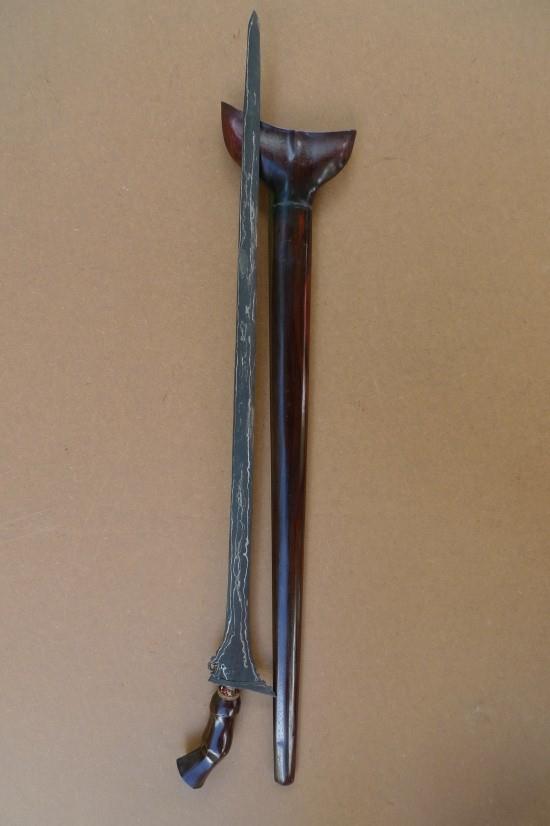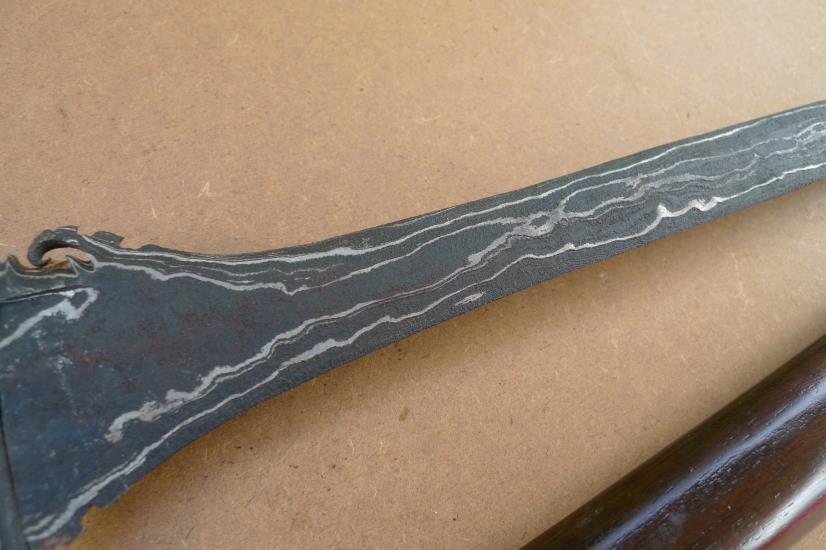 WELCOME TO THE WORLD OF BORNEO
We specialize in superb quality Borneo tribal art, antiques, collectibles, charms, traditional musical instruments, crafts, and fabrics. Not only to maintain 100% postive feedbacks ebay seller, we look forward to share with you the most beautiful and valuable handmade crafts and carvings, as all of you know Borneo Island is well-known for its culture and primitive collections! So please waste no time, enjoy viewing our extraordinary items and remember to add us to your favaurite seller list!
Be sure to add me to your favorites list!
We sell only 100% Genuine and Authentic products!
WE 01845:
A gorgeous

super long 740mm Keris Ladrang Lurus

/ Straight Blade
. The entire Warangka & Sheath were made from quality Sawo Wood.

Warangka:
Ladrang Riau Bulan Sabit
Pamor: T
iban Beras Wos Wutah. Luck and Peaceful Life.
The pamor or damascening is the pattern on the surface of a keris blade. The pamor is the most important part of the keris, as according to common belief, it has strong magic power and influence of one pamor pattern is not the same as that of another.
Total: 74 cm / 29.1 inches
Blade: 62 cm / 24.4 inches

Weight: 0.6 kg / 1.3 lb
After packing: 2 kg / 4.4 lb
I will ship via Poslaju / Citylink within Malaysia, 1-2 working days duration only.
More items at www.borneoartifact.com
Shipping - Courier and registered air.
Price stated in this listing is by Air (Courier or registered air). For Courier services we use OCS (www.ocstracking.com), DHL (www.dhl.com) or TNT (www.tnt.com) depending on the destination country. Buyer can easily track their items at the website given above. Courier services and air normally takes 3 to 14days depending on the custom clearance in your country.
Shipping – Surface parcel.
There are some listings' shipping price is by surface parcel as stated in description, that we suggest buyer to use surface parcel to save on shipping cost. Buyer may also email us if they opt to use surface parcel for listings that are using air.
For Surface Parcel to worldwide:
10kg/22lbs = USD75
20kg/44lbs = USD100
Maximum weight for surface parcel 20kg/44lbs for most of the countries.
Some countries maximum weight only 10kg/22lbs.
Please email us for more inquiries.
Combine Shipping Discounts.
We offer attractive combine shipping discounts (20% to 40% on shipping for following items) to help buyer saves on the shipping cost.
Please email us for combine shipping discounts.
Shipping Coverage.
We ship to worldwide. Our shipping tables are readily available. Please email us so that we can show you shipping rates for combine shipping.
USA and Canada.
Europe 1 –Belgium, France, Germany, India, Italy, Luxembourg, Netherlands, United Kingdom, Portugal, Switzerland.
Europe 2 –Austria, Denmark, Finland, Greece, Norway, Spain.
Asia 1

    

- Brunei, Hong Kong, Indonesia, Macau, Philippines, Taiwan, Thailand.
Asia 2

    

- Australia, Bangladesh, Bhutan, Cambodia, China, Korea, Laos, Maldives,

     
                

Myanmar, Nepal, New Zealand, Pakistan, Sri Lanka, Vietnam.
Singapore, Japan, and the rest of the world. Please email us.
Packaging Process.
Will take up to 2 business days only and tracking number will be provided. Please provide telephone number for shipping purpose.
Damage Item.
Please report to us immediately with pictures of the items damaged during shipment. We will proceed with compensation or replacement.
For buyers, if you are having difficulties in purchasing this item, please drop me an email and i am glad to help you in purchasing this item from me. please send me a message now and i will work it out for you, regardless of where you are located.





---
we have been packing for more than 10 years and we garantee that packing is done carefully, we ship by poslaju or citylink