Wharfedale Linton 85th Anniversary Bookshelf Speakers with Stands Brand New, Now Selling At RM6,799. Free Shipping Within West Malaysia.
Interested please feel free to contact:
Peter 012-2536225
Fong 016-3098668
We buy in your old items in CASH!!
Got something keep at home but seldom use or planning to upgrade?
Items that we buy:
BRANDED
Amplifier
Speaker
CD player
Subwoofer
Please Whatsapp the item photo to me and get the price immediately, once confirmed the deal, we will pick up your item from you and pay you in cash.
The Wharfedale Linton Heritage Speakers celebrate the 85thAnniversary of Wharfedale's founding, an incredible milestone for this British brand. This traditional looking speaker successfully incorporates all the elements of a 21stCentury loudspeaker into a design that brims with heritage and class. If that isn't enough, their big, rich and sweet sounding character, combined with room filling sound, is guaranteed to win you over.
Overview
The Wharfedale Linton represents one of the most iconic models in the long history of Wharfedale loudspeakers. A model that embodied the Wharfedale pioneering research through the 60s, 70s and 80s, with a bloodline dating back to 1965, Linton has always been manufactured according to the Wharfedale principles of quality and value for money. The new Wharfedale Linton further exemplifies these two edicts, balancing fine craftsmanship, natural sound quality and affordability inside a beautifully proportioned loudspeaker that has been bought in its millions right across the globe through it's various incarnations.
The original Linton was well known for its warm, rich and natural sounding character and the new Wharfedale Linton retains that standing but imbues it with an open, detailed performance that will entice you to explore your whole music collection, once more. Capitalising on the modern-day trends of traditional styling with value in pedigree, the Wharfedale Linton is set to be a veritable modern classic.
Classically Modern Three Way Design
A three-way speaker in the classic Wharfedale tradition - beautifully hand veneered with an inset front baffle and traditional cloth grille. Bang up to date - utilising a mixture of traditional and advanced technology, for optimum performance whilst staying true to the legacy
Three-Way Design: Wharfedale's woven Kevlar cone - mounted on a rigid die cast chassis, this combination delivers a rich, controlled bass output with superb dynamic performance. Midrange frequencies are handled by a second, smaller Kevlar coned unit - housed in its own internal enclosure. Woven textile soft dome treble unit – true to form, with a high flux ferrite magnet, engineered for smooth, detailed HF extension. The highly researched crossover – 1000s of hours of listening tests perfect the coherent, seamless musical output that is both thrilling and natural in its rendition of any source material
A Genuine Classic: Fashions come and go but style defines oneself. Class lasts a lifetime! The Wharfedale Linton portrays the timeless design of a stunning loudspeaker cabinet with an authentic legacy. Traditional, simple, yet beautiful.
Matching Stands (Included)
The custom engineered Linton Stand offers optimum positioning and mounting for the Linton speaker. Perfectly crafted with matching wood veneer finish, to match the Linton cabinet, the Linton Stand supports the size and weight of the cabinet, while presenting the listening axis perfectly to the seated user.
Precise: Perfected to fraction of a millimetre measurements, the Linton stand is precision manufactured.
Solid: The Linton Stand base plate and structure is perfectly stable and offers critical damping from unwanted vibrations, ensuring you hear the Linton perform as it was intended!
Perfectly matched: The wood paneling features hand matched veneers to perfectly complement the Linton speaker finish.
A view of your music: With additional consideration to the musical purpose and experience, the Linton Stand is also designed to act as a host for your 12" vinyl record collection with perfectly shaped spacing for placement of vinyl records underneath your speakers.
LINTON Heritage 85th Anniversary (85週年慶典藏紀念版) 古典Hi-Fi揚聲器 -
英國音響史上珍貴的文化產物,LINTON Heritage古典揚聲器
Wharfedale邁入85週年特別推出第二款紀念限定版古典佳作,極具珍藏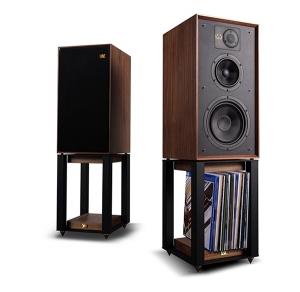 Wharfedale已經堂堂邁入85週年,毋庸置疑是歷史上英國最著名的喇叭品牌。今年,Wharfedale為慶祝85週年,同時推出二款音響史上經典暢銷古典揚聲器的複刻款,第一款是延續80週年時大受好評的DENTON強化版『DENTON85th』,第二款就是『LINTON Heritage』。『LINTON Heritage』可視為『DENTON85th』的三音路大型款,並配有專用的喇叭架,外觀與喇叭同款設計,無論是實用的穩固效果或是視覺性,都能與喇叭融為一體,『LINTON Heritage』同樣勾起了老一輩發燒友美好的回憶,也讓新一代的年輕燒友聽見6、7年代英國喇叭溫厚、純樸的正統之聲。
溫暖、自然、開放、細節豐富,適合所有類型的擴大機
初代的『LINTON』揚聲器始於1965年,行銷至全球後獲得巨大的商業成功,因為掌握了二大要素,一是關鍵的音質,聲音表現自然又溫暖,高音甜美、細節豐富,二是價格依其作工與表現非常超值,比照競爭品牌等質的機種,價格甚至不到一半。同DENTON85th一樣的訴求,『LINTON Heritage』的目標也是要重現當年『LINTON』揚聲器那種溫暖、豐富與自然,再加上今天追求的開闊音場與細節表達能力,而且完整3音路的設計,音域與相位銜接表現比起DENTON85th更為完美,高達90dB的靈敏度,非常順推,就算小功率的擴大機也能經鬆駕馭。
獨特高音單體中央8度偏角設計,提升擴散力
一般來說,傳世名器都有自己獨到之處,既然,『LINTONHeritage』是DENTON85th的三音路大型款,絲質高音單元同樣移動至面板中軸8度角,目的是進一步拓展聲音擴散能力,亦改善了高音與低音單元的銜接表現,音樂結像和定位以及音場有更優秀的表現外,更重要的是在聽感上也更舒適柔順,更貼近自然。
釹鐵硼強磁高頻驅動單元,還原當年原版高音的特色
『LINTONHeritage』的高音驅動單元,採用釹鐵硼強磁材料和兩層音圈驅動。釹鐵硼強磁材料內含陶瓷物料,還有鐵,由於製成磁體前,鐵已經過氧化過程,所以不會再氧化,有耐高溫、耐潮濕、容易控制、高阻尼表現等特性。應用於『LINTONHeritage』,再進一步改善聲音的分析力與拓展音場。此外,製程採用磁液冷卻散熱,讓高速振動的音圈擁有足夠的散熱能力。避免高音單體的音圈振動受熱後的性能下降。
5吋中音、8吋低音的Kevlar功夫龍單元
『LINTONHeritage』的中音與低音採用Wharfedale最驕傲的Kevlar功夫龍編織單體,中音大至5吋,低音亦拓展至8吋,低頻的能量非常顯著,表現出軟Q又具下潛力。振盆材質採用了經典Wharfedale三明治結構,並加入全新的來自海洋的植物纖維,讓低音的聽感更準確,更具層次感的前提下,帶來更加自然而美妙的柔順與寬鬆。
帶著酒桶般的芬芳,令人沉醉的箱體設計
箱體設計高度約56公分,配合專用44公分腳架,總高剛好100公分,高音位置正好與一般人耳朵齊,是非常適合聆聽音樂的設計。『LINTONHeritage』背板上同DENTON85th,採雙低音反射氣孔設計。整體如同DENTON85th,視覺上的古典味同樣濃郁芬芳。敲打木箱,結實質感濃烈,設計採用三明治結構,利用天然木材與複合板加強箱體硬度,箱內亦加入骨架結構加強控制諧震與避免囤積駐波的效果。
若您預算許可,建議『DENTON』、『LINTON』同時珍藏
『LINTONHeritage』頻率響應為40Hz-20kHz(+/-3dB),低頻延伸可低至35Hz,靈敏度高達90dB,標準阻抗6Ω。帶著濃烈兼追尋舊日的氛圍,再加上現今揚聲器對細節和清晰度的追求,完整的三音路設計,比DENTON85th更適合播放所有類型的音樂。作為世界上獲得國際重大獎項最多的著名音響設計師之一的PeterComeau,同樣足足花費了6個多月的時間,1000多小時播放各類型音樂來對LINTON紀念限量版書架進行精心調教,假如您已鍾情史上經典的DENTON古典喇叭,那更不可再錯失珍藏LINTON的機會,而Heritage的原意就是人類珍貴的文化或文物遺產之意,足見LINTON那無與倫比的價值。
產品特色
1.85週年紀念限量珍藏,神還原當年原版的音質與感動
2.大型3音路書架喇叭,搭配專用腳架,整體高度100公分
3.仿效當然DENTON第二代XP版的高音單體中央8度偏角設計,提升擴散力,改善高音與低音銜接表現
4.釹鐵硼強磁高頻驅動單元,改善聲音的分析力與拓展音場
5.5吋中音、8吋低音的Kevlar功夫龍單元,低頻可下潛至35Hz
6.古典味濃郁的箱體外觀設計,延用當年的品牌標誌
7.大型鍍金香蕉插端子
SPECIFICATION
General Description 3-way vented-box/standmount
Enclosure Type Bass reflex
Transducer Complement 3-way
Bass Driver 8"(200mm) black woven Kevlar® cone
Midrange Driver 5"(135mm) black woven Kevlar® cone
Treble Driver 1" (25mm) soft dome
AV Shield No
Sensitivity (2.83v @1m) 90dB
Recommended Amplifier Power 25-200W
Peak SPL 110dB
Nominal Impedance 6Ω
Minimum Impedance 3.5Ω
Frequency Response(+/-3dB) 40Hz ~ 20kHz
Bass Extension(-6dB) 35Hz
Crossover Frequency 630Hz & 2.4kHz
Height (on plinth) 565mm
Width 300mm
Depth (with terminals) (330+30)mm
Net Weight 18.4kg 18.4kg/pcs

Last Updated @ 11/23/2019 4:00:58 PM