Product ID : 216287165
Model / SKU : 3-1140-C42
Dimension (WxLxH) : 70cm x 19cm x 48cm
Warranty : 1 year(s)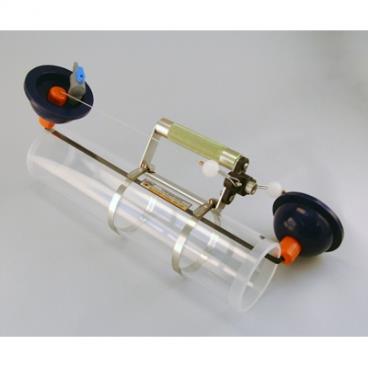 Alpha Bottle 4.2L Vertical Acrylic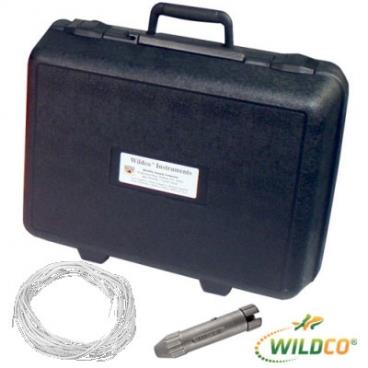 carry case, messenger (45-B10) & 100 ft. line (62-C15)

Description for Alpha Water Sampler, Vertical Acrylic Kit - Includes carry case, Transparent acrylic, 4.2L
- Blue seals of durable, flexible, high-grade polyurethane resin
- 316 SS trip head for durability
- Not suitable for trace metal sampling
- Includes bottle, carry case, messenger(45-B10)& 100 ft. line (62-C15)
Use vertical bottles in mildly corrosive water, marine water and water with large amounts of suspended solids or adhesive colloidal solids to collect plankton and floating sediments. The wide mouth collects a true water sample with no contamination from other water levels. During descent, the open mouth does not restrict water flow. This makes them particularly suitable for collecting plankton, floating sediments and for use where metallic ion avoidance is desirable. Your choice of transparent acrylic or more durable opaque PVC.
Alpha samplers are not suitable for trace metal analysis due to the potential for contamination (i.e. mercury and phosphorus) by the materials in the sampler's end seals. For trace metal analysis, choose our Beta Bottle water samplers.
A thermometer can be mounted inside acrylic Alpha™ bottles.
NOTE: Volume may vary slightly. It is recommended that you verify the exact volume of your bottle prior to use.

Last Updated @ 12/27/2019 10:10:41 AM



















---
Ø TA-Q-BIN
Ø ABX
Ø SKYNET
Ø GDEX
Ø PosLaju
1. Our Contract
All orders placed by you and purchases of goods from us are on the basis of these Terms and Conditions and are subject to acceptance by us either (as applicable):

by delivery of the goods to you; or
by providing the goods you have purchased to you at the trade counter, at which point a legally binding contract is constituted between us.

The processing of your payment and acknowledgment of your order does not constitute legal acceptance of your order.
2. Price and Payment
We must receive payment for the whole of the price of the goods you order and purchase, and any applicable charges for delivery, before your order can be processed unless we have agreed otherwise in advance in writing.
The payment can be made by most major credit or debit cards, by completing the relevant details on the checkout page.
By using a credit/debit card to pay for your order or purchase, you confirm that the card being used is yours or that you are authorized to use it.
All credit/debit card holders are subject to validation checks and authorization by the card issuer. If the issuer of the card refuses to authorize payment we will not accept your order or purchase, we will not be obliged to inform you of the reason for the refusal, and we will not be liable for the item not being delivered or provided to you. We are not responsible for the card issuer or bank charging the holder of the card as a result of our processing of your credit/debit card payment in accordance with your order or purchase.
We recommend that you do not communicate your payment card details to anyone, including us, by email. We cannot be responsible for any losses you may incur in transmitting information to us by internet link or by email. Any such loss shall be entirely your responsibility.
We recommend that you do not communicate your payment card details to anyone, including us, by email. We cannot be responsible for any losses you may incur in transmitting information to us by internet link or by email. Any such loss shall be entirely your responsibility.
3. Delivery and Title
Unless you choose to collect the goods from one of our trade counters (including via our Click Collect or Call Collect service) and except in exceptional circumstances, we will deliver the goods in accordance with your order usually within the stated delivery time but not more than 60 days after the day you place your order, unless otherwise agreed between you and us. We reserve the right to deliver an order in installments by separate delivery shipments.
Before placing your order, please refer to the delivery options set out on our website and in our catalogues to ensure that we can deliver to your address. A valid signature may be required on collection or delivery. In the unlikely event that you have not received all the goods within the stated delivery time, you must notify us immediately. We suggest that you do not schedule or commence any installation work until after you have received your order and checked all the goods for any defects or missing parts.
You must do all that you reasonably can to enable delivery to take place at the given time and place. If you delay delivery, or delivery fails because you have not taken appropriate steps, we will try to arrange for an alternative delivery date within 60 days of the failed delivery. If delivery fails as a result of circumstances within your reasonable control, the cost of any re-delivery shall be borne by you. If we are unable to arrange a date for re-delivery we may cancel your order and refund to you the price that you have paid for the goods, less the failed delivery costs.
4. Manufacturer's warranties and guarantees
Some of our goods are sold with a manufacturer's warranty, guarantee or similar assurance (please see the relevant product description on our website for further details). Any complaint, query or claim under a manufacturer's warranty, guarantee or similar assurance must be made direct to the manufacturer and we do not have any responsibility or liability under or in connection with any such warranty, guarantee or assurance.
Any manufacturer's warranty, guarantee or similar assurance applies in addition to your legal rights if you are a consumer.
6. Liability
If you purchase goods from us as a consumer (which means anyone who acts outside the course of their business, trade or profession), to the extent not prohibited by law, we accept no liability for any:

loss which is not foreseeable (loss is foreseeable if it was an obvious consequence of our breach or if it was contemplated by you and us at the time you and we entered into our contract)
loss which arises when we are not at fault or in breach of these Terms and Conditions; and
business loss (which includes loss of profits, loss of business, contracts, goodwill, business opportunity and other similar losses, as well as business interruption).
7. Age Requirement for Specific Goods
Where you place an order for or otherwise purchase age-restricted goods such as solvents and knives, you confirm that you are over the age of 18 and that (where applicable) delivery will be accepted by a person over the age of 18. We reserve the right to cancel your order or purchase if we reasonably believe you do not meet the age restrictions for certain goods.
8. Event Beyond Our Control
We shall have no liability to you for any failure or delay in supply or delivery or for any damage or defect to goods supplied or delivered hereunder or for any other liability, in each case that is caused by any event or circumstance beyond our reasonable control (including, without limitation, accidents, extreme weather conditions, fire, explosion, flood, storm, earthquake, natural disaster, failure of telecommunications networks, inability to use transport networks, mechanical failures, acts of God, terrorist attack, war, civil commotion, riots, strikes, lockouts and other industrial disputes, acts or restraints of Government, and imposition or restrictions of imports or exports).
One (1) year product warranty policy
Your product is warranted against all defects in material and workmanship for one (1) year against manufacturer defect. Should your product prove defective within one (1) year, return to Sureserv Engineering Sdn Bhd for repair or replacement with an approved RMA number.
RMA Return Policy
To qualify for a refund
All product must be in brand new condition
All product boxes must be in new condition with all packing materials.
All product accessories must be included and in new condition to be eligible for return.
All product accessories must be included and in new condition to be eligible for return.
Return packages should be shipped using a track-able shipping method with insurance coverage for the value of the merchandise.
A. Disqualify refund factor
Open cables are not returnable or accessories are not returnable.
Writing on or damaging the product boxes. Only the shipping box should be labeled.
After twenty (20) days, product or items does not offer refunds. All products will be warranted for a period of one (1) year and will be replaced or repaired if detect against manufacturer defect.
Any returned products (including the product boxes) must be in like new condition to warrant any money back guarantee.
Return merchandise will NOT be accepted without a prior approval by Sureserv Engineering Sdn Bhd and the issuance of an RMA (Return Merchandise Authorization) number.
Once received, Sureserv Engineering Sdn Bhd will inspect any returned products in order to validate whether a product is eligible for a credit or replacement. A decision will be made within 10 business day of our shipping department receiving any returned product. In cases, where a product hasbeen returned and has missing or damaged parts (for examples: missing product manuals, cut wires) the RMA will be declined, and returned to the customer.
Credits and refunds will be issued within 5 days after decision has been made to validate whether a product is eligible for a refund, minus original shipping costs.
Average Product Rating
0.0 stars out of 5
| | | |
| --- | --- | --- |
| 5 star | | 0 |
| 4 star | | 0 |
| 3 star | | 0 |
| 2 star | | 0 |
| 1 star | | 0 |
Share your thoughts with others
Write a review
Only buyers who purchased the product may leave a review