Wireless Laser Projection Keyboard With Mouse, Built-in Bluetooth Speaker And Battery
Compatible With All Bluetooth HID Compliant Devices (Android, IOS And Windows).
Model: WP-WLK01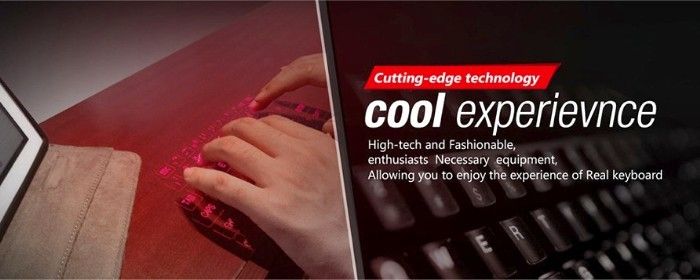 Description:
We often tend to use our smartphones and tablets as computers. While typing a short text or a Whatsapp message is quick and easy, composing a lengthy email on a smartphone is a formidable task, and an irritating one. A wireless laser light projection keyboard is an easy and convenient solution to turn any Bluetooth enabled device into a standalone computer.
The device is just slightly bigger than a standard lighter and can be easily carried around in the back pocket. Once switched on, it will give you around two hours of operation time. If you get tired of typing, you can entertain yourself with some music or video watching, as the "keyboard" can double as a Bluetooth speaker.
How does it work?
All you have to do is pair up the projection laser keyboard with you smartphone or tablet via Bluetooth. You will then see a full QWERTY keyboard (250mm x 100mm) projected onto the surface in front of you, which you can use right away for any data entry. Sharp infrared laser-projected keys make the typing process effortless and the added mouse feature lets you control the cursor with natural movements, reducing the strain on your hands. Compatible with virtually any device with a Bluetooth function, you will be able to use the keyboard with Android, Windows and IOS with equal ease.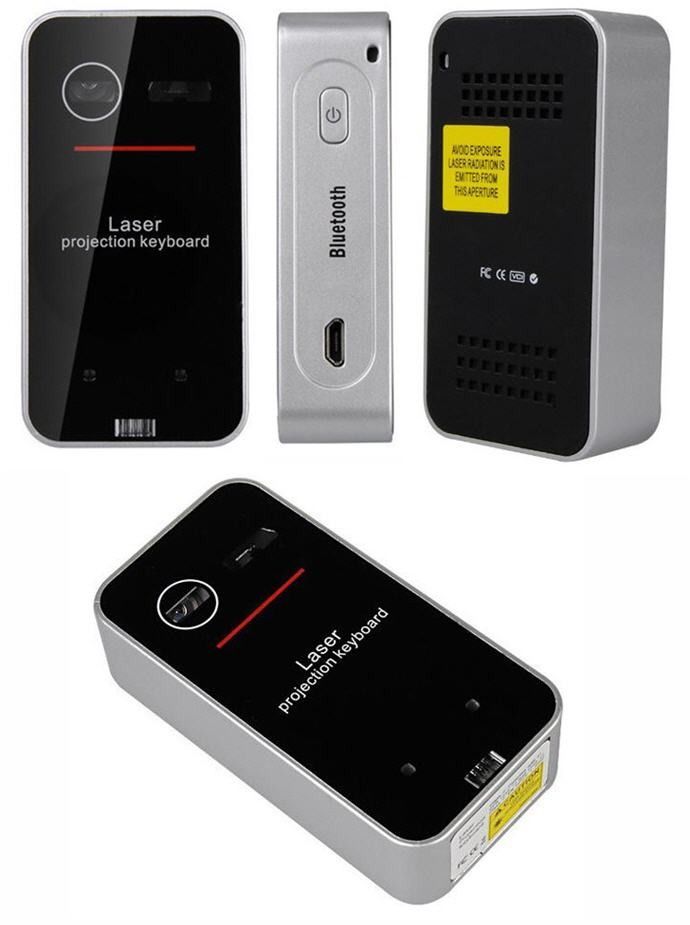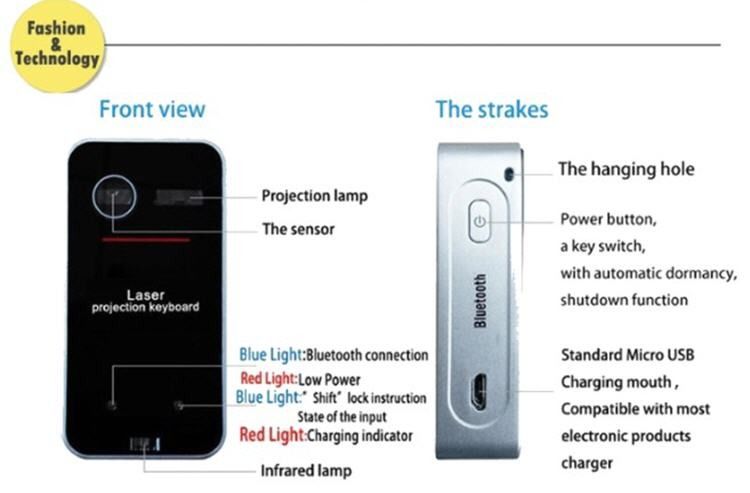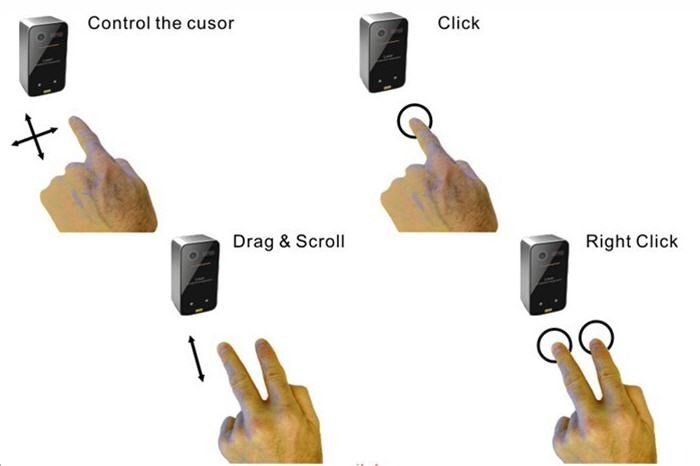 Features:
Wireless Laser Projection Keyboard
Keyboard Light Source: Red laser diode
About 250mm x 100mm
Bluetooth 3.0
19mm sized QWERTY layout
Multiple key stroke support
Bluetooth Speaker
All Bluetooth HID Compliant Mobile Device, Windows XP/WINDOWS 7 or Higher, IPad, IPhone, iOS4 or later, Android 3.1 or Higher, Mac OS X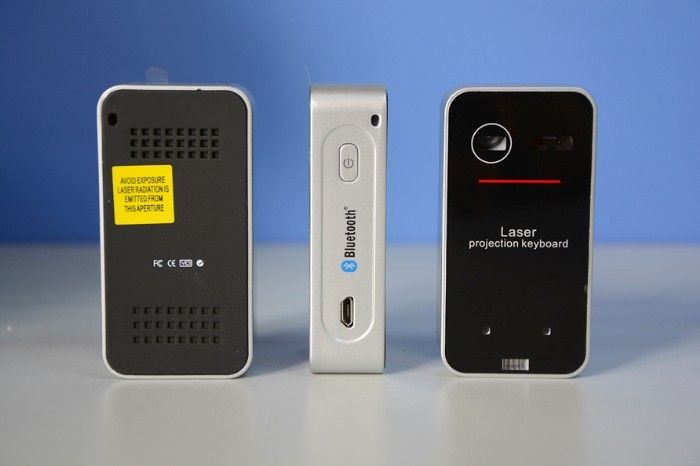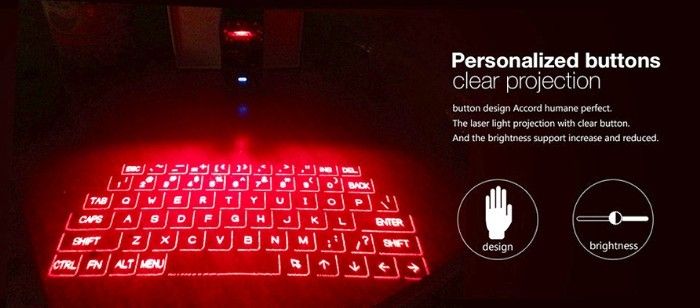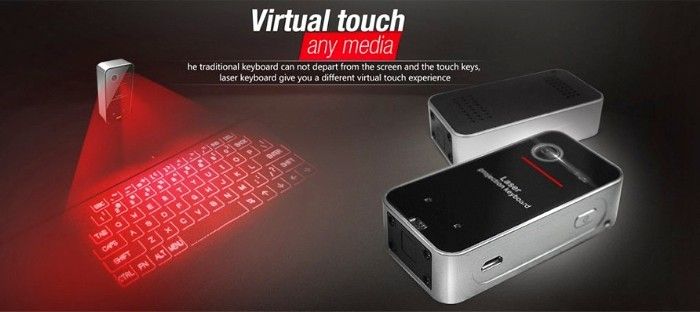 Specifications:
Keyboard Light Source: Red laser diode
Bluetooth: V3.0
Keyboard Language: English
Keyboard Layout: 19mm sized QWERTY layout
Projection Size: About 250mm x 100mm
Projected Keyboard Location: About 100mm from keyboard device
Visibility: Good contrast up to 1800 lux ambient illumination
Detection Rate: Over 350 characters per minute
Detection Algorithm: Multiple key stroke support
Effective Key Stroke: About 2mm
Modulation Type: GFSK
Frequency Range: 2402 to 2480 MHz
Battery: Built in 1000mAH 3.7V Polymer
Charger: DC 1000mA 5V through USB
Charge Time: About 200 minutes
Use Time: About 120 minutes
Use Temperature: About 0 to 35 Degree Celsius
Storage Temperature: About -5 to 35 Degree Celsius
Mouse: yes (iOS devices do not support mouse function)
Bluetooth Speaker
Support Voice Broadcast (Only for the letter Keys)
Software Compatibility: All Bluetooth HID Compliant Mobile Device, Windows XP/WINDOWS 7 or Higher, IPad, IPhone, iOS4 or later, Android 3.1 or Higher, Mac OS X
Ports: Micro USB
Dimensions: 79 x 40.5 x 20 mm (L x W x D)
Weight: 62g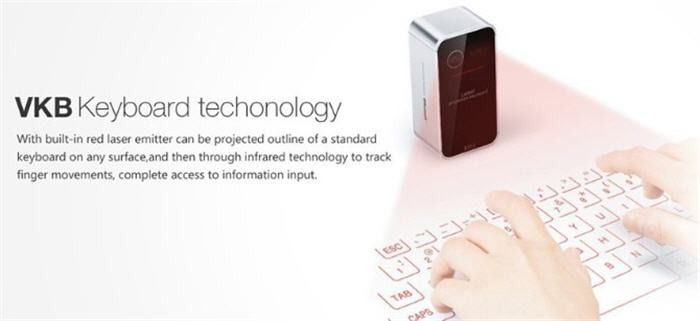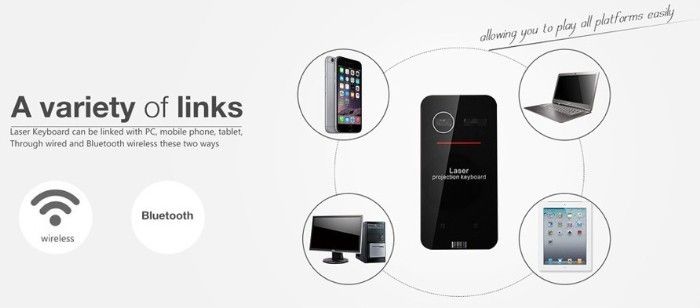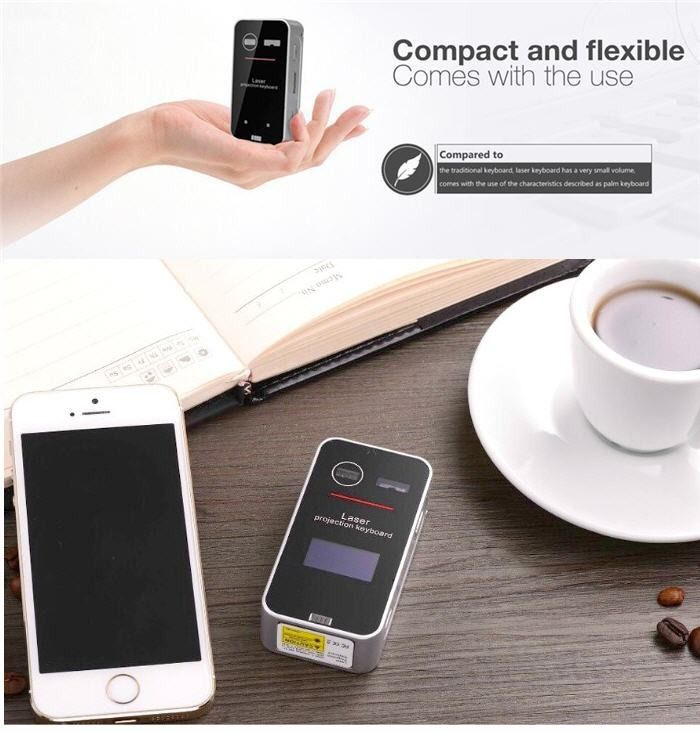 Package Contents:
1 x Keyboard
1 x USB Charge Cable
1 x User Manual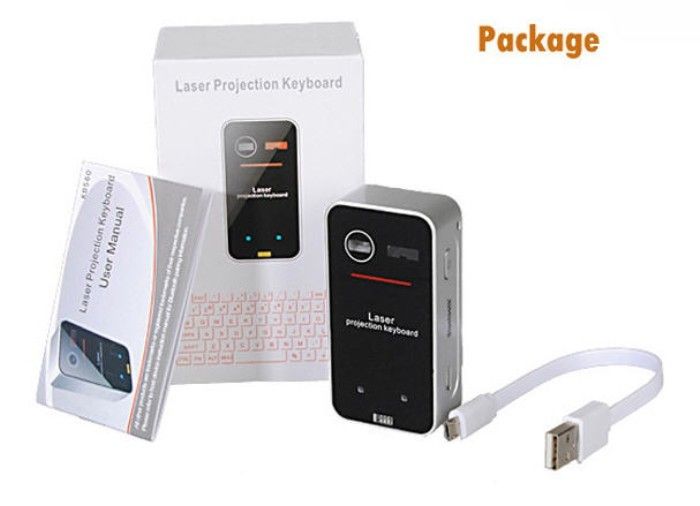 Buy at wholesale price with no minimum order!
We provide surveillance equipment to dealers, installers and retail outlets.

Have a question?
Please send email to: 1click2buy@gmail.com
Or call / sms / whatsapp: 019-2241838
Many satisfied customers, buy with confidence.
Click here to check out our other products
WHOLESALE INQUIRIES WELCOME
For more details, contact: 1click2buy@gmail.com
PH: 019-2241838
Thank you