Wireless Wifi Table Clock with Real-time Display Hidden Camera
Functions:
Video recording
Cycle recording
Photo
Motion detection
WIFI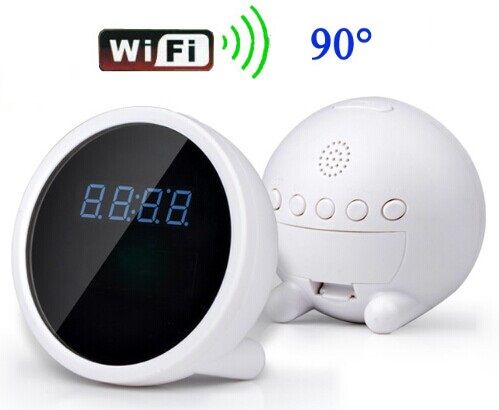 Features:
Time and date display function, shows current time, year, month and date.
Alarm and snooze function, with an interval setting of 1-60 minute(s).
Talking clock function, with voice broadcasting current time.
Natural sound pre-recorded, display time can be set for 10-60 minutes.
Specifications:
Viewing angle: 90° wide angle
Video Resolutions: 1280 x 720,640 x 480, 320 x 240 pixels
Frame rate: 5 to 30fps(Adjustable in computer client end)
Video format: AVI (H.264 compressed format)
Date and time stamp: supported
Memory: Support TF card up to 32GB(NOT included)
Record speed: 40MB/Min, or 1GB for 25minutes
Battery capacity: 1500mAh, (works for 2.5 hours)
Charging time: 8hours (with circuit protection for overcharge)
Interface Input: DC 5V 1A
Charge interface: Mini USB 5Pin
WIFI
System requirement: Support Iphone(IOS), Android, Windows all
Signal coverage: 30m without barrier (After connecting to Internet,no limit.)
Supported Protocols HTTP,DNS,DHCP,PPPOE,SMTP,FIP,SSL,TFTP,NTP,ARP,
PARP,IVFS,RTSP,RTP,RTCP etc
Wireless standard: IEEE 802.11b/g/n
Package Contents: 
1 x Wifi Clock Camera
1 x CD Driver
1 x Power Charger
1 x USB Cable
1 x Users Manual
Warranty: 3 months