Item Specification
Model / SKU
: RX-470P4LFA6
Product Description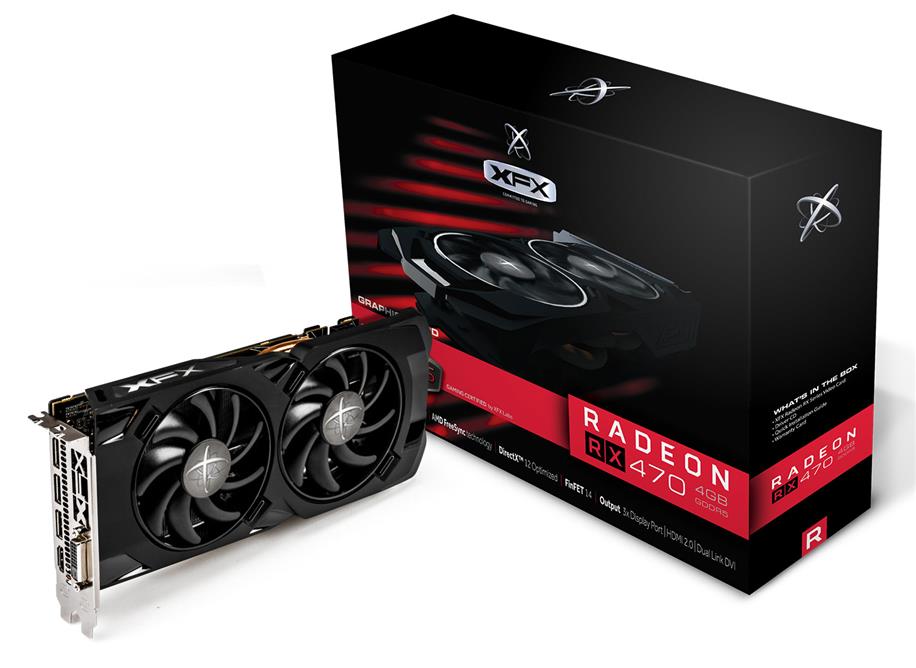 We have re-imagined everything a gaming card can do and made it more accessible. The 4th generation Graphics Core Next (GCN) architecture is engineered for gamers who play anything from the latest MOBA's to the most popular AAA titles. Asynchronous Shaders and an enhanced Geometry Engine power new levels of smooth gameplay performance.
Get the next level of gaming immersion with the world of VR gaming and entertainment with Radeon RX graphics cards powered by the revolutionary Polaris architecture.
Experience the latest premium technologies optimized around the revolutionary FinFET 14 technology that provides extraordinary performance and efficiency. Enjoy cool and quiet gaming, and leverage new possibilities with optimized levels of efficient headroom. Imagine the future upgrade capabilities with HDMI™ 2.0b and Display Port 1.3/1.4 features that can enable the latest generation of displays to deliver beautiful beyond-HD, HDR, and ultra-smooth FreeSync™ experiences.
General
Product Description : RADEON RX 470 RS 4GB D5 OC 1226M LED HS BP 3xDP HDMI DVI

UPC Number : 778656072640
Processor & Bus
Bus Type : PCI-E 3.0

GPU Bus (bit) : 256

GPU Clock : 1226MHz

Stream Processors : 2048
Memory
Memory Bus : 256 bit

Memory Clock : 7.0 GHZ

Memory Size : 4GB

Memory Type : GDDR5
Feature Technologies
4th Generation GCN : Y

AMD CrossFire™ Technology : Y

AMD Freesync Technology : Y

AMD LiquidVR technology : Y

AMD Virtual Super Resolution (VSR) : Y

DirectX™ 12 Optimized : Y

FinFET 14 : Y

HDMI 2.0b : Y

HDR Ready : Y

Radeon Software : Y
Display Output
Display Port ready : 1.4

Dual link Support : Y

HDCP Ready : 2.0b

Max Supported Resolution (DIGITAL) : 4096X2160

Output - Display Port : 3

Output - DL-DVI-D : 1

Output - HDMI : 1
Physical
Card Profile : Dual

Thermal Solution : DD Fansink

Card Dimension (cm) : 24 x 12.1 x 4

Card Dimension (inch) : 9.45 x 4.76 x 1.57

Master Carton Dimensions (cm) : 43 x 49 x 35.5

Master Carton Dimensions (inch) : 16.93 x 19.29 x 13.98

Master Carton Weight (Kg) : TBC

Master Carton Weight (lb) : TBC

Package Dimensions (cm) : 34 x 24 x 8

Package Dimensions (inch) : 13.39 x 9.45 x 3.15

Package Weight (Kg) : TBC

Package Weight (lb) : TBC

Units/Carton : 10
Includes
6-pin to 4-pin power cable : 1

Driver Disk Installation Guide : 1

Installation DVD : 1
Requirements
External Power - 6-pins : 1

Minimum Power Supply Requirement : 500 watt

XFX Recommended Power Supply : XFX 550W PSU
The First Hard Swap Detachable Fan Design
XFX patented fan design lets you change or upgrade fans in a snap.

Fans are an essential function of a graphics card and directly affect it's performance, and even though we use the best fan's on the market the performance will decrease over time. In the past it was difficult if not impossible to replace GPU fans on your own but now with XFX's Hard Swap technology, you can upgrade your fan in an instant. We even offer different upgrade option for higher performance or color LED options for customization.
High Performance Unibody Heatsink
Enhances thermal efficiency by 40%

The XFX RX 470 RS series features our all new Unibody VRM Heatsink construction enable direct transfer to the primary heatsink and heatpipes. This unique combination of material and construction enhances thermal efficiency by a total of 40%.
*Image for representation of technology only, actual heatsink will vary by model.
Custom XFX Aluminum Backplate Design
Protects your GPU while providing additional cooling overall

GPUs are one of the most important, complex and delicate pieces of hardware in your computer and as a game, nothing is as important and the slightest bend can drastically affect the performance of your graphics card. But that's a thing of the past because XFX's solid backplate keeps the card strong and secure, eliminating card bend. Graphics cards also emit some heat from the back as well which rises up and affects other components but our cool aluminum backplate can absorb that heat and keep the overall case cooler.
Enhanced VRM and Memory Cooling
Cooling technologies don't stop at just the GPU.

After countless hours of research, development, and testing our engineers have developed all new VRM and Memory cooling technology, reducing temperatures VRM by up to 30' C and GDDR temperatures by 20' C, all while reducing dB noise by an additional 5%. Best in class for the GPU enthusiast.
*Image for representation of technology only, actual circuitry will vary by model.
All New Composite Heatpipe Technology
We combined technologies to create the first super heatpipe.

The new composite heatpipe design used in the XFX Radeon™ RX 470 RS combines the technologies of both Liquid and Capilary Action heatpipes into one. Doing so allows us to increase the total heatpipe surface area by 30% which tremendously increases the thermal efficiency.
XFX True Clock Technology
Always running at the best speeds

Software controlled clock speed optimizers can be hindered by overall computer performance, heavy loads can cause it to misread the maximum potential clock speed of the graphics card at any given moment. XFX's True Clock however is hardware controlled clock speed performance optimization so it's always running at peak performance all the time.
All New Zero Noise Auto Load Sensing Fans
Power when you need it and quiet when you don't.

XFX fans are equipped to run at the highest possible performance, while our Zero DB Fan System will also keep your fans running at efficient RPM in order to minimize annoying fan noise by lowering RPM all the way down to Zero RPM. When the heat is on during intense gaming, our fans will speed up as needed.
Designed for Vulkan Cross Platform Graphics
The next generation graphics API from Khronos.

Vulkan is the new generation, open standard API for high-efficiency access to graphics and compute on modern GPUs. This ground-up design, previously referred to as the Next Generation OpenGL Initiative, provides applications direct control over GPU acceleration for maximized performance and predictability.
AMD FreeSync Technology
No stuttering. No tearing. Just gaming. Gaming shouldn't be a choice between choppy gameplay and high performance. With XFX Radeon™ RX 470 Series graphics and FreeSync technology, it doesn't have to be. Transform the most demanding games into a liquid-smooth, artifact-free, 4K cinematic experience with the highest performance at virtually any frame rate. FreeSync works at the speed of your game for incredible responsiveness and uncompromising smoothness. Every gamer deserves perfectly smooth gameplay and peak performance. Unlike the competing technology, you don't have to choose with FreeSync technology.
Microsoft Windows 10 and DirectX 12
Optimized for gaming performance

New features and functions bring new computing experiences to life with AMD Radeon™ graphics on the Windows® 10 platform. Take your gaming further with XBOX ONE on Windows. Play and connect with your games and friends. Everywhere.

Microsoft's new technology enables great performance and dramatically improved GPU and CPU multiprocessing and multithreading performance thanks to Async Shaders and Multi-threaded Command Buffer Recording for more efficient rendering of richer and more complex scenes.
FinFet 14nm Technology
Unprecedented efficiency on nextgen GPUs.

Enjoy whisper quiet gaming with the revolutionary Polaris architecture. Combining the latest FinFET 14 process technology and AMD's advanced power, gating and clocking technologies, you'll enjoy dramatically cool and quiet gaming. The FinFet 14 process technology puts more transistors in less space, enabling dramatic increases in processing power and power efficiency helping to provide better processor performance while using less power and enabling better transistor efficiency than previous generation technology.
AMD Exclusive GCN & Crossfire Technology
The Ultimate Compute Architecture with Multiple GPU Scaling

Discover the direct-to-theGPU performance advantage of Graphics Core Next (GCN) architecture, enabling stunning detail and dynamic gaming, a richer and more immersive VR experience, with exceptional graphics performance and low power consumption. 4th generation Graphics Core Next (GCN) architecture features asynchronous shaders and an enhanced geometry engine, so you can enjoy exceptionally smooth gameplay on the latest DirectX® 12 and Vulkan™ titles.

AMD CrossFire technology lets you connect multiple graphics cards to amplify your system's graphics processing capability including enhancements that set a new standard of consistent and smooth gameplay.
AMD Eyefinity Technology
Multidisplay technology for gaming, productivity and entertainment.

Expand your territory and customize your field of vision. Connect up to six displays on a single GPU for dynamic, panoramic multi-screen gaming. You'll get an expansive experience that's truly out of sight. (additional displays may require the use of MST hub).
Tuned By XFX For Peak Performance
Giving you the performance you have come to expect from XFX.

Overclocking your card to it's peak performance potential is not an easy task but a stock card is simply under-utilizing your graphics card's full potential. Luckily for you, we have factory overclocked the RX 470 RS at the BIOS level and have fine tuned it for optimal gaming performance. Our state-of-the art equipment and testing labs ensure that your card reaches it's maximum performance level safely and optimally.
XFX's 3 Year Warranty
Giving you the performance you have come to expect from XFX.

Even though we trust that our high quality products will continue working at peak performance well beyond your use of it, we want to put our word behind that promise. That is why we offer our 3 Year Warranty with this series of graphics cards. This means that your product is protected by a 3 year limited hardware warranty on manufacturing defects of anything on the card.
AMD LiquidVR
Exceptionally Comfortable VR .

Experience beautifully rich and immersive VR experiences with advanced comfort and effortless compatibility. Avoid nausea and motion sickness, made possible by the AMD LiquidVR™ initiative, featuring ground breaking Asynchronous Shaders.

The Radeon™ RX 400 graphics cards, combined with AMD LiquidVR™ technology already in use by leading head-mounted display (HMD) vendors, provides an exceptional platform for a fully immersive and comfortable VR experience.
Premium HDR
Expand the range of colors.

Premium HDR - High Dynamic Range (HDR) is a state-of-the-art technology for gamers and cinephiles that care deeply about the display quality of their TV or monitor. Modeled after the acuity of human vision, HDR vastly expands the range of colors and contrast ratios that can be shown by compatible displays. HDRready games and movies played on an HDR display appear strikingly sharp, colorful, and vivid, with enhanced contrast and sophisticated nuance compared to even the most stunning SDR content.

The Radeon™ RX 470 graphics card's brand new display engine and HDR ready capabilities equip you for the new wave of HDR displays, content and the future of gaming.
Radeon™ Software
A premium set of driver utilities.

As sophisticated as the Polaris architecture based graphics cards are, the software that powers the cards is equally as sophisticated. Radeon™ Software delivers the ultimate in performance, features and stability to help ensure an exceptionally smooth and fast out of the box experience.

With Radeon™ WattMan (formerly AMD Overdrive™) – Push your hardware to the limits. Radeon™ Settings takes customization to a whole new level with per state control over clocks, voltages, and temperature.
Latest Display Connections
Ready for the latest displays

Radeon™ GPUs with the Polaris architecture support HDMI® 2.0b and DisplayPort™ 1.3 for compatibility with a new generation of monitors that would make any gamer excited:

• 1080p @ 240Hz • 1440p @ 240Hz • 4K @ 120Hz • 1440p ultra-wide @ 190Hz
Extreme 4K Gaming for serious gamers.
Experience resolutions up to four times higher than HD and see everything your opponent throws at you without sacrificing a single detail.

Teleport into life-like 4K gaming realism with AMD Radeon™ Rx 470 Series graphics. Reign over all the action in 4K with supercharged performance and 256-bit 4gb GDDR5 memory. Add more muscle with AMD CrossFire technology and amplify your gaming performance with the superior scalability with multiple Rx 470 Series GPUs.
AMD XConnect Technology
Great performance, even on the go.

Should a PC gamer on the go buy a gaming notebook that's tough to carry, or a thin notebook that's tough to game on?

AMD XConnect™ unlocks the best of both worlds on systems designed for Thunderbolt™ 3 eGFX enclosures. Finally you can use a desktop graphics card on a notebook.
Buy with confidence
| | | | |
| --- | --- | --- | --- |
| Buyer | Item ID | Date | Ratings |
| mf**** | 195719927 | 1/16/2018 10:07:00 PM | Laju |
| Sb**** | 195288324 | 1/16/2018 8:18:00 PM | extremely fast shipping, very good seller. |
| ch**** | 194189246 | 1/16/2018 5:36:00 PM | - |
| da**** | 195857434 | 1/16/2018 8:11:00 AM | Recommended |
| le**** | 195347350 | 1/15/2018 11:29:00 AM | - |
| le**** | 195484560 | 1/15/2018 11:29:00 AM | - |
| le**** | 198591224 | 1/15/2018 11:29:00 AM | - |
| za**** | 195547073 | 1/15/2018 10:00:00 AM | Genuine product. Manufacturing month Dec 2017. Able to register warranty at msi website. Meet my expectations. Reliable seller. |
Recent Transactions
Buyer
Product
Details
yk****
# XFX Radeon™ RX 470 RS Dual Fan True OC # 1226Mhz | 4GB/D5
4 pcs


13/01/2018

















---
Please Update Payment/Bank Slip Via BUY NOW After Make Payment For Your Order.
Within Peninsular Malaysia (Parcel) / Estimation
1st KG = RM8
Additionnal / KG = RM2
**Combine Shipping Is Allowed / ETA 1-2 Working Day
Sabah Sarawak (Parcel) / Estimation
1st KG = RM12
Additionnal / KG = RM12
**Combine Shipping Is Allowed / ETA 1-2 Working Day
Please Go Through @ Read This Carefully; It Contains Very Important Information About Your Rights And Obligations, As Well As Limitations And Exclusions That May Apply To You Behalf Of This Purchase.

*Goods Sold / Paid / Delivered Are Not Refundable, Returnable And Exchangeable. All Items Sold Carried 1 Year In-House Warranty. Extended Warranty By Manufacturer Or Distributor After The First Year, Processing And Delivery Charges Will Be Imposed. Cancellation Fee (20%) Will Be Imposed On Orders Which Customer Require Refund Under The Condition Of Last Minutes Cancellation
*Deposit For Advance / Pre Order Is Not Refundable. Transportation / Courier Of Goods / Orders And All Cost Will Be Borne By Purchaser.
*Buyer / Purchaser Bear The Risk For Postage / Courier Orders. Mishandling, Damaged Or Missing Parcels / Orders Are To Be Claimed With Respective Courier Company According To Their Term And Condition (Insurance Is Optional For Item Value More Than RM500 For Extra Liability Coverage)

*Please Keep Any Purchase Receipt For Warranty Purposes. Dotatech IT Enterprise Holds To The Right To Reject Any Claim Without The Presence Of Purchase Receipt.

*Warranty On All Products Sold Is Considered Null And Void Under Any One Of The Following Conditions:

1) Warranty Claim Do Not Come With Original Proof Of Purchase/Receipt.
2) Warranty Seal/Sticker Is Tear, Broken Or Tempered.
3) Misuse, Mishandling, Natural Disaster Or Unauthorized Disassembly.
4) Burn Mark Or Any Physical Defect/Damage Caused By End User Or During Deliver / Postage / Courier.
5) Modification, Personal Repair Or Excessive Over Clocking Resulting Malfunction.
*Please Check Carefully When You Send In Defective Part(s) For RMA/Warranty. If We Checked The Product Are Issue-Free, Handling and Service Charges Incur Starting From RM35.
**DoTaTech is not liable for any loss or corruption of data of your confidential, proprietary or personal information. You are advise to back up all your data before bring in the hardware/system for repair.

**All system that send in for services are at YOUR OWN RISK.

**DotaTech will not charge any charges to customer for the any hardware service/inspection within the one (1) year warranty period excluding courier charges for outstation buyer. Charges shall applied to the customer after one (1) year period and hardware that not purchase from Dotatech including handling and delivery fees.

**All defective products that need one to one exchange within 7 days from the date of purchase are depends on stock availability and condition of the particular items.
**Please Check Carefully When You Send In Defective Part(s) For RMA/Warranty. If We Checked The Product Are Issue-Free, Handling and Service Charges Incur Starting From RM35


DotaTech reserves the right to revise, amend or modify this terms of conditions at any time and any manner without prior notice and shall not responsible for any unlicensed software that comes with hardware/system.

Hardware/System after repair that have not claimed within the sixty (60) days after being notified, it will consider your system abandoned . We may dispose of your system without any prior notice to you .
Questions & Answers
Do you have any questions to ask merchant about this product
Ask Seller
| | | |
| --- | --- | --- |
| 5 star | | 0 |
| 4 star | | 0 |
| 3 star | | 0 |
| 2 star | | 0 |
| 1 star | | 0 |
Share your thoughts with others
Write a review
Only buyers who purchased the product may leave a review