Product Description
Available on www.kpapa.com.my
whatapps - 0172808288/0163381046
10000 mAh Ultra-thin Fast Charge Power Bank 2
Main Features:
- Super large capacity 10000mAh portable power bank
- Bidirectional quick charge, more effective, whether it is charging or discharging
- Support small current discharging, suitable for Bluetooth headset and Millet bracelet
- Aluminium alloy housing, round edge design
- LED indicator lights show you the power status
- Support charging and discharging simultaneously
- Fashionable appearance outlook design, ultra slim body
- Built-in multiple protections
Specification
General

Brand: XiaoMi 
Type: Backup Power Banks 
Capacity Range: 7500-10000mAh 
Capacity (mAh): 10000mAh 
Connection Type: Micro USB Interface,One USB Output Interface 
Battery Type: Li-Polymer Battery 
Color: Black,Silver 
Material: Aluminium Alloy

Product Details

Input: 5.0V 2.0A, 9V / 12V 18W 
Output: 5.1V 2.4A, 9V / 12V 15W ( max )

Dimension and Weight

Product weight: 0.250 kg 
Package weight: 0.320 kg 
Product size (L x W x H): 13.00 x 7.10 x 1.41 cm / 5.12 x 2.8 x 0.56 inches 
Package size (L x W x H): 18.00 x 12.00 x 3.00 cm / 7.09 x 4.72 x 1.18 inches

Package Contents

Package Contents: 1 x Mobile Power Bank, 1 x USB Cable
Xiaomi Power Extersion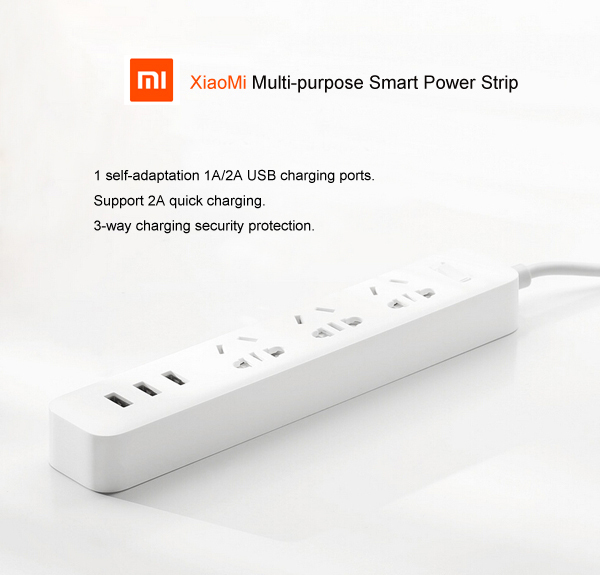 Original Xiaomi Type C 1.2m Data Cable (Imported)
● Charge and Sync Cable 
● The transmission speed of USB 2.0 is 10 times faster than the common USB 2.0
● USB type-c interface, prevents from inserting the wrong side when you try to connect the cable to the charge port
● Charge and data transfer function, you can charge your phone and transfer the data by connecting to the computer at the same time
● 1.2m length, enough for your usage
Original XiaoMi 2A Fast Charge  Data Cable (Imported Set)
NOTICE: Original Xiaomi 2A date cable version hasn't xiaomi logo on it  
Features:
Functions: Data Sync & Charging. Connects to the USB Power Adapter for
                 Convenient Charging. Fully Compatible with USB 2.0, high Data Transfer Speeds.
Length: Approx. 1.2M Quick Charging: The short USB line can reduce the internal resistance ,
             which makes the output up to 2A
Compatible with: All Xiaomi mobil phone and All cellphone with micro USB port.
Original Xiaomi Mi Band 2 (Imported Set)
General

Brand: XiaoMi 
Bluetooth version: Bluetooth 4.0 
Language: English,Simplified Chinese 
Waterproof: Yes 
IP rating: IP67 
Screen type: OLED 
Operating mode: Touch Screen 
Compatible OS: Android,IOS 
Compatability: Android 4.4 / iOS 7.0 and above system 
People: Female table,Male table 
Available color: Black

Battery

Type of battery: Lithium polymer battery 
Battery Capacty: 70mAh 
Standby time: 20 days 
Charging time: About 3hours

Special Features

Functions: Alarm Clock,Call reminder,Measurement of heart rate,Pedometer,Sedentary reminder,Sleep management,SMS Reminding,Steps counting,Time 
Alert type: Vibration

Dial and Band

Shape of the dial: Elliptical 
Case material: Plastic 
Band material: TPU

Weight and Size

Dial size: 4.03 x 1.57 x 1.05 cm / 1.59 x 0.62 x 0.41 inches 
Band size: 23.5 x 1.05 cm / 9.25 x 0.41 inches 
Wearable length: 15.5 - 21 cm / 6.1 - 8.28 inches 
Product weight: 0.017 kg 
Package weight: 0.140 kg 
Product size (L x W x H): 22.50 x 1.57 x 1.05 cm / 8.86 x 0.62 x 0.41 inches 
Package size (L x W x H): 10.00 x 10.00 x 3.50 cm / 3.94 x 3.94 x 1.38 inches

Package Contents

Package Contents: 1 x Original Xiaomi Mi Band 2 Smartband, 1 x Original Band, 1 x Charger Base
Original Xiaomi Car Charger (Imported Set)
Original Xiaomi Virtual Reality VR (Imported Set)
VR Glasses Type: VR Glasses 
Features: Novel Experience,Stylish 
Compatible with: Smartphones 
Color: Black 
Smartphone Compatibility: 4.7 - 5.7 inch
Original Xiaomi Mi Wi-Fi Router AC1200 (Imported Set)
SPECIFICATION
HARDWARE

Brand
Xiaomi
Model
Miwifi 3
CPU
MT7620A
RAM
128MB DDR2
ROM
128MB SLC Nand Flash
2.4G WiFi
2X2 (support IEEE 802.11N, 300Mbps max)
5G WiFi
2X2 (support IEEE 802.11AC, 867Mbps max)
Antenna
4 PCS
Heat dissipating system
Natural heat dissipation
Material
ABS
Color
White
Size
195*131*23.5mm (Total hight: 177.3mm)
Weight
220g
INTERFACES
USB 2.0 slot
1 x DC output (5V/1A)
Lan port
2 (10/100 Auto MDI/MDIX)
WAN port
1 (10/100 Auto MDI/MDIX)
LED indicators
3 (Red/Blue/Yellow)
Button
1 x Reset button
DC input
1
ANTENNA
Dual bands
2.4GHz / 5GHz
Wireless channels
2.4GHz Channel: 1,2,3,4,5,6,7,8,9,10,11,12,13
5GHz Channel: 149,153,157,161,165
5GHz DFS Channel: 36,40,44,48,52,56,60,64
Modulation mode
11b: DSSS: DBPSK(1Mbps),DQPSK(2Mbps),
CCK(5.5/11Mbps)
11a/g: OFDM:BPSK(6/9Mbps),
QPSK(12/18Mbps),16QAM(24/36Mbps),
64QAM(48/54Mbps)
11n: MIMO-OFDM:BPSK,QPSK,16QAM,64QAM.
Rate: MCS0~MCS15
11ac: MIMO-OFDM:BPSK,
QPSK,16QAM,64QAM,256QAM
Rate: MCS0~MCS9
Receiving sensitivity
11Mbps:≤-90dBm,54 Mbps:≤-72dBm,
HT20 MCS7:≤-69dBm,
HT40 MCS7:≤-66dBm,
VHT20 MCS8:≤-65dBm,
VHT40 MCS9:≤-60dBm,
VHT80 MCS9:≤-58 dBm
SOFTWARE
Operating system
MiWiFi ROM (Supports Web, Android, iOS, Windows, OS X)
Wireless security
WPA-PSK/WPA2-PSK encryption, Wireless access control (black and white list), SSID hiding
Protocol standards
IEEE 802.11a/b/g/n/ac, IEEE 802.3/3u
Approval standards
GB9254-2008 YD/T993-1998 GB4943.1-2011
Working environment
Operating temperature: 0-40°C
Working humidity: 10%-90%RH
Storage temperature : -40-70°C
Storage humidity: 5%-90%RH
Power: 12W max
Original Xiaomi Mi Wi-Fi Router AC300 (Imported Set)
Specification:
Processor MT7628N
ROM 16MB NorFlash
2.4G WiFi   
2X2 (IEEE support 802.11N protocol, the highest rate of up to 300Mbps)
Antenna   
An omnidirectional high gain antenna 4 
Cooling system   
Natural cooling
2.4GHz single frequency
Wireless Channel   
2.4GHz Channel: 1,2,3,4,5,6,7,8,9,10,11,12,13
Modulation Mode   
11b:DSSS:DBPSK(1Mbps),DQPSK(2Mbps),
CCK(5.5/11Mbps)
11g:OFDM:BPSK(6/9Mbps),
QPSK(12/18Mbps),16QAM(24/36Mbps),
64QAM(48/54Mbps)
11n:MIMO-OFDM:BPSK,QPSK,16QAM,64QAM
Receiving sensitivity   
11Mbps:≤-90dBm,54 Mbps:≤-72dBm,
HT20 MCS7:≤-69dBm,
HT40 MCS7:≤-66dBm
operating system   
OpenWRT customized intelligent router operating system MiWiFi ROM
Support language   
Simplified Chinese(English Only Android and IOS APP)
Wireless security   
WPA-PSK/WPA2-PSK encryption, wireless access control (black list), SSID hide.
Management Applications   
support Web, Android, iOS
2*10/100M LAN (Auto MDI/MDIX) adaptive
1*10/100M WAN (Auto MDI/MDIX) adaptive
1*red / Blue / yellow lights LED
1*system restore factory settings button
1*power input interface
Original Xiaomi Mi Bluetooh Youth (Imported Set)
Specifications:
General Specification
  Brand Name
 Xiaomi
  Model Number
 LYEJ02LM
  Optional Color
 Black, White
  Wearing Type
 In-ear
  Net Weight (g)
 6.5g
  Product Dimensions 
 5.6cm*1cm*0.8cm
Technical Parameters
  Microphone
  Yes
  Bluetooth Version
 V4.1
  Bluetooth Protocol
 HFP/HSP/A2DP/AVRCP
  Bluetooth Chip
 CSR8610
  Transmission Distance
 10m
  Charging Time (h)
 2 hours
  Taking Time
 3 hours
  Standby Time (h)
 100 hours(about a week)
  Function

 Switching songs, adjust volume, reject, pause/play music, end/answer call, redial, multi-points, noise canceling
 

Last Updated @ 1/15/2017 1:53:05 PM

Last Updated @ 2/28/2017 3:17:52 PM
Buy with confidence
---
KPAPA may using variety of courier service to deliver product, the most frequents use will be Pos laju service. It takes 3 - 5 days time to deliver, charges below 500g for west RM9 and east RM13.
Welcome to KPAPA online store. Terms and conditions stated below applies to all visitors and users of KPAPA. You're bound by these terms and conditions as long as you're on KPAPA

General
The content of terms and conditions may be change, move or delete at any time. Please note that KPAPA have the rights to change the contents of the terms and conditions without any notice. Any violation of rules and regulations of these terms and conditions, KPAPA will take immediate actions against the offender(s).


Site Contents and Copyrights
Unless otherwise noted, all materials, including images, illustrations, designs, icons, photographs, video clips, and written and other materials that appear as part of this Site, in other words "Contents of the Site" are copyrights, trademarks, trade dress and/or other intellectual properties owned, controlled or licensed by KPAPA.

Comments and Feedbacks
All comments and feedbacks to KPAPA will be remain KPAPA's property.
User shall agree that there will be no comment(s) submitted to the KPAPA will violate any rights of any third party, including copyrights, trademarks, privacy of other personal or proprietary right(s). Furthermore, the user shall agree there will not be content of unlawful, abusive, or obscene material(s) submitted to the site. User will be the only one responsible for any comment's content made.

Product Information
We cannot guarantee all actual products will be exactly the same shown on the monitor as that is depending on the user monitor.

Product Shipment
We will not take any responsible on product damaged or lost during shipment as we had already did the best precaution to prevent product get damage. Thus, all products had been checked to confirm in good condition before shipment.

Newsletter
User shall agree that KPAPA may send newsletter regarding the latest news/products/promotions etc through email to the user.

Indemnification
The user shall agree to defend, indemnify and hold KPAPA harmless from and against any and all claims, damages, costs and expenses, including attorneys' fees, arising from or related to your use of the Site.


Inaccuracy Information
From time to time, there may be information on KPAPA that contains typographical error, inaccuracies, omissions, that may relate to product description, pricing, availability and article contents. We reserve the rights to correct any errors, inaccuracies, change or edit information without prior notice to the customers. If you are not satisfy with your purchased product(s), please return it back to us with the invoice. Please check out "Return and Refund Policy".

Termination
This agreement is effective unless and until either by the customer or KPAPA. Customer may terminate this agreement at any time. However, KPAPA may also terminate the agreement with the customer without any prior notice and will be denying the access of the customer who is unable to comply the terms and conditions above.
Warranty
All Products selling from KPAPA will eligible for 1 month local warranty by our company except of tempered glass. If the product is under one month warranty, KPAPA will one to one exchange to customer after checked product condition.
Return Policy
The returned goods/products will be checked with the receipt together and the goods should be in the good condition. The packaging should also be in original condition in original shipping container as received. If the goods/products has been used or damaged by the customer, there will not be any refund. KPAPA will also not be responsible if your shipment is lost or any damaged during shipping or return transit. Once we have checked and confirm the goods/products, customer will received their product's refund within 5 days after the confirmation.

Please return your purchase to the following address:
KPAPA VENTURES
605, Jalan Aman, Seri Kembangan
43300. Selangor
Questions & Answers
Do you have any questions to ask merchant about this product
Ask Seller
| | | |
| --- | --- | --- |
| 5 star | | 0 |
| 4 star | | 0 |
| 3 star | | 0 |
| 2 star | | 0 |
| 1 star | | 0 |
Share your thoughts with others
Write a review
Only buyers who purchased the product may leave a review