Item Specification
Product Description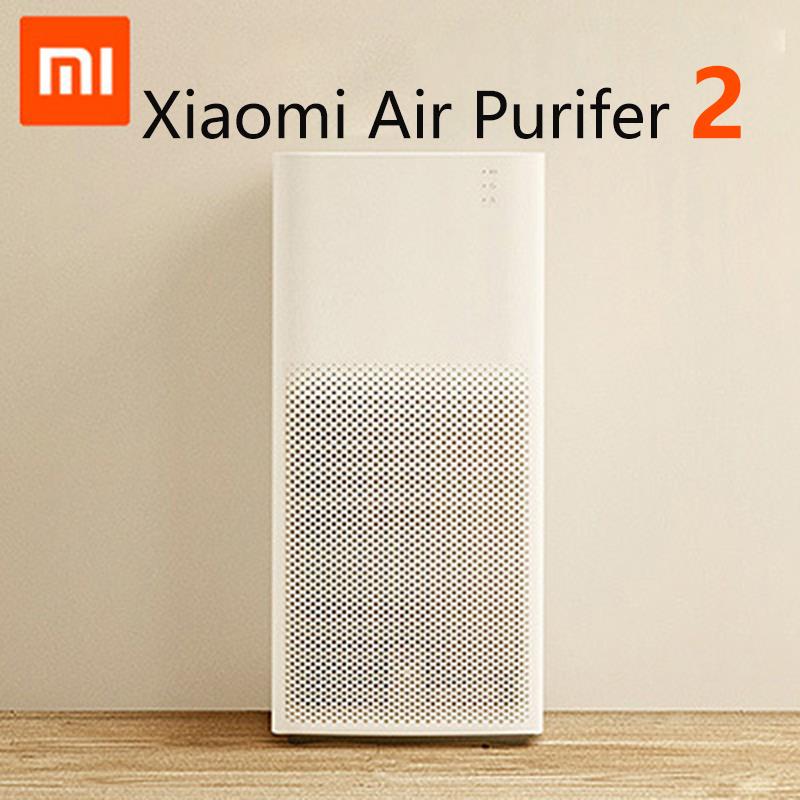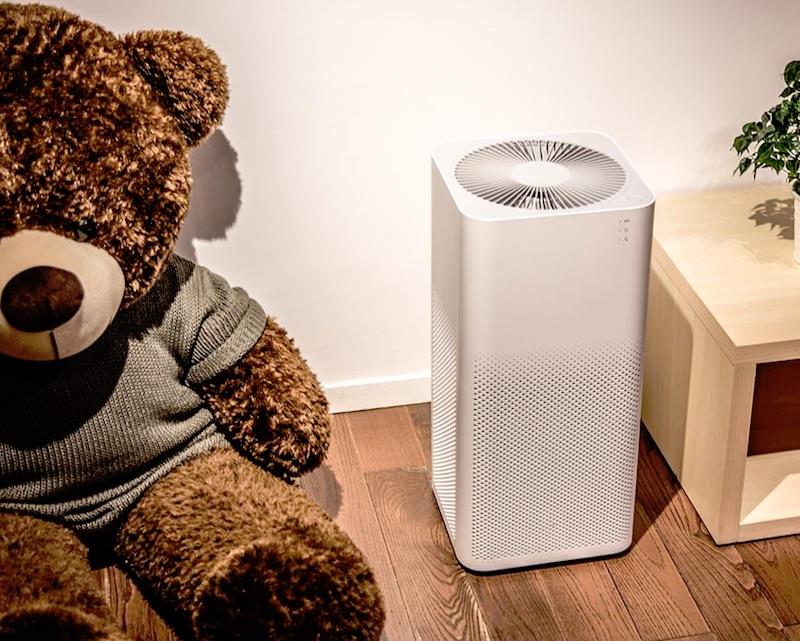 1 year warranty !!
Clean each breath of air
Purifies room in 10 minutes

①
We know eating clean is better for the body, and the same applies to the air we breathe. Mi Air
Purifier 2 is simple, elegant and has a new compact design that is 40% smaller than the first Mi
Air Purifier. Despite this, it still offers a high 310m3/h Clean Air Delivery Rate (CADR) ② and
takes just 10 minutes to circulate purified air in a 21m2 room. Go on, isn't it about time you give
your lungs a treat?
Every way the wind blows

High air pressure, larger circulation
Send powerful gusts of air to the farthest reaches of your room. Inspired by aircraft engines, the
aerodynamic pressure system created by our R&D team draws inward from the base and expels
air upwards with great force. Smart phone controls let you switch on and off remotely, even when you
are away from home③. That way you can always be sure to come home to clean air.
More about Purification >
Covers all angles
360

°

triple-layer filter
The 360° cylindrical filter takes in air more efficiently from every direction compared to conventional air purifiers. Its
triple-layer design removes particles larger than 0.3μm with a high-density EPA filter from Japanese manufacturer Toray,
while an activated coconut carbon filter removes formaldehyde, bad odour and other harmful substances.④
Replacing the filter is simple and you will be automatically notified via the app when it needs replacing
More about Filter >
Living room
23m

2
Master bedroom
16m

2
Kid's room
7m

2
Study
10m

2
Mouseover rooms to view purifying effect⑤
11min to circulate air once in the living room
Enjoy better air even when resting on the sofa. Mi Air Purifier 2 quickly removes PM2.5 particles, dust from unclean air conditioners, germs, indoor plant pollen and pet hair. It even filters unpleasant odours that may waft through from time to time.
Completely in control

Monitor air quality at a glance
Use your phone as a remote to power on,
power off, and switch modes. The Mi Home app
also lets you monitor home air quality from your
phone at any time. Create schedules to power on, power
off, switch to Night mode, and more.
More about Smart Controls >
The strong, silent type

Ultra-quiet and energy efficient
Sleep soundly with the ultra-quiet Mi Air Purifier 2. Advanced aerodynamics
reduce noise and wind resistance so you can enjoy peace and silence at
night. The custom Japanese motor from Nidec is extremely power efficient,
consuming 58% less energy than Mi Air Purifier and using only 4.8W on
normal mode - that's even better than energy-saving lightbulbs.⑥
Mi Air Purifier 2
Purifies room air in 10 minutes
High performance 310m3/h CADR
CADR (Clean Air Delivery Rate) is the international standard for measuring air purifier effectiveness. Mi Air Purifier 2's CADR is measured under specified test
and capacity conditions with targeted pollutants (particulate and gaseous) with measurement units in cubic meters per hour (m3/h).
Results according to Guangzhou Industrial Microbiology Testing Centre's CADR test report. Takes 10min to circulate clean air in a 21m

2

room, 2.4m high.
CADR is affected by room area and height. Mi Air Purifier 2's effective area is based on the GB/T 18801 Air Purifier standard: Effective area=CADR x (0.07-0.12). Data taken from Guangzhou Industrial Microbiology Testing Centre's CADR test report.
Install the Mi Home app to control Mi Air Purifier 2 remotely. Noise levels on High-speed mode will be higher than Normal or Night mode.
Toray EPA filter removes extremely fine particles and contaminants including airborne allergens (pollen, dust mites, pet dander, mold, etc.) as well as bacteria and some viruses.
Results according to Guangzhou Industrial Microbiology Testing Centre's CADR test report.
Mi Air Purifier 2 uses 58% less energy than Mi Air Purifier when both devices are on High-speed mode. 4.8W power consumption takes place when in Normal mode.
Traps from all sides
How well a filter performs depends on its
purification ability and aerodynamic design.
Supplied by top-quality suppliers, the triple layers
consist of a primary filter, high-density EPA filter
and activated carbon filter. Easy to use and
replace, its balance of power and quality is
what makes Mi Air Purifier 2 so effective.
Removes harmful particles layer by layer
Clean air for the whole family.
PET primary filter
360

°

filtration of large particles
Made with PET (polyethylene terephthalate), the outer layer is 3 to 5 times tougher than comparable models. It has high flexural strength and is resistant to folding, grease, fats, acids, alkalis and most solvents. The cylindrical shape provides 360° filtration of dust, hair and other larger floating particles.
Ultra-dense EPA filter

Finely folded to trap respirable particles
Mi Air Purifier 2 uses an ultra-dense Toray EPA filter to trap PM2.5, PM0.3, pollen
and other respirable particles, allowing only clean air to pass through.
Precise machine-folded
corners reduce air resistance
Carefully calibrated 3.5mm intervals
for even airflow
Laser-positioned
glue injection
Activated carbon filter

Removes formaldehyde, odours and more
Activated carbon adsorbs harmful gases across a large surface area. It is combined with
an anti-formaldehyde formula that effectively adsorbs harmful chemicals such as
formaldehyde, benzene and ammonia, as well as odours and smoke.
Filter replacement is a breeze

Change filters in 10 seconds
Typical air purifiers require you to change filters layer by layer. Mi Air Purifier simplifies this by integrating all three layers. Simply pull out, and push in. It's that easy.
Pull out old filter

Pop in new filter
Alerts you to change filters
Monitor filter usage in real time
All filters lose effectiveness over time and must be replaced
promptly. Filters not replaced on time may not block
harmful substances or may cause secondary contamination.
Contrary to what others may advertise, cleaning old filters with
water or a vacuum cleaner does not guarantee that the filter will
regain its effectiveness.

We recommend you change filters every six months or less,
depending on usage. Use the Mi Home app to monitor filter
lifespan and receive notification reminders when your filter needs
replacing.
Smart filter alerts

Replace every 4-6 months
The beauty of aerodynamics

Air flow optimization at its best
Inspired by aircraft engines, our engineers set to create a powerful aerodynamic system that uses pressure to let clean air soar across the
room. The result is a form factor 40% smaller than its predecessor, yet retains a high Clean Air Delivery Rate (CADR) of up to 310m3/h.
Assembled inside is a Nitec DC motor that changes speed levels seamlessly. Ultra-quiet and unobtrusive, it also consumes very little power
so you can leave it running while you sleep. Smart phone controls allow you to adjust air flow rate, just the way you like it.
Clean air comes full circle
Large 360

°

circulation, up to 310m

3

/h CADR
Uses aerodynamics to optimize wind flow. Air suction
takes place at the base and is expelled forcefully
through the top using a pressurized system. Select
Favourites via the Mi Home app to enter high speed
mode, and purify your room in a matter of minutes.
Going with the flow
Even a fan blade just 1mm thick can have a significant impact on airflow, that's why Mi Air Purifier has been meticulously
designed to minimize air resistance and energy loss as air flows through each section.
Intake grille

Faces the same airflow direction and slices it
up for even circulation. Rounded sections
reduce wind resistance and noise.

Fast and steady

The best fans remain stable and precise
even at full speed. Every fan is tested for
precision and balance at high rotation speeds for the most stable performance.

Parallel fan design

Both fans at the top and bottom
work together in sync to provide a
uniform air passage.
Senses with accuracy
The high-quality Japanese SHINYEI particle sensor calculates indoor PM2.5 quality and displays it on your phone. It also informs
Mi Air Purifier 2 to adjust wind speeds when air gets bad.
So dim and quiet,
you won't even realise it's there
Mi Air Purifier 2 is designed simply, with minimal aesthetics, buttons, and
lights. The notification light hovers exactly 7.5cm from the ground to avoid
glare when you're resting on the bed or couch. The low-power Nidec
motors consume just 4.8W, which reduces noise especially on Night
mode. Just like the sound of a gentle breeze, Mi Air Purifier 2 helps you
drift off to sleep.
At 4.8W, power consumption is 58% and less than 0.12kWh①
Suppliers you can trust
Sourced from the same world-class suppliers
used by Canon, Epson and Brother
Plastics

Industry leader in electronics

Plastics

Industry leader in electronics

Switch

Industry leader in automatic control
development and manufacturing

Terminals

Japan's top manufacturer of
compression terminals

Brushless DC motor

Market leader in brushless DC motors

Temperature and humidity sensors

Screws
Supplier for Apple Inc.

Filter

A leading chemical company in Japan
Mi Air Purifier 2 uses 58% less energy than Mi Air Purifier when both devices are on Turbo mode. 4.8W power consumption takes place when in Normal mode.
Works hard, works smart
Feeling hazy? Take shelter with smart remote controls and
real-time air monitoring. That way you will always know what
outdoor vs indoor air quality is like, and switch to High-speed
mode on a hazy day. Set timer schedules to learn your wake
up and sleep patterns, and schedule a power off when you
leave home. That's not all, built-in temperature and humidity
sensors also give you more information about your environ-
ment.
Download the Mi Home app: Android | iOS
Switch
modes
Power
on/off
Buy
filter
Adjust
speed
Smart
learning
Check air quality in real time
Displays real-time outdoor and indoor air quality at a glance.
Breathe in, relax, and have peace of mind.
Smart learning,
learns your habits
Mi Air Purifier 2 learns daily patterns
and remembers your preferred settings.
Night mode for when you sleep, Auto mode
for mornings, and power off when you leave
home. It prompts you to record your
preferred settings and sets it on daily repeat
until told otherwise.
07:40 AM
Start your day fresh!
Mi Air Purifier 2 powers off
automatically when you leave
home, so you don't have to
worry about leaving things
running.
18:15 PM
Welcome back home.
Mi Air Purifier 2
remembers when you
usually power on in the
evenings, saving you the
hassle of doing it yourself.
23:45 PM
Sweet dreams. Mi Air Purifier 2
switches to ultra-quiet Night mode
automatically when you fall asleep.
Find your speed
Every home, apartment, and room is different. That's why Mi Air Purifier 2 lets you customize
wind speed in very small, gradual increments to find the perfect setting.
Displays temperature
and humidity
Control other aspects of your home for maximum comfort.
Mi Air Purifier 2 shows you room temperature, so you can
switch on the air conditioner if you want. If humidity levels
are low and dry, you might want to switch on a humidifier.
Reminds you
to change filters
Most air purifiers use a simple
indicator light when it is time to
change filters. Mi Air Purifier 2 goes
one step further to provide you with
filter usage statistics and sends
smartphone reminders when the
filter needs to be changed. That
way, you always know how used the
filter is and when to order a
replacement.

Last Updated @ 3/22/2018 6:59:31 PM
HAPPY CHINESE NEW YEAR , HAPPY HOLIDAYS
WE ARE HERE TO INFORM THAT 
ALL ORDER AFTER JAN 30 2018 , ITEM WILL BE PROCEED AFTER CHINESE NEW YEAR 
AND ITEM WILL REACH YOU AROUND MARCH 1-7 2018
OUR STORE HOLIDAYS FROM 6 FEB 2018 UNTIL 25 FEB 2018  
THANK
Simply contact US at phone number 0108877763
Office address : 15, Jalan Villa Perdana 2 ( jalan kajang Perdana 3 behind macdonald)
COD Location : Jusco Cheras Selatan Balakong. or kajang perdana Area
LEON (010-8877763)
11am-8pm. email : leonjunyin@hotmail.com



---
Maybank (LEE CHUN YIH) - 164856074024
Public Bank (LEE CHUN YIH) - 4521609025
Once made the total payment, please do inform us and send detail by sms to (010-8877763) or email to leonjunyin@hotmail.com. Thank.
We use Poslaju for delivery.
Shipping within 24hours upon payment received. (If payment received before 12pm, we will ship within the same day).
Stictly no Joy bidder allow, we will report to lelong if any.
Once made payment, do sms or call 010-8877763 to inform us for the item(s) you paid and address to be send.
All electronic device is under 1 year local warranty.
If device defect within 2 week, 1 to 1 new set exchange.
Please kindly Call 010-8877763 if any problems. Thank.
All electronic device is under 1 year local warranty.
If device defect within 2 week, 1 to 1 new set exchange.
Please kindly Call 010-88777 63 if any problems. Thank.
Questions & Answers
Do you have any questions to ask merchant about this product
Ask Seller
| | | |
| --- | --- | --- |
| 5 star | | 0 |
| 4 star | | 0 |
| 3 star | | 0 |
| 2 star | | 0 |
| 1 star | | 0 |
Share your thoughts with others
Write a review
Only buyers who purchased the product may leave a review