Item Specification
Model / SKU
: SWDK HANDHELD ELECTRIC MOP
Product Description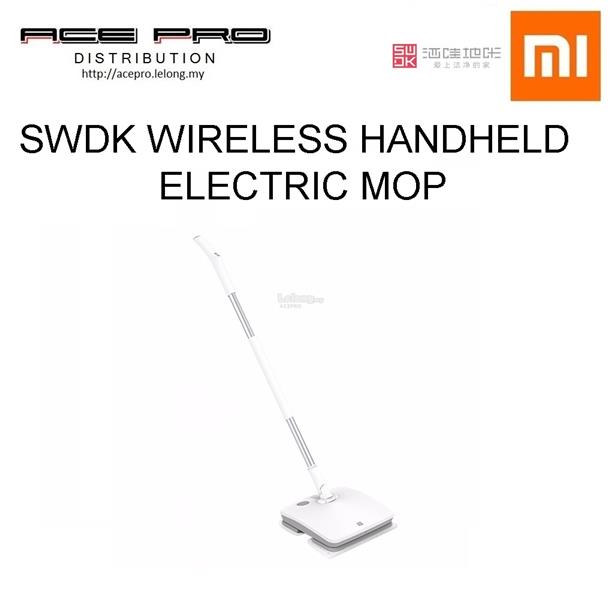 Xiaomi SWDK Handheld Electric Mop
100% Genuine SWDK Product imported from Mi China

Condition : NEW
Price:
SWDK Handheld Electric Mop: RM499.00



( one month warranty )

NOTE: Due to overweight item, shipment arrangement maybe require additional 1 days for process.
Default shipping arrangement:
Peninsula Malaysia: SkyNet/NationWide/Pos Laju (AcePro will decide depending on location & fees. Limited time promotion only - until this statement become Ship by Pos Malaysia)
East Malaysia: Normal Pos (Pos Malaysia).
Please contact us at the if you have preferred and additional charges depending services of your choice
---
Description:
Say goodbye to the traditional mop that needs a lot of effort, now just take a walk in your room, and leave the tough matter to our brand new Mopping Robot. This Xiaomi Electric Mop featuring the high-frequency motor, and long grip handle, can tackle the dirt and stains completely and effortlessly. The Mopping Machine with the LED light can illuminate small dirt and stains on the floor, and the sprayer can spray the fanned mist to wet the floor. The Mop removes ultra-fine dust particles and stubborn stains from floor surfaces through reciprocating sliding cleaning, and the compact right-angle design fits the corner streamline in your room. The long grip with flexible rotary handle enables you to always stay upright without a stoop. The built-in 2000mAh Li-ion battery ensures 50min cordless continuous usage time.

Main Features:
• High-frequency reciprocating sliding
The mopping frequency is up to 1000 times/min, the powerful motor delivers high-efficiency and thorough cleaning
• Compact design with LED light
The right-angle design fits the corner streamline, and the LED light illuminates the dirt and stains
• One-hand operation with long grip
One key operation, easy to open and spray, no need to stoop during operation
• Flexible rotation, mopping without dead corner
The grip connects with the host by cardan joint method, so it can rotate from all angles
• Powerful mopping pad, tackle multiple stains
The high-quality mopping pad with terry can tackle all kinds of stains without shedding or damaging
• Three kinds of mopping pads for different user preferences
Normal durable mopping pad: spiral hard fiber can clean the dirt, soft fiber can absorb water. The two kinds of fibers are in opposite arrangement, which can tackle the stubborn stains easily
Durable terry mopping pad: with terry edge, it can absorb hairs by electrostatic principle
Disposable environmentally friendly mopping pad: adopting the degradable material, it features the great cleaning capacity without pollution
• Built-in 2000mAh Li-ion battery
2000mAh large battery capacity, it can use 50min continuously on a full charge, which can clean the 100 square meters room 3 - 4 times
• Upright placement, automatic shutoff
Push up the grip to upright state, the host will lock automatically, safe and energy-saving
• Power indicator
3 power indicators display the 100 percent, 65 percent and 30 percent respectively
• Water inlet design
Use the included measuring cup to add water, and the 0.5mm hole ensures even spray
• Step-on mark design
Step on the mark to lift the machine, then you can replace the mopping pad

Package List:
1 x Xiaomi Electric Mop, 1 x 2 in 1 Normal Mopping Pad, 1 x 2 in 1 Terry Mopping Pad, 10 x Disposable Mopping Pad, 1 x Measuring Cup, 1 x Adapter

Instruction for Use:
● On / Off
Pressing the handle backward until it is released with a sound, and the lamp and power indicator lights up to the standby state. When you push the handle forward to straight, and the whole machine is turn off.
Note: after two minutes of inactivity, the robot automatically enters a dormant state. With 100pct of the charge indicator light flashes, pushing the handle to straight and press down, it can be used normally.
● Start Up / Water Spray
The robot adopts wireless control to start up and spray water. In the standby state, press the switch button on the handle, the robot starts working with the mopping pad moving back and forth. Press the switch button once again, the robot stops operation. When you keep pressing the water jet button, the nozzle will spray. And the water spray is going to over just by releasing the water-jet button.
Note: remote control function is ineffective in charging state. Constantly pressing the water jet button, the longest water spray time at a single operation is 5 seconds. In order to ensure the sensitivity of remote control, the interval between each pressing should take one second or more.
● Water Supply
Lift up the water supply lid, and fix it up with hands, add pure water to the water tank with the measuring cup. When the water level reaches the MAX scale, stop water supply and close the lid.
Note:
The maximum capacity of the water tank is 230ml. Please make sure that the filling water is clean and free of impurities, or it may clog the nozzle or damage the water pump.
● Power LED Indicator
Three LED lights respectively indicate 100 percent, 65 percent and 30 percent of the power. When three lights are flashing at the same time, it means the power is about to run out, please charge it in time.
- 3 LED indicators lights-up with 100 percent full power
- 2 LED indicators lights-up with 65 percent of power
- 1 LED indicator lights-up with 30 percent of power
- 3 LED indicators flashing with low battery
● First Charge
Pull out the rubber cover until the charge port is fully exposed to fit in the power adapter.
Note: please use the original Xiaomi adapter for the safety of you and the robot.
● Mopping Cloth Replacement
Step on the pedal edge of the mopping pad, and it is easy to take off the mopping cloth for replacement.

Maintenance and Notice:
● Handle: pushing up the handle to turn off the robot is in need of turning the handle pole to straight and then the handle can be automatically locked
● Nylon magic patch: after several uses, the magic patch may be stick with fiber or other sundries which will cause the mopping pad non-stick, thus please gently clean it with soft brush
● Mopping cloth: every time after use, please take off the mopping pad to wash and dry, or using the disposable mopping cloth that is environmentally friendly and may reduce the using effects
● Water tank: clean and neat liquid like pure water should be supplied to the tank and empty the tank after being used. If matching care essential oil is added, please clean and drain the tank

Specification:
Battery: 2000mAh Li-ion battery
Voltage rating: DC 12V
Power rating: less than or equal to 35W
Adapter output: DC 12.6V 1A
Charging time: 3h
Main body size: 30 x 27 x 5cm
Main body weight: 2.156kg
Package size: 48 x 16.5 x 40cm
Package weight: 4.160kg
Package contents: 1 x Xiaomi Electric Mop, 1 x 2 in 1 Normal Mopping Pad, 1 x 2 in 1 Terry Mopping Pad, 10 x Disposable Mopping Pad, 1 x Measuring Cup, 1 x Adapter, 4 x Connecting Rod, 1 x User Manual
Specification
Product Details

Brand: Xiaomi SDWK
Cleaner Types: Electric Mop Cleaner
Type: Handheld

Dimension and Weight

Product weight: 2.1560 kg
Product size (L x W x H): 30.00 x 27.00 x 5.00 cm / 11.81 x 10.63 x 1.97 inches

Package Contents

Package Contents: 1 x Xiaomi Electric Mop, 1 x Normal Mopping Pad, 1 x Terry Mopping Pad, 10 x Disposable Mopping Pad, 1 x Measuring Cup, 1 x Adapter, 4 x Connecting Rod

Last Updated @ 12/4/2017 4:59:29 PM

Last Updated @ 1/16/2018 7:21:58 PM
(Promotion only valid while stock lasts)
YOU CAN SELF COLLECT
**PLEASE CONTACT US**
Office: 03-7734 3238 (For walk in purchase and stock inquires)
GiN: 018 6666 296 (Whatsapp preferred)
Harry: 012 5129 282
OUR OFFICE LOCATION:
ACE PRO DISTRIBUTION SDN BHD
D-7-05, CAPITAL 4, OASIS SQUARE, NO.2 JALAN PJU 1A/7A, OASIS DAMANSARA 47301 PETALING JAYA, SELANGOR.
Office Operating hours :
Monday to Friday: 11am to 7pm
Saturday: 11am to 5pm (5pm to 7pm contact first)
Sunday and Public Holiday :Off
P/S: The time can be flexible on operating days. Just contact us, we can work it out.
If you buy thru Lelong Netpay option, it will auto update in the system. You don't have to do anything.
If you buy thru Lelong using other payment option, please upload your transaction/bank in receipt/slip to speed up the process.
for Postage, Payment as below (Please contact us first before make any payment):
Bank in / Bank Transfer to below
Bank Name : Maybank
Bank Account : 1-14179-50001-8
Bank Account Beneficiary :NG WENG CHIN
after Bank-in / Transfer, please the receipt / slip to :
Email: acepro.distribution@gmail.com
or
WhatsApp to the person who you dealing with.
Order(s) to be process on the same day if payment received before 3pm. Payment after 3pm consider next working day.
Default courier service is Pos Laju except mention in advertisement. Please read the full description in every advertisement.
For overweight/dimension items, default shipping will be by Pos Malaysia and will state in the advertisement. Please contact us at the if you want to use courier service (Pos Laju, etc.) and additional charges depending services of your choice. May require 1 additional working day for pick up schedule / other process.
AcePro reserve the right to change the courier company without any notice.
1 - 2 working day shipping to Peninsular Malaysia by Courier
3 - 7 working day shipping to Peninsular Malaysia by Pos Malaysia

1 - 4 working days to East Malaysia by Courier
5 - 21 working days to Eas Malaysia by Pos Malaysia (Varied on receiver area / item to post)

NOTE: We will try our best to ship out the orders on the same day as payment cleared before 3pm on weekdays but sometimes there are unexpected circumstances, that is the reason we advertise ship out within advertised days (The shipping within ? - ? Working days). No shipment will be arrange on weekends and public holidays. Please refer the shipping status with courier service after tracking number updated. We can't promise the actual date the parcel reach your door step there are varies situations like receiver area, systems, causes of nature, server status, etc. but if everything goes well, maybe buyer will receive the parcel on the next day.
Please take note : Time Lead 5 to 9 days if item out of stock. Do not purchase if you do not agree.
PLEASE CHECK T&C Before placed any order: http://www.lelong.com.my/merchant/Default.asp?UserID=acepro&show=Terms
Notice Board: News and promotions : http://www.lelong.com.my/merchant/Default.asp?UserID=acepro&show=Announcements
BUY WITH CONFIDENCE, WE ARE VERIFIED SELLER BY LELONG
Buy with confidence
| | | | |
| --- | --- | --- | --- |
| Buyer | Item ID | Date | Ratings |
| ch**** | 194688726 | 1/20/2018 5:14:00 PM | As always, Ace Pro nails it. The product arrived much sooner than projected, it was securely packaged, and was exactly as described. Great outfit, especially for Xiaomi junkies. |
| lc**** | 193806046 | 1/16/2018 9:32:00 AM | - |
| lc**** | 184278667 | 1/16/2018 9:32:00 AM | - |
| lc**** | 188015447 | 1/16/2018 9:32:00 AM | - |
| eu**** | 180779466 | 1/15/2018 6:35:00 PM | *****Thank You***** |
| Sh**** | 174653505 | 1/13/2018 3:09:00 PM | - |
| he**** | 176733696 | 1/13/2018 2:20:00 PM | always reliable and fast. Thanks. |
| wa**** | 174203304 | 1/13/2018 9:24:00 AM | no comment.The item is in good condition.thank yuo |
Questions & Comments



















---
Account Name: NG WENG CHIN
Account Number: 114179500018
Account Name: NG WENG CHIN
Account Number: 4541512321
Please make payment within 2 days after order has been made.
Customer can use Credit Card to make payment via NETPAY, MAYBANK2U and CIMB Clicks
Ace Pro Distribution has appointed Pos Laju as logistic partner to provide better experience to customer.
It is impossible for us to check all the tracking delivery that is the reason tracking number is provided.

It just as simple as key in the tracking number.

Contact Pos Laju if you there is some issue with the delivery. Happy buying.
You can check tracking number from link below:
http://poslaju.com.my/track-trace/
or contact POS Malaysia/Pos Laju @ 1300300300
We will always available if you need assistance.
H/P : 018-6666296 (GiN)
H/P: 012-5129282 (HARRY)
For more information, please read terms and condition: http://www.lelong.com.my/merchant/Default.asp?UserID=acepro&show=Terms
All the order made before 3 p.m. would be processed by the same day, Shipping to be made within 1 to 3 working days. Delay perhaps 5-14 working days if out of stock. We only ship complete order.

POS Laju National Courier will be our priority courier choice for mobile accessories and gadgets.

However, for HEAVY or OVER DIMENSIONS items such as Mi TV, NineBot Mini, Mi Weight Scale, Mi Air Purifier 2, Mi Air Purifiers Filters, Table Lamp, Laptops bags or any items that exceed 3KG in weight or dimension calculation, we will proceed with Pos Malaysia. (1-2 weeks delivery for Peninsula Malaysia, 3-4 weeks or more delivery for East Malaysia).

If you have preferred Courier service company, please contact us before place order you so that we can check the additional costs and handling fees.

AcePro reserves the right to change Courier company / Postage method without informing the buyer.


Please made the payment within 48 hours after placing the order.

Self collect arrangement, please inform us 24-48 hours earlier through Call/ WhatsApp / WeChat email to ensure stock availability.
http://www.lelong.com.my/merchant/Default.asp?UserID=acepro&show=ContactUs
Office Tel : +603 - 77343238
Whatsapp/WeChat Preferred
H/P : 018-6666296 (GiN)
H/P: 012-5129282 (HARRY)

We will NOT RESPONSIBLE for any item losses or spoilt during delivery by post service.Good sold are not refundable or returnable or exchangeable. We will review for special cases.

We reserve the right to update or modify this T&C ( the "Terms and Conditions"), any policies, product details and prices at any time without prior notice. For this reason, we encourage you to review the T&C, any policies, product details and prices whenever you make an order. If you do not agree to these terms, please do not place any orders.
Warranty Policy
1. General
- 7 days upon buyer receive the goods for used phone and 12 months for new phone unless stated on the product page.
- For Xiaomi products, the warranty will be 30 days unless is stated in the advertisement description.
- To save costs and troubles, all product will be unbox and checked to ensure the product is not DOA (Defective on Arrival) before sent out. If buyer wants item in original sealed condition, please put remark "sealed pack" when checkout. No warranty will be provided for sealed items.
- NO WARRANTY for tear and wear parts or products. Example: Tyres, Filters, Brushes, etc.

2. Warranty Service
- All the goods will be checked for fully functional and packed nicely before sent out. It is advice to have a video of unpacking the parcel. Any missing items or products is not in good condition upon receive will not be entertained.
- Warranty on manufacture defects only. The warranty does not cover tear and wear, loss or damage to the covered product while in the course of transit, delivery, or redelivery, loss or damage caused by accidental or intentional physical damage, any modification or alteration of hardware/software, spilled liquids, insect infestation, misuse, abuse or service costs or damage caused by unauthorized repair personnel, alteration or removal of the warranty seal/sticker.
- Please capture the photos/video and send to us of the goods which is not functioning so that we can troubleshoot the defects.
- Customer will need to bear the postage fees sent back to us.
- We would bear the postage replacement.However if the product is not faulty or warranty voided, customer will bear the postage fee to sent it back.
Questions & Answers
Do you have any questions to ask merchant about this product
Ask Seller
| | | |
| --- | --- | --- |
| 5 star | | 0 |
| 4 star | | 0 |
| 3 star | | 0 |
| 2 star | | 0 |
| 1 star | | 0 |
Share your thoughts with others
Write a review
Only buyers who purchased the product may leave a review