Product Description: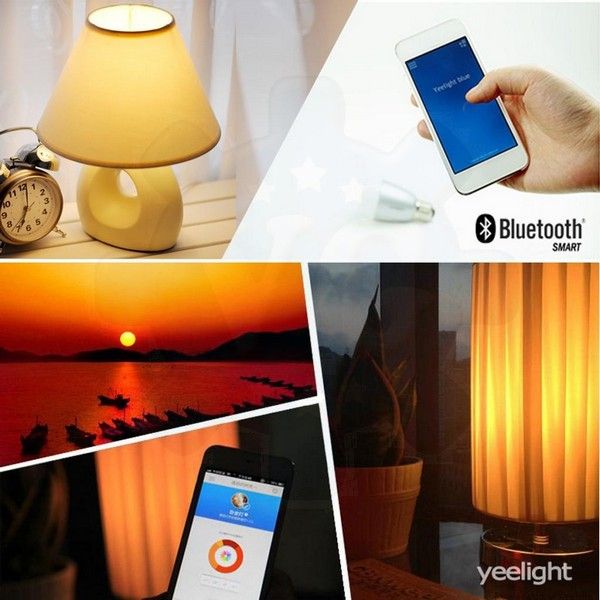 SMART LAMP YEELIGHT

Yeelight - unique invention the world famous company CREE\u00aeLED, it can be changed up to 16 million different shades of colors, this feature you will love.
Yeelight very convenient for everyday lighting very nice white light, and a variety of colored lighting to bring into your life perfect and pleasant feeling of comfort. Yeelight ekspluatatsionnayu has a very long durability. Reliability lamp Yeelight guarantee the manufacturer's name.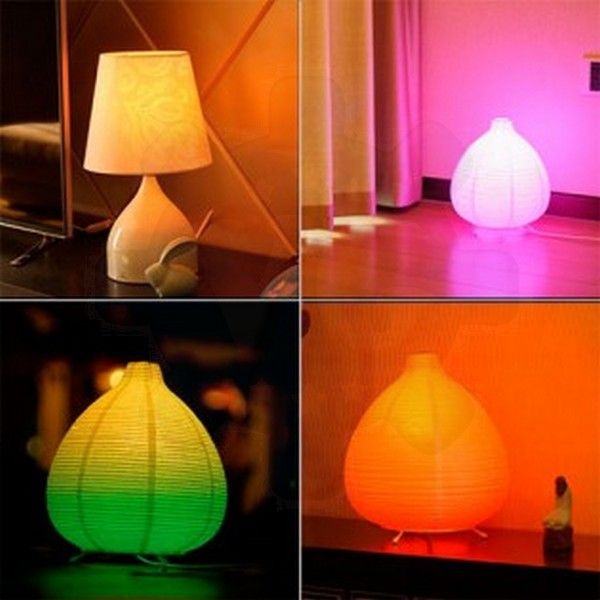 Various modes:
Alarm Mode
Bulb Yeelight - is another alarm. Every morning, at the scheduled time, it will gradually create a light and pleasant and soft lighting at the same time prompting you. Now, the early rise is not a difficult task.
Reading mode
Yeelight lamp uses LEDs CREE, no glare and flicker, c more effective protection for your vision. During the reading, convenient for you to adjust the lighting, it will prevent eye fatigue and ensure the protection of vision.
Mode movies
The lighting in the room should be very soft and at the same time it should be brighter than the TV screen. Thus, you can avoid eye fatigue, preventing reflections on the screen and creating the effect of cinema.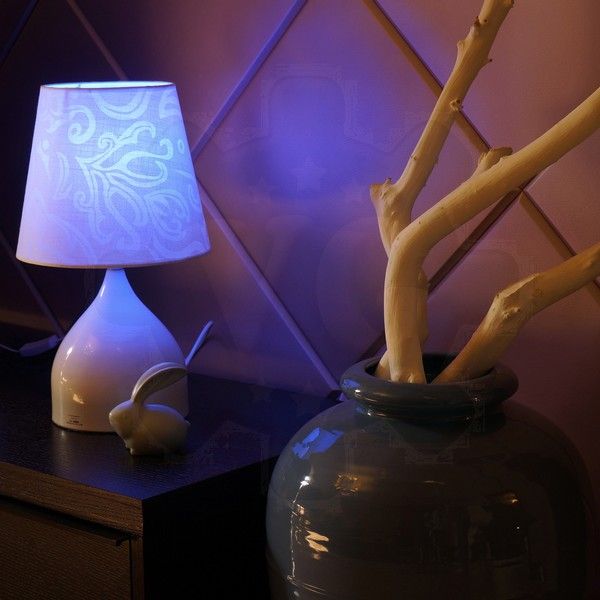 Mode romantic evening
Romantic and cozy lighting that creates a warm and supportive atmosphere in the room.
Working with Mi Routers
(Only used Mi router or Wi router mi)
Mi router and bulbs Yeelight perfectly combined, since they are made under the work with the router. Each lamp is made with an integrated USB-adapter. You only have to connect the adapter to the router, screw in a light bulb, and you can immediately enable and configure the light through a special mobile application.
Multi-point lighting creates incredible colors in the room.
Use a router to connect and adjust a few bulbs Yeelight
We have equipped each bulb a special adapter to a router, you can connect multiple yeelight bulbs.
Compatibility with devices
The lamps are compatible with virtually all devices running on iOS and Android 4.3 or higher.
Environmentally friendly
Yeelight lamps are energy efficient.
Lumiere
The lamps can be easily synchronized with the music played on your device.
Timer
You can adjust the time on and off lights.
Special Features
Lumiere. The lamp has a built-in microphone, which allows you to synchronize the lights with the music being played.

16 million. With the application of colors, you can just pick any color of the spectrum.

Set the timer on and off the lamps! Start your day with a pleasant soft light.

Flowing Color This technology helps to synchronize the color of the lamp with any photo album and choose its main color.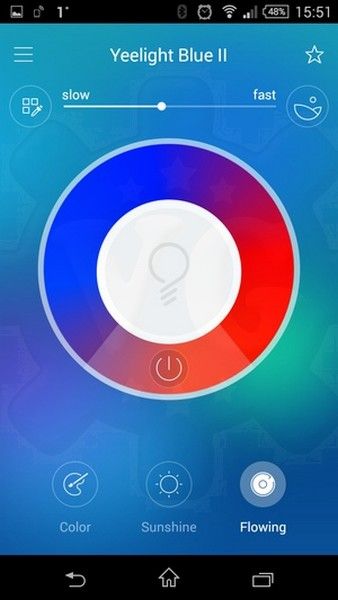 What are the features Yeelight Blue
Management of the smartphone

Used bluetooth 4.0, additional devices or wires are required

Use a smartphone is changing color and intensity

Synchronization with photo albums and play music

New features with each update applications
What is the difference Yeelight Blue lights from previous generations?
Communication with the smartphone comes with the help of bluetooth, without the use of additional devices.
| | |
| --- | --- |
| Manufacturer | Xiaomi |
| Model | Yeelight LED Smart Bulb Blue II E27 |
| Type | LED Lamps |
| Dimensions | 100 x 46 x 46mm |
| Weight | 145g |
| Rare Power | 8w |
| Color Temperature | 1700 - 6500K |
| Color Adjustment | 16 Million Colors |
| Lamp Interface | E27 |
| Operating Voltage | 220V - 50Hz 0.1A |
| Luminious Flux | 500 Lumens |
| Average Service Life | 25,000 hours |
| Connection | Wi-Fi IEEE 802.11 b / g / n 2.4GHz |
| Bluetooth Version | 4.0 |
| Beam Angle | 360* |
| Color | Blue |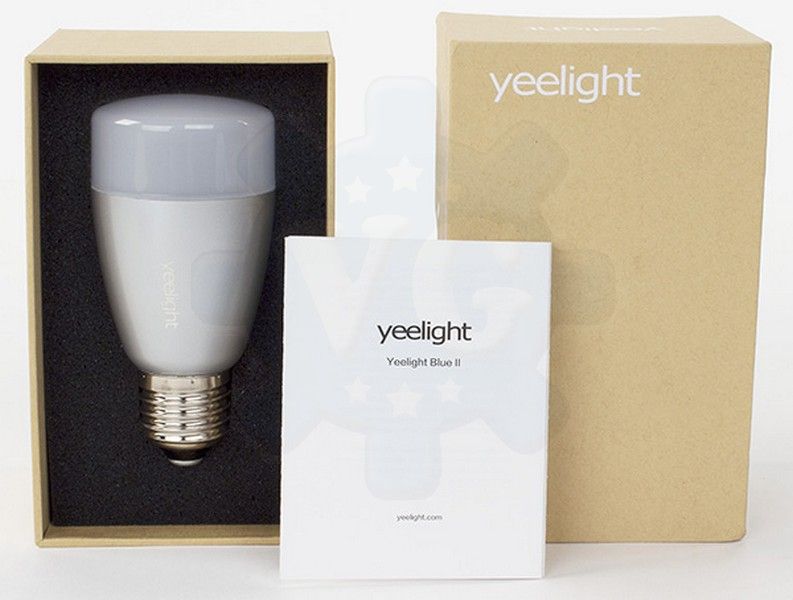 Yeelight Smart LED Bulb
Brightness adjustment / remote control via WiFi / energy saving
Better quality, pleasant lighting
In the evening the Yeelight Smart LED Bulb will accompany you while reading a book, will help you relax before going to bed and will create a more festive atmosphere. We have improved it, which made possible to use the brightness adjustment and remote control functions. To ensure safety, we have used special technologies: lightning protection, overheating protection and overload protection. A service life of 11 years. Now you have the appropriate lamp, which lighting will be perfect for reading books and will also help to create a cozy atmosphere for friendly gatherings.
Overheat protection

Ultra-low power consumption of 8W

A service life of up to 11 years

Lightning protection
Appropriate lighting for reading books and for cozy gatherings with friends
Usually, while making a dinner, reading a book or watching the TV, we need different lighting. While reading the book, we need bright lighting to save our vision. If you are getting ready for bed or want to relax with your friends, for a more comfortable atmosphere you need a few dim and \u201csoft\u201d light. Thanks to Yeelight Smart LED Light Bulb, you can select the level of illumination brightness that suits you best at a certain moment and in a certain situation.
Special optical design
Your vision safety
Reading in not appropriate lighting conditions for a long time causes eye fatigue and can lead to vision deterioration. Therefore, using high-quality LEDs, we have created a special optical design. As a result of the simultaneous high-performance work of LEDs we get a stable lighting. Therefore, even when watching TV or reading a book (considering the fact that for reading the color temperature of 4000K is required), your eyes will always be protected.
Color appearance like in an art gallery
Fresh and natural lighting
At nightfall turn on the Yeelight Smart LED Light Bulb. The lighting in your room will become beautiful and bright, like on a clear day. We put a lot of effort to make the lamp color appearance the same as in art galleries. Such good lighting can make you happier, the Yeelight Smart LED Light Bulb will create a feeling that your room is illuminated by the real sun.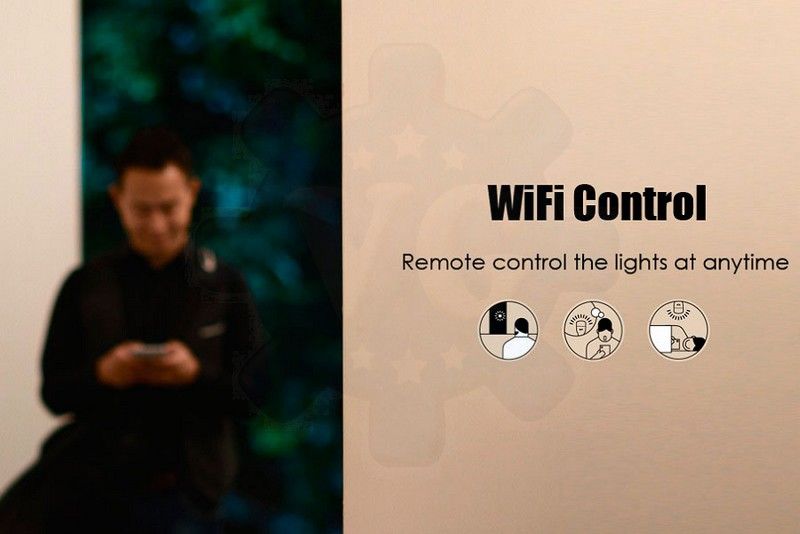 Connection to WiFi
Remote control of the lamp
If you have the WiFi, you can use the handy remote control feature. Feel free to turn off the light in the room of your sleeping child \u2014 a lamp will not emit any audible alarm and will not disturb your baby. On returning home, turn on the lamp \u2014 a pleasant natural light will help help you to relax after a working day. If you have already bundled up in a warm and soft blanket and do not want to get up, use your smartphone to turn off the light.
After returning home turn on the light

If you forgot to turn off the light \u2014 immediately correct the situation

Before going to bed, turn off the light by one touch of a button
The simultaneous control of multiple lamps
Create a romantic atmosphere
If you need to make the lighting of a single lamp more bright, you want to simultaneously turn on multiple lamps or adjust the brightness of all lamps at the same time \u2014 that\u2019s all possible. Go to the Mi Smart Home application and add all your Smart Lamps, then you need to choose a control of a group of lamps. As a result, you can adjust the brightness of the lamps and control a switch, namely to turn on or off the lamps. Use Yeelight Smart LED Light Bulbs for creating a romantic atmosphere or for a reliable and highly efficient office lighting.
Two steps for connection
Set the Yeelight Smart LED, find the Yeelight Smart LED Light Bulb in the Mi Smart Home application and add it to the already existing list of devices.
Lamp setting

Lamp search in the Mi Smart Home application
| | |
| --- | --- |
| Manufacturer | Xiaomi |
| Model | Yeelight LED Smart Bulb White E27 |
| Type | LED Lamps |
| Dimensions | 55 x 120mm |
| Weight | 140g |
| Rated power | 8 W |
| Color Temperature | 4000K |
| Lamps Interface | E27 |
| Operating voltage | 220V \u2014 50Hz 0.1A |
| Luminous flux | 600 lumens |
| Average service life | 25,000 hours |
| Connection | Wi-Fi IEEE 802.11 b / g / n 2.4GHz |
| Beam angle | 360\u00b0 |
| Color | White |