Product Description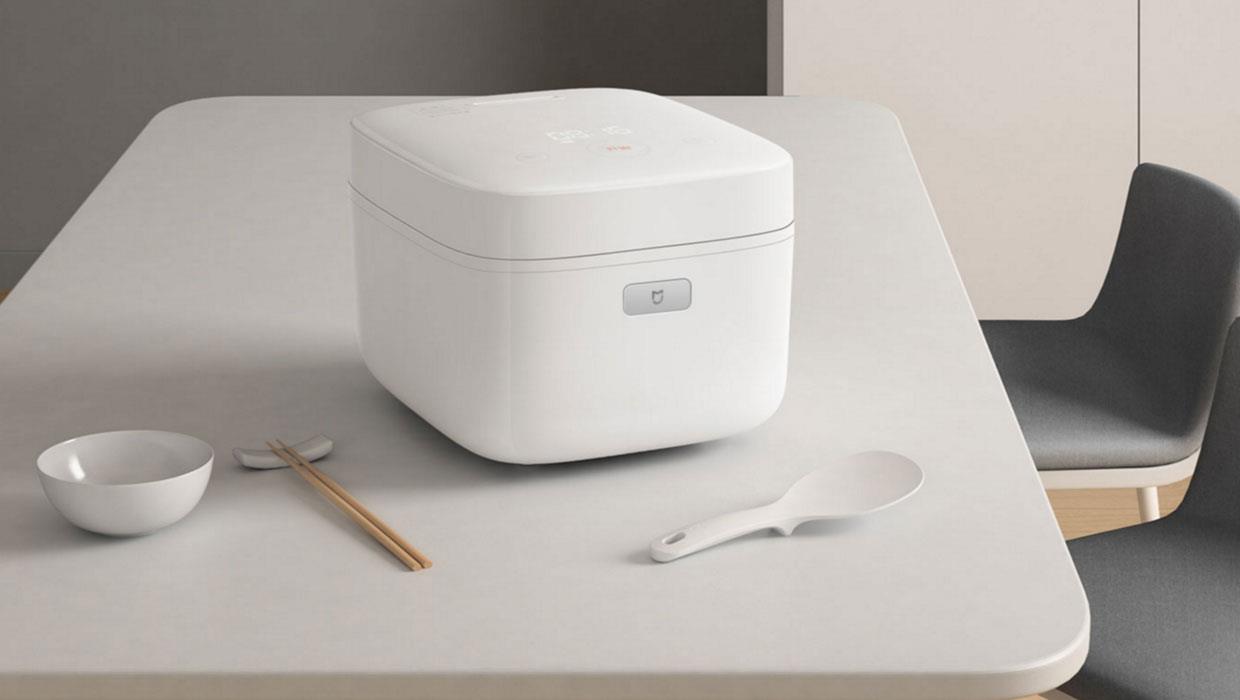 Xiaomi Smart Rice Cooker!
warranty : 3 months by DirectD
Xiaomi MiJia Induction Heating Pressure Rice Cooker
Smart cooking
IH pressure
Grey cast iron
3L capacity
The taste of happiness
Aesthetics home — in the living room, or in the kitchen
How to make a bowl of delicious rice? You need a smart IH Pressure Rice Cooker.
MiJia IH Pressure Rice Cooker is your best choice, it not only has the most advanced electromagnetic heating technology, but also a modern micro-pressure heating technology that allows to heat rice uniformly.
The base layer of cast iron combined with the intelligent heat control gives an unmatched thermal stability and permeability, and can be adjusted according to different preferences and different rice types.
With the application it is easy to cook soft, slightly sweet delicious rice remotely — anytime, anywhere, just before you came home.
Induction heating cycle cook rice with a pleasant taste
The heat spreads upwards, heating the rice evenly, while the use of the IH technology and increased micro-pressure help to keep the true, slightly sweet taste of rice.
Let rice dance
Induction heating is the process of heating an electromagnetic coil through the reaction of copper and iron atoms.
The rice cooker retains heat perfectly, the temperature mode is chosen so well that the rice begins to "dance".
PFA — non-stick material
Easy to use, easy to clean
You no longer need to worry that your dinner may be spoiled. Thanks to PFA powder coating from Daikin, rice will not stick in any case, so after dinner you will not need to soak the empty container, it is very easy to clean.
The inside surface of the rice cooker is very smooth which makes it more durable.
2000 rice cooking programs
The smart temperature curve is adapting to the different varieties of rice, depending on the recipe and the method of preparation. If you think that rice cooking isn't enough, note that the Xiaomi IH rice cooker has more than 2000 modes in order to accentuate the unique taste of each dish.
Manage cooking via your smartphone
Now to make dinner you don`t need to stay in the kitchen for a long time, you can control the operation of the rice cooker even at a distance thanks to the application on your smartphone. Thanks to the feature of automatic rice cooking by the specified time now you can sleep longer in the morning or enjoy a tasty, warm meal, which will be waiting for you when you get back home from work.
| | |
| --- | --- |
| Manufacturer | Xiaomi |
| Type | IH pressure rice cooker |
| Name | MiJia IH Pressure Rice Cooker |
| Model | YLIH01CM |
| Capacity | 3.0L |
| Heating | 5.0 inches (~69.9% screen-to-body ratio) |
| Inner pot material | cast iron |
| Rated power | 1100W |
| Voltage | 220v |
| Rated Frequency | ~ 50Hz |
| Rated working pressure | 20kPa |
| Dimensions | 300×251×212 (mm) |
| Weight | 6.45kg |
| Wireless connection | Wi-Fi IEEE 802.11 b / g / n 2.4GHz |

Last Updated @ 7/15/2016 11:23:20 PM

Last Updated @ 4/17/2017 10:49:52 PM

Last Updated @ 7/2/2017 4:37:29 PM
Buy with confidence













---
HOW WOULD YOU LIKE TO PAY FOR YOUR ORDER?
For Walk In Customer - You may use any of the following options.
- Visa
-Mastercard
-Cash
-Internet Transfer
For Internet Purchases Customer
Credit Card
Electronic Transfer (through internet banking via Maybank or other Bank)
For all payment received before 2.30pm Malaysian time during business days (weekends and public holidays not included), stock will be posted via Pos Laju on the same day.
NOTES:
1.Please check your personal details especially your physical address (our door to door courier service does not deliver to private postal box numbers).
2.Please ensure that you do type in your mailing address accurately otherwise we will have no way of mailing you.
3.Please do contact us via email or sms for any reason at all.(0196910000)
Account Holder Name :- directd Retail and Wholesale Sdn Bhd.
Maybank: 562302608251.
CIMB: 8003317202.
RHB : 21211600119841.
Public Bank:
3182128928
Alliance Bank. 120150010129265
Hong Leong Bank.04500309317
For Lelong order, please upload the proof of payment to complete the order.
We do not accept
- Paypal
- local cheque.
- International TT
Thanks for your support
We will try our utmost best to deliver the goods on the agreed date. However, if we are unable to do so, you will be notified and an alternative date will be arranged. Your order will be delivered at the agreed time and location. You must be available to sign a personal acknowledgement of delivery.
We strongly recommend that, upon receipt, you inspect the phone. If the package appears damage, it is advisable that you do not accept it. In the unlikely event that we deliver the wrong phone to you or that it is damaged; please notify us within 24 hours. We will not be liable for any claims after the given 24 hours.
If we are unable to provide you with your order due to unforeseen circumstances, you will be contacted as soon as possible and you will be offered a substitute phone of your choice (subject to availability) or a complete refund.
Price listed in our website is final and non-negotiable. However, for corporations we do have special rate subject to quantity purchase.
Accessories included in the box are as per listed in our advertisement. Please note that we do not provide the connector for certain imported sets which comes with a 2 pin charger.
All shipment of order is made on the same day if payment is made before 4.00pm on Monday-Friday (except for public holiday). However, for no stock item, we will try sending the item within the next 2 working days or refund / replacement will be offered to the buyer on the 3rd day.
Good solds are not returnable. If in any situation that customer insists on returning the product within 7 days from the date of purchase, we will charge restocking fee of 20% or more, subject to the item and package condition verify by our technician and sales representatives.
Our sales team are not responsible for mis-selection of every item purchased by customer. Customer can consult them for advice but the final decision is on customer responsibility.
All imported sets are not in sealed box condition, only Local Original sets sometimes comes in a sealed box.
Please make payment and upload proof of payment (for offline payment method) within 24 hours from the time of order, failing which we reserve the right to reject your order.
Proof of payment must be either screenshot or picture of original receipt from online banking, cash deposit machine, or bank counter. E-mail confirmation will not be considered as proof of payment.
We reserve the right to withhold payment if the transaction appears to be a possible fraud. i.e. Payment made by a third party, and not by the buyer or recipient of the goods. We will lodge a police report in the event that we find the payment is fraud.
We will verify the payment and process the order accordingly.
If the item(s) customer purchased is not in stock, we will try to post it again on the next day. However, if the item is still not in stock on the 3rd day of the date of purchase, we will inform the customer and offer a replacement / refund subject to the customer agreement.
We reserve the right to change the price without prior notice. In the case of our system is being hacked, malfunction or description is inaccurate, we reserve the right to cancel the order and return full amount if payment has been made.
To avoid delay in shipping, please do not send the same order to multiple sales people. Deal with 1 sales person or 1 mode of contact: for example, if you order via email, continue to communicate by email. If you order via WhatsApp, continue to communicate via WhatsApp.
We only ship within Malaysia only.
Free shipping is entitled for selected products only.
If customer decide to cancel the order or request a refund on personal justification, we will charge RM20 for admin fee, that will be deducted from the refund amount.
Refund process will takes approximately 5 working days to complete. However for credit card purchase, the refund will take approximately 10 - 14 days to complete.
Warranty covered under brandstar / directd are depends on the model of the phone ; ;'¬ ;€œ 12 / 24 months for transceiver, 3 months for LCD module, 3 months for accessories. For full terms and conditions, please refer to our warranty page here:

http://www.directd.com.my/tc

Warranty period for local original set is set bythe authorized distributor / manufacturer.
For original product purchase from us and in need of warranty, DirectD will assist to send the product to authorize service center. Any negotiation regarding the warranty is between the owner of the device and the service center itself.
We do not accept payment via PayPal, local cheque or international TT. We will not be responsible for payment using these method.
***Please do not proceed if you do not agree with any of our terms and conditions***
Return Policy
Good solds are not returnable. If in any situation that customer insists on returning the product within 7 days from the date of purchase, we will charge restocking fee of 20% or more, subject to phone and package condition verify by our technician and sales representatives.
Warranty Terms and Conditions
All products sold by DirectD are covered under warranty, subject to its respective terms and conditions as followed:
Original set
Warranty coverage, policy and its length follows as what set by its principal. Customer can send all their purchased original set direct to authorized service center for warranty request purpose. Otherwise, DirectD customer can bring to our service center and we will help send the item to the authorize service center based on our schedule.
Import Set
All import set is covered under warranty by DirectD Retail and Wholesale or Brandstar Mobile City.
12 months warranty coverage:
Samsung, LG ,Asus, Sony, HTC, Lenovo, Motorola, Xiaomi, Meizu, One Plus and Blackberry and all models of smartwatch.
Details coverage:
12 months coverage for transceiver and its related part, and software
and 3 months coverage for lcd and its related part, battery, charging port, buzzer, vibrator and accessories (AC plug, earphone, cable, battery kit).
* Water damage can still happens to waterproof devices due improper use. In this scenario, it will still fall under invalidation of warranty
.For Sony smartphone, the waterproof policy and dos and donts can be found on its official website here
* All phones and tablets that are not listed above and categorized under DirectD / Brandstar warranty automatically falls under this category.
** Please be informed DirectD is not liable for any data loss due the repair / services done by our service center. Customer needs to back up their data themselves in prior to send their item for warranty.
*** During the repair process, DirectD have the rights to remove any parts / accessories whenever needed. For example tempered glass / screen protector / customized sticker or skins might be removed for the repair procedure. We will not replace or be responsible for all the removal or damaged to any added accessories.
Invalidation of Warranty
1. Warranty is invalidated if the defect is caused (with intention or no intention) by wear and tear, accident, misuse, abuse, neglect, rough handling or abuse.
2. It is invalidated if unauthorised persons carry out any alterations or repairs.
3. If the warranty card/receipt/tax invoice has been altered, defaced or erased in any manner whatsoever.
4. Unable to provide us with the original proof of purchase during warranty claim.
5. Product purchased from non-authorised dealers or from overseas (unless applicable international warranty applies).
6. Cosmetic damage (dent, crack, scratch and etc.).
7. Spillage of food/liquids or detection of water / liquid inside the device (Applicable to both non water proof and water proof device).
8. Operating with incorrect or irregular voltage supply.
9. Corrosion, rusting or stains.
10. Improper testing, operation, demonstration, maintenance, installation, adjustment or any alteration or modification of any kind.
11. If any part or parts of the unit are replaced with a part or parts not supplied or approved by us
12. Repair or attempted repair by any party other than DirectD authorized service center.
13. Where the product serial has been removed or made illegible or has been tampered with.
14. Use of the product in a commercial environment (become display set, event functions, advertising and etc.)
15. Where any ancillary equipment or 3rd party software causes the problems or damage
16. Infestation by insects or vermin
17. Incomplete or improper installation
18. Use of which is not designed
19. Use with 3rd party battery, charger and cable.
20. Damage due to improper packing during shipment to DirectD for warranty purpose
21. Disasters such as floods, fires, winds, earthquakes or lightning
22. Damage due to foreign material
23. Damage due to exposure to moisture, dampness or extreme thermal environment conditions
24. Various product models have differing specifications, functions, display, appearance and performance, and is not regarded as a defect in the product.
Questions & Answers
Do you have any questions to ask merchant about this product
Ask Seller
| | | |
| --- | --- | --- |
| 5 star | | 0 |
| 4 star | | 0 |
| 3 star | | 0 |
| 2 star | | 0 |
| 1 star | | 0 |
Share your thoughts with others
Write a review
Only buyers who purchased the product may leave a review