Item Specification
Model / SKU
: Arius YDP-163
Product Description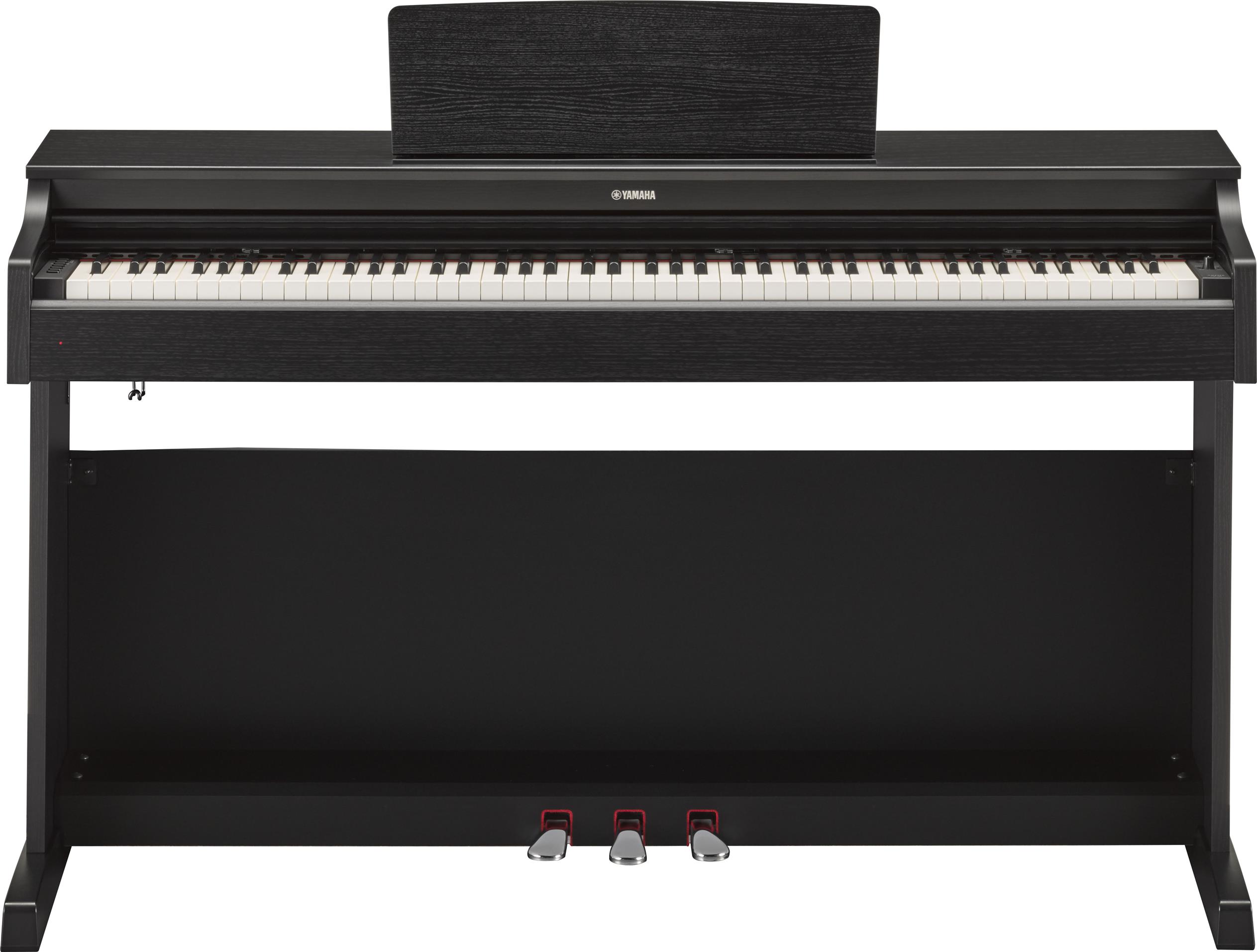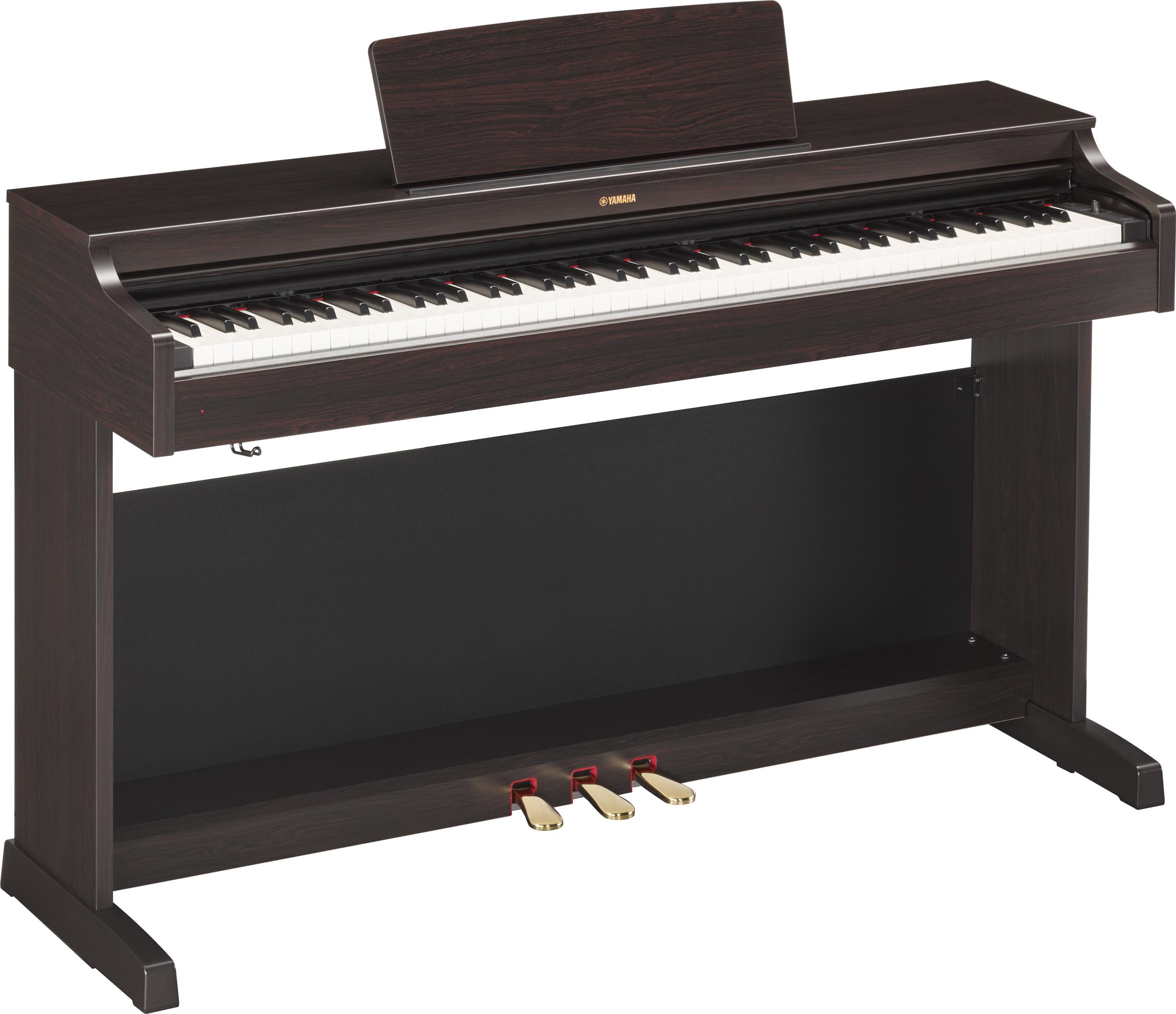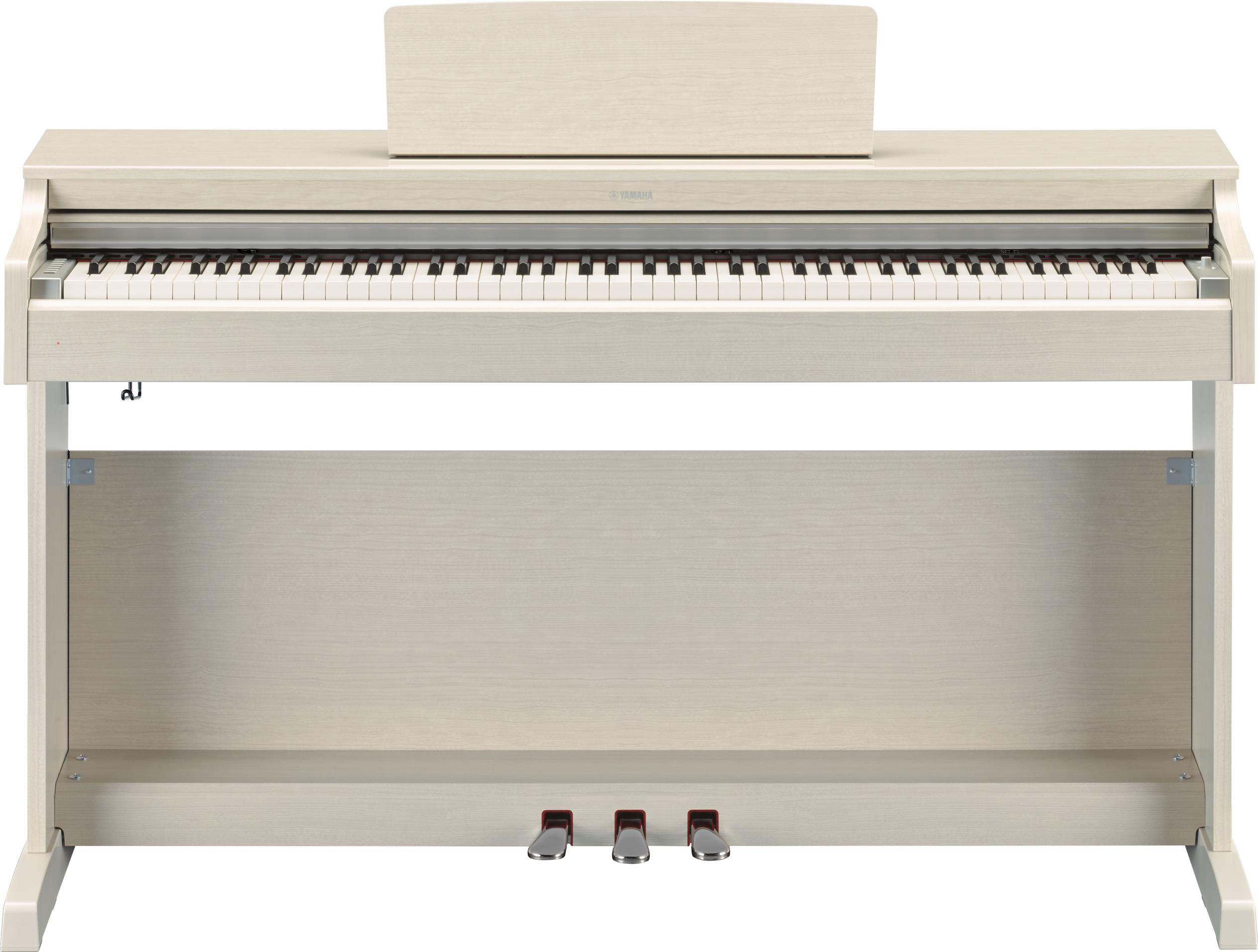 The best digital piano is one that can grow with a musician as they progress. When a pianist's skill level rises, they require a keyboard action built for more serious playing. The Arius YDP-163 features Graded Hammer 3 keyboard action with three sensors and synthetic ivory keytops, giving the performer a tactile surface with a response reminiscent of some of the finest pianos throughout history. The Pure CF Engine on the YDP-163 more expressively delivers the Yamaha CFIIIS concert grand piano tone for the more experienced player with a more powerful 20W stereo amplifier. With 192 note polyphony, many of the most complex piano compositions can be played without any dropped notes, and the sustained notes ring through faithfully. The YDP-163 has all of the conveniences of an electric piano without sacrificing the performance of an acoustic piano.
Piano sound quality only possible from Yamaha
The Pure CF Sound Engine is the result of many years of piano-making history and expertise, combined with state-of-the-art sampling technology. Yamaha is the industry leader in digital piano technology, and this is evident when listening to Yamaha digital pianos that utilize the Pure CF Sound Engine. The sound of the renowned Yamaha CFIIIS 9' concert grand piano is faithfully reproduced, allowing for incredible dynamics and expressiveness, making Pure CF-equipped digital pianos worthy of the Yamaha name.
Superb playability and feel
Graded Hammer 3 (GH3) 88-key piano action reproduces the touch of an acoustic piano, from the heavy feel in the lower register to a lighter touch in the upper octaves. It also features a three-sensor configuration, which accurately senses and interprets the behavior of the keyboard in order to provide a grand piano-style response and feel. This allows for quick note repetition and authentic expressive control. The piano keyboard with synthetic ivory key tops provide a tactile surface to the white keys, absorbing moisture from the fingers and preventing them from slipping.
Pedaling provides an added level of realism
Half-damper pedal control creates more detailed nuance and subtlety when playing, similar to pedaling on a grand piano. This feature allows for continuously increasing lengths of sustained notes, from slight to full, as the sustain pedal is depressed. Stereo Sustain samples provide mellow reverberations when the player depresses the damper pedal. Similarly, Damper Resonance provides broad and deep resonance when the pedal is used. The result is more realistic sound, similar to that of an acoustic piano. It is possible to detect the subtle changes that occur when the players begins to press the pedal while striking a key.
A piano with its own classic repertoire
The Yamaha digital piano is pre-loaded with a variety of classic piano songs for listening and learning pleasure. Players can use the accompanying book, "50 Greats for the Piano" to follow along with the music and learn how to play iconic pieces. They can also play back the songs to enjoy these recognizable piano favorites. This feature is sure to add hours of enjoyment to this terrific instrument.
Capture your performance
The recording function built into the instrument allows players to record performances* with a single touch. Additionally, players can record up to 2 tracks for simultaneous playback, meaning that both hands can be recorded separately, or allowing them to overdub with different voices. 
* Recordings are made in Standard MIDI file (SMF) format. Compatible software is required for playback of the recorded data on a computer.
Access your favorite features quickly and easily
"Digital Piano Controller" app with an attractive interface optimized for iOS touch screens adds a whole new level of functionality to your Yamaha instrument. Turn your iOS device into an intuitive instrument controller, allowing you to access features and settings even more quickly than using the panel of your instrument. Adjust settings, choose Voices, and even record performances. Once you try it, you'll never want to live without it!
Discover an inspiring combination
Combine two Voices together, like piano and strings, for an inspiring new playing experience. Nothing livens up piano practice like playing a piece with a different sound, and creating unique combinations of two sounds together. Experiment with these combinations to discover inspiring new sounds.
Optimal tone at any volume level
With the Yamaha exclusive Intelligent Acoustic Control (IAC) feature, people can enjoy playing their digital pianos at a lower volume in a quiet home environment. Before IAC was introduced, playing at a low volume resulted in a loss of treble and bass. With the addition of IAC, the instrument automatically adjusts the balance of bass and treble, creating a truer sound with more depth. Additionally, the volume dial automatically makes fine adjustments to the overall sound of the speaker system (EQ) when played at a low volume. This ability to retain a rich and balanced sound on the digital piano, regardless of volume, ensures the highest sound quality.
Full tone built right into the cabinetry.
Yamaha developed this new technology with an in-depth knowledge of the acoustic properties of musical instruments. Acoustic Optimizer delivers naturally smooth tonal richness across the entire keyboard by regulating the flow of sound and control of tone from the cabinet of the instrument.
A new kind of headphone experience
The Stereophonic Optimizer is unique to Yamaha. When playing and listening to the instrument using headphones, the Stereophonic Optimizer adjusts the spacing of the sound and the separation from the piano, resulting in a spacious, surround sound quality that will inspire you to play for hours at a time. Within this private listening environment, the sound of the piano can be perceived to come from the body of the instrument rather than from the headphones, providing a more realistic and natural experience.
Connect and interact with your instrument
A standard USB cable can be used to connect the instrument to a computer or mobile device, opening up a world of creativity, entertainment, and education. iOS devices can be connected to the instrument using the Yamaha UD-BT01, or the Lightning-USB Camera Adaptor. The instrument can be used to interact as a controller and/or sound source with a variety of music creation applications.

Last Updated @ 8/27/2016 10:51:24 PM
Questions & Comments


---
For Paypal (Ringgit payments), 5% Paypal charge applies (to cover the Paypal receipient charge). Also, your mailing address must be Paypal Verified.
In stock items usually ship within 3 business days of payment clearance (unless otherwise stated in my listings). Please allow 3-5 business days to order items in quantity or in your preferred colour.
Shipping methods are Parcel Mail (West Msia, 4 days) Parcel Airmail (East Msia, 4-7 days) and Pos Laju (1-2 days). Alternative postage and costs for East Msia and items weighing more than 20kg apply. Please contact me for overseas shipping costs and details.
- Please read before making your purchase (updated on 1 Dec 2016): -
1. Payment:
a) Malaysian Buyers:
All payments are to be made in Ringgit Malaysia (RM) to our company's Maybank account or via Paypal. Other payment methods may also be offered on our online store (ask for details). Bulk purchase discounts may be available for purchase of 2 or more items (see listing details or ask for details).
Payment via Paypal is for shipping methods (with tracking) only. Strictly no self-collect for items paid with Paypal or equivalent payment methods.
Strictly no Cash on Delivery (COD) for new items.
b) Overseas Buyers from Singapore:
For overseas buyers from Singapore, payment can be made in Singapore Dollar (SGD) into our local Singapore Maybank account. Please note that over-counter-transactions in Singapore incur a SGD5 charge so please add this to your payment if you make over-counter payments from a third-party bank.
We also accept Paypal in SGD for buyers located in Singapore.
c) Overseas Buyers from Other Countries:
For buyers in other countries, preferred payment is via international bank transfer to our company's Maybank account in Malaysia. International telegraphic transfers like Western Union is also accepted.
Payment must be received in Ringgit Malaysia (RM) in the amount stated so please check that you include additional payment to cover bank charges, exchange rate loss, etc. Items cannot be shipped or ordered until payment is fully received in the proper amount so do factor for this time-lag when making payment.
d) Goods & Services Tax (GST):
All prices stated on this website include Malaysian GST where applicable (as of 1 April 2015).
2. Product Specifications & Condition:
a) General:
Unless otherwise stated, all items sold are original, brand new and come in the original packaging. Packages may be opened for pre-delivery inspection and testing (unless requested by the buyer).
All pictures or videos shown are for illustration purposes only but they are as close as possible to the original manufacturer's specifications at the time of listing (pictures are taken from the original manufacturer's websites where applicable).
b) Pre-Owned Items:
Pre-owned items are sold as-is without warranty.
c) Sporting Goods:
Brand new racquets come un-strung from factory. Stringing services are available (ask for details).
3. Warranty:
Unless otherwise stated, all items sold come with the local distributor warranty (where applicable). Distributor terms & conditions apply.
Warranties (if any) are only valid for items bought on Satchman Shops' official online stores only. Distributor terms & conditions apply. Please keep official receipts, invoices, etc for warranty claims (serial number verification is a requirement).
Pre-owned items are sold as-is without warranty.
4. Returns / Exchange / Refunds:
Goods sold are not refundable or exchangeable.
In the event that the product is to be returned to our company for any reason (with prior notice), it must be done within 7 business days of that notification; otherwise it is deemed that the buyer wishes to keep the said item rather than return it. This includes items with a manufacturing defect, under warranty claim or sent to us for servicing.
Returned goods must be in the same condition as initially shipped (i.e. undamaged, in the original box, un-used, unopened, etc), otherwise we reserve the right to refuse the return of goods or a restocking fee may apply.
Proof of shipping to our company is not proof of receipt. Thus, shipping via well-known courier services with insurance and parcel tracking is highly recommended.
Finally, any deposit payments made for pre-orders will only be refundable after 4 weeks of payment clearance. Also, due to adminitrative costs, any refunds for amounts below RM50 may only be refundable through a time-based Discount Voucher, which is usable on our website. Refunds typically take 3 business days to process.
5. Purchasing & Handling:
Due to the nature of online businesses, where items are listed on multiple platforms, please confirm item availability before making your purchase. In-stock goods sold will only be held for 24 hours prior to payment clearance, after which it will be relisted for resale.
Typical handling time is 3 business days for testing and packaging for items available in-stock (on-hand). Items that need to be ordered will take 5-7 business days to arrive to us and a minimum deposit of 30% item value is required for orders to be placed. Items will be shipped or can be self-collected upon payment of balance outstanding.
Clicking on the "Buy It Now" button is a contract to purchase.
6. Shipping & Delivery:
a) Self-Collect:
Self-collect of selected items can be arranged at selected areas in the Klang Valley, only after full payment is received.
Strictly no Cash on Delivery (COD) for new items, except for selected fragile or high-value items.
Strictly no self-collect for items paid with Paypal or equivalent payment methods.
b) Items Requiring Shipping (including those under warranty or servicing):
Delivery times are estimates and depend on shipping method, destination city and customs clearance.
Additional shipping charges may apply for Sabah & Sarawak inland (pedalaman) areas, special handling, bulky items (longer than 50cm) or items weighing more than 10kg. Volumetric weight will be used to calculate shipping charges for special handling or bulky items.
c) Parcel Tracking:
We will provide buyers with basic information on how to track their parcels.
All parcel tracking services (online, phone, etc) are provided by postal or courier services and we do not assume any responsibility for such services rendered.
d) Insurance:
All items are sent at buyer's risk (self-insured by the buyer). Insurance is optional but recommended. Please contact us for details.
e) Duties & Taxes:
For overseas buyers, prices stated on Satchman Shop do not include country specific customs charges or duties. Please check all duties & taxes at your local tax office before purchasing.
7. Additional Information:
All prices and product specifications displayed are correct as best as humanly possible.
However, due to the nature of online businesses, constant manufacturer product / pricing updates, exchange rates, supply, etc, we reserve the right to make changes to any listing or these Terms & Conditions without prior notice. This includes (in only the most rare and extreme circumstances), cancellation of a sale, with full refund to the buyer. If in doubt, please contact one of our friendly sales staff for assistance (see Contact Us section below).
By purchasing on this site, you agree that you have read all the terms & conditions on this site and agree to all terms & conditions stated on his site.
8. Free Gifts & Promotions:
From time to time, Satchman Shop may run special promotions, discounts, purchase with purchase offers or free gifts.
Free gift pictures shown on this site are for illustration purposes only and are only valid while stocks last.
9. Contact Us:
Feel free to contact us via email of phone if you require further assistance or encounter any issues with your purchase (you will receive a response within 48 hours). Contact details can be found on the Contact Us page of this website.
Happy shopping!
Goods sold are not refundable or returnable.
Warranty period for most electronic items is one year (Malaysia only). Distributor terms and conditions apply.
Questions & Answers
Do you have any questions to ask merchant about this product
Ask Seller
| | | |
| --- | --- | --- |
| 5 star | | 0 |
| 4 star | | 0 |
| 3 star | | 0 |
| 2 star | | 0 |
| 1 star | | 0 |
Share your thoughts with others
Write a review
Only buyers who purchased the product may leave a review