Item Specification
Product Description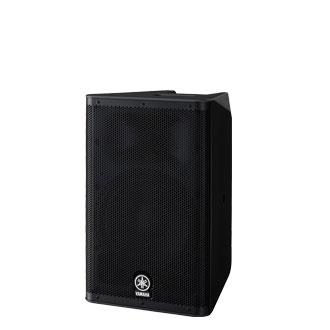 DXR Series loudspeakers offer superb high-definition sound and class-leading sound pressure levels—yet in a more compact and extremely functional design that provides a level of versatility unmatched by any speaker in its class today.
DXR10
Portable, yet capable of producing an astonishing 131 dB SPL, the DXR10's compact, functional design makes it ideal for a wide range of applications. Whether providing simple vocal/instrument amplification, very powerful floor monitoring or comprising a compact SR system—the DXR10 delivers without compromising sound quality and power.
Touring Intelligence in Portable Loudspeakers
Ever since we first started developing professional audio equipment in the 1960's, we've made it our goal to stay at the forefront of the technology curve. Drawing on decades of experience as a true industry innovator, we don't merely utilize cutting -edge technologies- we create them. With the express purpose of making the most powerful and reliable high-resolution speakers possible, we assembled a specialized team of Yamaha's most skilled engineers to examine, and improve on, every detail of loudspeaker design. This passion for innovation served as the impetus for an intensive collaboration with loudspeaker giant NEXO, adding their insight and expertise as an industry leader in touring-grade sound reinforcement to the development of our DSR, DXR and DXS Series speakers. As a result of working closely with NEXO's engineers at their state-of-the-art facility, our team adopted a new approach to some crucial aspects of these speakers' design. The detailed analysis of the transducers, thorough testing of the enclosures' acoustic properties and optimized limiter setting all contributed to higher SPL delivered with stunning clarity and an unsurpassed level of reliability.
By incorporating touring-grade technology into these speakers, we've succeeded in creating the most powerful and
dependable high-performance, active loudspeakers...ever.
POWER TO THE PEOPLE
Performance runs in the family, and like the acclaimed DSR Series before it, DXR Series loudspeakers offer superb high-definition sound and class-leading sound pressure levels—yet in a more compact and extremely functional design that provides a level of versatility unmatched by any speaker in its class today. The DXR Series is comprised of four full-range models perfectly suited for front-of-house sound, monitors, simple amplification, rigged applications and more. Combining the series with our newly designed DXS subwoofers will further elevate your system's performance, giving you versatile control of its thunderous bottom end. With the perfect balance of raw power and innovative speaker technologies, you can depend on DXR Series speakers to deliver the full power of your performance to every member of your audience.
The Power of "D"
Our development team took full advantage of a number of advanced digital technologies, both new and refined, based on Yamaha's extensive experience accumulated over many long years of developing professional audio equipment. Everything from the detailed management of crossover, EQ and time alignment to the limiter settings, protection functions and precise dynamic control of the sound, was subjected to endless simulation, in-house and field testing to ensure that these speakers produce the highest level of sound quality at the highest output levels possible. Combined with Yamaha's advanced analog signal processing and acoustic technologies, the "Power of "D" delivers ultimate performance.
Ultra-Precise 48Bit DSP Processing for High-Definition Sound
All full range models feature Yamaha's proprietary FIR-X tuning™ utilizing linear phase FIR* filters for the crossover network. FIR-X™ tuning simultaneously optimizes frequency and phase response while adjusting the time alignment between the HF and LF transducers. This creates a very smooth response around the crossover point, providing much better clarity and imaging than what is possible with typical crossovers.
All signals are precisely processed by a 48bit (76bit accumulator) high-performance processor for high definition sound quality. All full-range models employ high-precision 24bit discrete A/D and D/A converters with superior S/N ratio and dynamic range.
Intelligent Dynamic Control for Consistent Clarity at Any Output Level
D-CONTOUR is an intelligent multi-band compressor that gives you powerful and consistent sound throughout all output levels. By constantly monitoring the output of multiple frequency bands and calculating the optimum EQ adjustments for each, even the maximum sound output maintains outstanding clarity and musicality.
With the DXR Series, D-CONTOUR provides a more detailed tuning of your sound with two different settings: FOH/ MAIN mode or MONITOR mode. FOH/MAIN mode boosts low-frequency to compensate for low-end that is typically missing when speakers are used in suspended applications or mounted on a speaker stand. MONITOR mode is completely optimized for floor monitor application by intelligently taming down the low-frequency that adds up due to floor reflection, smoothing out a wide range of frequency bands to give you stunning clarity for monitoring your sound. Both of these presets were perfected by performing countless listening tests with skilled sound engineers, giving you a multi-band compressor that performs dynamically, delivering consistent sound with low distortion at any output level.
Extensive DSP Protection Functions for Maximum Output
In a typical system comprising passive loudspeakers, power amps and signal processors, trying to set optimal parameters for each component can be a daunting task. One of the advantages of active loudspeakers is that the combination of transducers and amps can be perfectly optimized. During the development of the DSR, DXR and DXS series, we measured and tested the durability of each transducer and the overall amp output through countless indoor and outdoor listening tests. Based on the test results, we were able to set the optimal limiter point for each model using precise DSP control.
In addition to the optimal limiting, our speakers employ many of the same protection functions used in our top-class TXn Series professional power amplifiers. A microprocessor and high-power DSP monitor the status of the power supply, power amplifiers, transducers and ongoing signals to protect all aspects of each component. As a result, these speakers can perform to their full potential while ensuring reliable operation in even the most severe conditions.
- Switchable White Front LED
Each of the full-range models and DXS speakers has a white LED behind the front grille that illuminates when powered and varies in brightness depending on the amount of system limiting.
High-Efficiency 1100W Class-D Amplifiers
- All-New Compact, High-Power DXR Amp Modules
All DXR Series loudspeakers are equipped with highly efficient Class-D amplifiers that were optimally designed to match the DXR's HF and LF transducers. These high-performance amplifiers deliver the highest sound output in their class with 1100W of power, producing an impressive SPL up to 133dB. They also provide very fast attack and superior transient response, which greatly contribute to these speakers' incredible audio performance.
- Universal Switching-Mode Power Supply
The DXR Series employs an all-new, high-efficiency switching-mode power supply for its outstanding performance. The power supply is also suitable for use worldwide with its multi-voltage design.
Intelligent Onboard 3-Channel Mixer
The DXR Series features a flexible onboard mixer with a variety of input, making it ideal for simple vocal/ instrument amplification. With its flexible IN/OUT, the DXR Series can comprise a full sound reinforcement system, or seamlessly integrate into a setup utilizing DSR or DXS Series speakers.
- Versatile Mic and Line Level Input Capability
The DXR onboard mixer can handle up to three simultaneous inputs. It accepts both Mic and Line level input, giving you the flexibility to connect to a variety of sources from microphones to line level instruments and portable audio devices. When in MIC position, a HPF is automatically activated to roll off unwanted low frequency.
- Flexible HPF Control
All DXR loudspeakers feature flexible HPF control to perfectly match with DSR and DXS subwoofers. You can choose either 100Hz or 120Hz depending on which subwoofer you are using in combination with the DXR. DXS Series subwoofers feature flexible LPF settings allowing you to find the optimal HPF/LPF balance for your sound.
- Smart Mixing / Linking Function
Each channel has an individual volume control, letting you mix three discrete audio sources. THRU out passes the input signal from Channel 1 and LINK OUT sends mixed signal from all channels-ideal for daisy-chaining or routing the signal to another destination. LINK OUT is very useful for configuring a compact SR system with another DXR, while LINK MODE allows you to easily switch between stereo or dual-mono configurations.
Superior Components. Unequaled Performance.
- Custom-Designed DXR Transducers
All DXR Series transducers were meticulously selected and thoroughly customized to deliver ultimate performance. The detailed characteristics and behaviour of each transducer was fully analyzed and evaluated with sophisticated computer simulations in order to help realize their full performance potential. The high power output woofers deliver very low distortion and defined, deep bass, while the 1.4" precision compression drivers produce accurate midrange and high frequencies up to 20 kHz.
- DXR Wide Dispersion Constant Directivity Horn
The HF transducer is mounted to an all-new 90°x 60°constant directivity horn, designed with the goal of minimizing radiation pattern deterioration in oblique directions as more conventional horns are prone to doing. This can help to achieve a more ideal coverage area without irregularities. With the new wide dispersion constant directivity horn, sound expands in a more rectangular pattern providing 90° horizontal x 60 ° vertical coverage, with wide-frequency sound projected to the edges of the coverage area.
Durable, Compact ABS Enclosures
Full-range models are moulded in rugged, non-resonant ABS enclosures and are designed to dampen down vibrations caused by high output levels, producing less distortion and superior sonic quality. The road-tested enclosures are equipped with heavy-duty steel grilles and ergonomic, gripped aluminum handles that greatly improve durability and portability.
Symmetrical Enclosure Design for Mirror-Mode Floor Monitoring
The DXR12 and DXR15's enclosure design enables mirror-mode monitor placement that creates a symmetrical sound field for the performer with a larger, more defined "sweet spot". Used in either a balanced dual-mono configuration or a stereo monitor mix setup, mirror-mode floor monitoring can enhance your performance considerably.
Dual-Angle Pole Mount Socket
Depending on the venue, sometimes your mix can fall prey to low ceilings or other room attributes that can impede a clear, even mix and detract from the audiences' listening experience significantly. The DXR's pole mount socket offers two positions—0° and 7°—to direct the acoustic energy away from reflective surfaces and on to your audience where it belongs.
Rigging Points for Standard Eye-Bolts and Optional U-Brackets
DXR Series loudspeakers come equipped with rigging points, allowing for rigged application with standard eyebolts*. When more versatility is required, optional U-brackets allow simple and easy rigging in both horizontal and vertical configurations.
*Eyebolts not included

Last Updated @ 8/27/2016 11:02:39 PM
Questions & Comments


---
For Paypal (Ringgit payments), 5% Paypal charge applies (to cover the Paypal receipient charge). Also, your mailing address must be Paypal Verified.
In stock items usually ship within 3 business days of payment clearance (unless otherwise stated in my listings). Please allow 3-5 business days to order items in quantity or in your preferred colour.
Shipping methods are Parcel Mail (West Msia, 4 days) Parcel Airmail (East Msia, 4-7 days) and Pos Laju (1-2 days). Alternative postage and costs for East Msia and items weighing more than 20kg apply. Please contact me for overseas shipping costs and details.
- Please read before making your purchase (updated on 1 Dec 2016): -
1. Payment:
a) Malaysian Buyers:
All payments are to be made in Ringgit Malaysia (RM) to our company's Maybank account or via Paypal. Other payment methods may also be offered on our online store (ask for details). Bulk purchase discounts may be available for purchase of 2 or more items (see listing details or ask for details).
Payment via Paypal is for shipping methods (with tracking) only. Strictly no self-collect for items paid with Paypal or equivalent payment methods.
Strictly no Cash on Delivery (COD) for new items.
b) Overseas Buyers from Singapore:
For overseas buyers from Singapore, payment can be made in Singapore Dollar (SGD) into our local Singapore Maybank account. Please note that over-counter-transactions in Singapore incur a SGD5 charge so please add this to your payment if you make over-counter payments from a third-party bank.
We also accept Paypal in SGD for buyers located in Singapore.
c) Overseas Buyers from Other Countries:
For buyers in other countries, preferred payment is via international bank transfer to our company's Maybank account in Malaysia. International telegraphic transfers like Western Union is also accepted.
Payment must be received in Ringgit Malaysia (RM) in the amount stated so please check that you include additional payment to cover bank charges, exchange rate loss, etc. Items cannot be shipped or ordered until payment is fully received in the proper amount so do factor for this time-lag when making payment.
d) Goods & Services Tax (GST):
All prices stated on this website include Malaysian GST where applicable (as of 1 April 2015).
2. Product Specifications & Condition:
a) General:
Unless otherwise stated, all items sold are original, brand new and come in the original packaging. Packages may be opened for pre-delivery inspection and testing (unless requested by the buyer).
All pictures or videos shown are for illustration purposes only but they are as close as possible to the original manufacturer's specifications at the time of listing (pictures are taken from the original manufacturer's websites where applicable).
b) Pre-Owned Items:
Pre-owned items are sold as-is without warranty.
c) Sporting Goods:
Brand new racquets come un-strung from factory. Stringing services are available (ask for details).
3. Warranty:
Unless otherwise stated, all items sold come with the local distributor warranty (where applicable). Distributor terms & conditions apply.
Warranties (if any) are only valid for items bought on Satchman Shops' official online stores only. Distributor terms & conditions apply. Please keep official receipts, invoices, etc for warranty claims (serial number verification is a requirement).
Pre-owned items are sold as-is without warranty.
4. Returns / Exchange / Refunds:
Goods sold are not refundable or exchangeable.
In the event that the product is to be returned to our company for any reason (with prior notice), it must be done within 7 business days of that notification; otherwise it is deemed that the buyer wishes to keep the said item rather than return it. This includes items with a manufacturing defect, under warranty claim or sent to us for servicing.
Returned goods must be in the same condition as initially shipped (i.e. undamaged, in the original box, un-used, unopened, etc), otherwise we reserve the right to refuse the return of goods or a restocking fee may apply.
Proof of shipping to our company is not proof of receipt. Thus, shipping via well-known courier services with insurance and parcel tracking is highly recommended.
Finally, any deposit payments made for pre-orders will only be refundable after 4 weeks of payment clearance. Also, due to adminitrative costs, any refunds for amounts below RM50 may only be refundable through a time-based Discount Voucher, which is usable on our website. Refunds typically take 3 business days to process.
5. Purchasing & Handling:
Due to the nature of online businesses, where items are listed on multiple platforms, please confirm item availability before making your purchase. In-stock goods sold will only be held for 24 hours prior to payment clearance, after which it will be relisted for resale.
Typical handling time is 3 business days for testing and packaging for items available in-stock (on-hand). Items that need to be ordered will take 5-7 business days to arrive to us and a minimum deposit of 30% item value is required for orders to be placed. Items will be shipped or can be self-collected upon payment of balance outstanding.
Clicking on the "Buy It Now" button is a contract to purchase.
6. Shipping & Delivery:
a) Self-Collect:
Self-collect of selected items can be arranged at selected areas in the Klang Valley, only after full payment is received.
Strictly no Cash on Delivery (COD) for new items, except for selected fragile or high-value items.
Strictly no self-collect for items paid with Paypal or equivalent payment methods.
b) Items Requiring Shipping (including those under warranty or servicing):
Delivery times are estimates and depend on shipping method, destination city and customs clearance.
Additional shipping charges may apply for Sabah & Sarawak inland (pedalaman) areas, special handling, bulky items (longer than 50cm) or items weighing more than 10kg. Volumetric weight will be used to calculate shipping charges for special handling or bulky items.
c) Parcel Tracking:
We will provide buyers with basic information on how to track their parcels.
All parcel tracking services (online, phone, etc) are provided by postal or courier services and we do not assume any responsibility for such services rendered.
d) Insurance:
All items are sent at buyer's risk (self-insured by the buyer). Insurance is optional but recommended. Please contact us for details.
e) Duties & Taxes:
For overseas buyers, prices stated on Satchman Shop do not include country specific customs charges or duties. Please check all duties & taxes at your local tax office before purchasing.
7. Additional Information:
All prices and product specifications displayed are correct as best as humanly possible.
However, due to the nature of online businesses, constant manufacturer product / pricing updates, exchange rates, supply, etc, we reserve the right to make changes to any listing or these Terms & Conditions without prior notice. This includes (in only the most rare and extreme circumstances), cancellation of a sale, with full refund to the buyer. If in doubt, please contact one of our friendly sales staff for assistance (see Contact Us section below).
By purchasing on this site, you agree that you have read all the terms & conditions on this site and agree to all terms & conditions stated on his site.
8. Free Gifts & Promotions:
From time to time, Satchman Shop may run special promotions, discounts, purchase with purchase offers or free gifts.
Free gift pictures shown on this site are for illustration purposes only and are only valid while stocks last.
9. Contact Us:
Feel free to contact us via email of phone if you require further assistance or encounter any issues with your purchase (you will receive a response within 48 hours). Contact details can be found on the Contact Us page of this website.
Happy shopping!
Goods sold are not refundable or returnable.
Warranty period for most electronic items is one year (Malaysia only). Distributor terms and conditions apply.
Questions & Answers
Do you have any questions to ask merchant about this product
Ask Seller
| | | |
| --- | --- | --- |
| 5 star | | 0 |
| 4 star | | 0 |
| 3 star | | 0 |
| 2 star | | 0 |
| 1 star | | 0 |
Share your thoughts with others
Write a review
Only buyers who purchased the product may leave a review