Item Specification
Product Description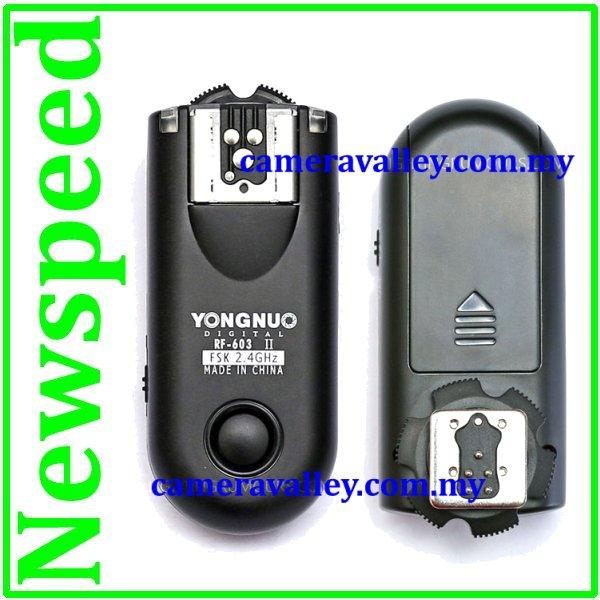 Professional Online Seller since 2004, over 10,000 Happy Customer
03-61406188 / 017-2216188
CAMERA VALLEY
B-10-2, GIZA MALL, JLN PJU5/14, KOTA DAMANSARA,
47810 PETALING JAYA, SELANGOR.
New Yongnuo Flash Trigger RF-603 II
Warranty: 7 days 1 to 1 exchange
Content: 2 x Transceivers,  2.5mm port Shutter release cable, Manual.
Ready Stock
Product Description:
YongNuo have released the long awaited updated RF-603 II manual flash triggers. The RF-603 II are the follow up to the original and very popular inexpensive RF-603 flash triggers. And the MK II finally rectify many of the basic shortcomings of the original RF603 and RF-602 triggers.
Improved Features -
•Higher Sync Speeds, up to 1/320th  (RF-602 were slow, RF-603 were very slow)
•Locking Rings on trigger foot  (RF-603 and flash on top would fall off the camera)
•Pass Through Hotshoe now usable  (see point above) though still manual only no TTL
•Power Switch Finally Moved to the Side  (was blocked by the flash on 602 & 603)
•Compatible with non Canon/Nikon and single firing pin cameras  (RF-603 was not)
•Test Fire Button works off the camera hotshoe (for taking light meter readings)  (RF-603 did not)
•300v Safe Trigger Voltage (for hotshoe and PC sync port)  (602/603 where low 12 volt safe limit)
Sync Speed -
Low sync speed was always one of the main shortcomings of the RF-602, and even worse with the RF-603. Now that this is improved with the RF-603 II, it simply means you should be able to get a clean frame without any shutter (or black band) showing in the frame at your cameras maximum sync speed (1/250th etc). Though the Canon 5D series sometimes have to drop to 1/160th even with an instant sync cord. YongNuo are stating this as 1/320th maximum
Locking Rings -
The original RF-603 has no locking rings on the foot. This was a major oversight now that a flash could be mounted on top of the transmitter on the camera. They would both simply fall off the camera hotshoe! The RF-603 II now has locking ring and locking pin.
The RF-603 II is still manual pass through hotshoe only though (the extra contacts seen on the hotshoe are only for the flash wake up feature).
Power and TX / TRX Switch -
Firstly the power switch has finally been moved to the side of the case, so that you don't have to remove the flash from the trigger to switch it on and off like the RF-602 and 603 require. This alone would enough reason for many people to want to update.
More significant functionally though is the new TX – TRX option switch. The RF-603 are transceivers, meaning they are the same unit for transmitter and receiver, and can switch automatically between transmitting and receiving mode. This ability caused a number of extra issues in the original RF-603 though, like not being able to fire on non Canon/Nikon cameras, or fire the test fire button off the camera hotshoe.
So to help resolve these issues YongNuo have added a switch to the new FR-603 II allowing you to set them as either TX or TRX. TX being set to transmitter mode only, and TRX as self switching. TX mode is used when the transmitter is held in hand for taking light meter readings with the test fire button, or when used as transmitter only on the camera. If using combined flash and shutter release TRX mode would be used. Receivers would always need to be set to TRX.
Shutter Release -
One of the big advantages of the RF-603 (due to transceiver design) has always been the combined camera shutter release ability. You can fire the camera with an RF-603 used as a wireless remote shutter release, as well as fire remote flashes at the same time, with just the one radio trigger attached to the camera. Where as most non transceivers require 2 separate triggers  attached to the camera to do this. So the RF-603 offer a neater solution connected to the camera, and one trigger unit less cost.
This is where the TRX mode would also be used with the RF-603 II attached to the camera (via both the hotshoe, and a cord to a the cameras shutter release).
This also means you have backup transmitter, receiver, and shutter release units, as they are all the same unit and interchangeable.
Compatible with Non Canon / Nikon and Single Firing Pin Cameras -
With the rise of alternate brand mirrorless cameras its becoming increasingly important for radio triggers to be as universal, and compatible, as possible with non Canon/Nikon and single firing pin cameras. The original RF-603 would not fire at all unless attached to a Canon or Nikon camera with full TTL contacts on the hotshoe. The RF-603 II will now work on most cameras provided they have a standard (non Sony) style hotshoe.
Specifications -
Type: FSK 2.4GHz wireless remote control system
Transmission distance: 100cm
Channels: 16 channels
Shutter release: half-press, full-press
Shutter interface: 2.5mm socket Studio flash light interface: standard PC socket
Max Sync Speed: 1/320 second
Battery: AAA x 2(not include)
Versions -
The RF-603 II come in separate Canon and Nikon versions, though this is mainly for the flash wake up feature. Apart from that flash wake up the Canon and Nikon version can work together. There are Canon C1 and C3, as well as Nikon N1 and N3 versions available. The difference between the Canon C1 and C3 is just the shutter release cord compatible with different Canon cameras. That is the same with the Nikon N1 and N3 etc versions. The RF-603 II are also backward compatible with the original RF-603 (but not the RF-602).
C1 version:
---Canon EOS 1300D / 1200D / 1100D / 1000D / 700D / 650D / 600D / 550D / 500D / 450D / 400D / 350D / 300D / 60D / 70D / 80D
 ---Pentax K20D / K200D / K10D / K100D,
 ---Samsung GX-20 / GX-10
C3 Version:
---Canon 1D / 1DS, EOS 5D Mark II / 5D Mark III / 5D Mark IV / 5D / 50D / 40D / 30D / 20D / 10D
N1 Version:
--- D500 / D810 / D750 / D800 / D700 / D300 / D2X / D2H / D200 / D1H / D1X / D3X / D3
 --- N90s / F5 / F6 / F100
 ---Fuji Film: S5 Pro / S3 Pro
 ---Kodak: DSC-14N
N3 Version:
--- Nikon D90 D600 D610 D7100 D7000 D5600 D5500 D5300 D5200 D5100 D5000D3400 D3300 D3200 D3100 D3000
Buy with confidence
| | | | |
| --- | --- | --- | --- |
| Buyer | Item ID | Date | Ratings |
| Ab**** | 196212580 | 9/22/2017 1:05:00 PM | I like how fast they work, gonna trade with them again~! |
| cw**** | 196211372 | 9/21/2017 10:41:00 AM | - |
| al**** | 195838101 | 9/17/2017 6:22:00 PM | Items safely arrived. Thanks. |
| Sa**** | 195838144 | 9/12/2017 11:28:00 AM | My item Safe Delivery... Thank You 😊 |
| un**** | 195837691 | 9/10/2017 11:14:00 PM | Very nice and responsive seller..will trade again next time.. |
| un**** | 195838635 | 9/10/2017 11:14:00 PM | Very nice and responsive seller..will trade again next time.. |
| un**** | 195839450 | 9/10/2017 11:14:00 PM | Very nice and responsive seller..will trade again next time.. |
| de**** | 194714945 | 9/6/2017 10:57:00 AM | fast delivery, good package |




















---
100% SAFE WITH NEWSPEED STORE
WE HAVE OVER 10000+ HAPPY CUSTOMER ONLINE
Easy Transaction, 3 Step Only:
1. ORDER
2. PAYMENT
3. EMAIL DETAILS TO US
PAYMENT OPTION :
1. Retail purchase (walk in) are welcome at out retail shop.
2. Maybank2u / Online bank transfer / Cash Deposit / ATM / Giro / Cheque / Wang Pos

For maybank2u transfer:
Please PAY TO:
Lim Kian Tick, Maybank Account No:512231785699
Key in your ORDER ID.
In the email address key in newspeedstore@gmail.com so that we know you already paid and proceed your order.
IMPORTANT!!
AFTER you had made the payment, please email us your payment slip together with the following details to speed up delivery:

1. Order ID / Item number:
2. Date of Payment:
3. Total Amount Paid:
4. Method of payment (ATM Deposit/Transfer/Counter/InterBank Transfer / Credit card... etc):
5. Items purchased:
6. Name and delivery address:
7. Telephone:
*Tips for fast and easy payment recognition: You may add few cents in your payment,
Example: Instead of RM550, pay RM550.02, RM550.34 this way we can easily know this is your payment.
3. Credit Card Payment :
Card payment subject to credit card surcharge.
Easy Payment / Installment available at our retail shop.
100% SAFE WITH NEWSPEED STORE
WE HAVE OVER 6000+ HAPPY CUSTOMER ONLINE
Poslaju / Courier Delivery:
- We had sent thousands of parcel all over the world, and we provide good packing as you may read our customer feedback.
- For defective on arrival (D.O.A) items, we provide 1 to 1 exchange, but subject to official report from Poslaju / Courier.
- Your items will be ship out around 1-3 working days for ready stock items, 5-10 days for Pre-order items.
- Shipping charges are clearly stated in item page.
- Shipping charges are not refundable.
If you do not agree our terms and conditions, please do not bid. No cancellation of bid is allowed.
Please contact us to resolve any question before bidding. You should understand that your bid is a contract, if you win the bid for this item, you have to proceed to purchase this item.
Non-Paying Bidder / Joy bidder will be reported to lelong and will be blacklisted.
-Winner will received email from lelong after auction closed, payment info is included in the email. Please made payment within 2 days.
-If winner did not pay within 3 days we reserve the right to cancel the deal and resell the item without prior notice.
-As we are selling all over the world, if an item was out of stock, we may replace with a similar or same value item to buyer or refund.
-Non-Paying Bidder will be blacklisted, to remove from blacklist RM20 admin fees apply.
- Buyer pay postage for returning faulty item. Item returned and found not to be defective will be returned at buyers expenses.
-Item sold are not refundable and not exchangeable for Auction Item.
-Shipping charges are not refundable.
-We do not cover lost or damage during shipment. It will fall under Poslaju / Courier compensation, up to maximum value determined by Poslaju / Courier.
-For full insurance coverage, please add 2.15% of total sum insured, please email us if you need to buy insurance.
-Warranty start from the date of delivery.
-Most accessories do not cover under warranty.
-Feature and Specifications are for reference only.
-Lens and High end model are back to back order basis, item delivery may take 5-10 working days.
-Specifications are subject to change without notice. We are not responsible for any change of specifications and design by the manufacturer.
-Water immerse / leakage was not cover under warranty even for waterproof item.
-All pictures/colors are for illustration only, unless otherwise specified.
We offer professional, affordable solution of photograpghy equipment in the market through both online and retail channel which youll hardly find in the market!
We ensure that all our customers will get the best service from us.

We wont serve customers with attitude of "because-this-is-my-job" Well make sure customers will feel comfortable throughout their shopping. If they require our assistance during their shopping, well provide them the best support they can find online.
7 Days Return Policy
The returned goods / products should be in the original condition. If the goods / products has been used or found to be damaged by the user, there will not be any exchange / refund. All decision on all question relating to complaints as to defects either of workmanship or material shall be final and conclusive and the purchaser shall agree to abide by such decision. We will also not be responsible if your shipment is lost during the return transit.
Warranty Policy
All warranty is limited to repair of defects in material and / or workmanship only. In no event shall be liable for other expenses of inconvenience, or for consequential damages occasioned by the product or by breach of an expressed or implied warranty with respect thereto.
All transportation charges and insurance to and fro incurred are at the expense of the owner.
All decision on all question relating to complaints as to defects either of workmanship or material shall be final and conclusive and the purchaser shall agree to abide by such decision.
If you have any doubts / suggestions / comments about us, our products or our site, do not hestitate to contact us! We can be contacted through newspeedstore@gmail.com
Questions & Answers
Do you have any questions to ask merchant about this product
Ask Seller
| | | |
| --- | --- | --- |
| 5 star | | 0 |
| 4 star | | 0 |
| 3 star | | 0 |
| 2 star | | 0 |
| 1 star | | 0 |
Share your thoughts with others
Write a review
Only buyers who purchased the product may leave a review