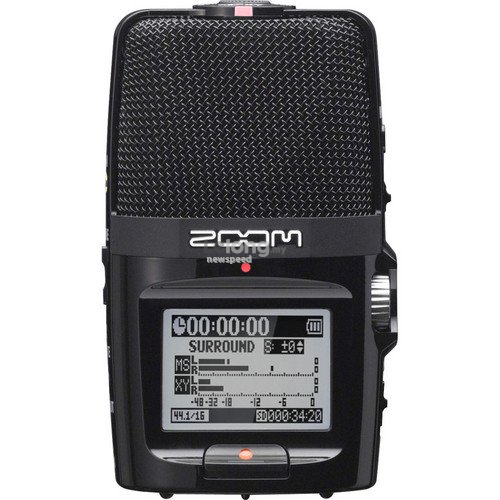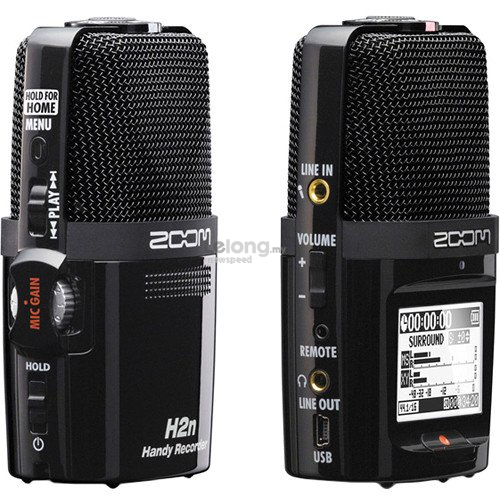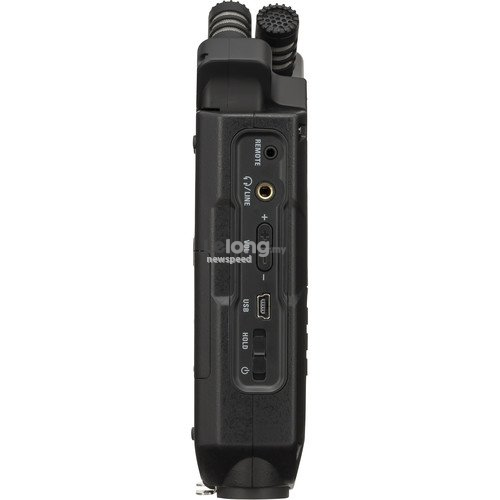 In compliance with the Restricted Movement Order, we will close from 18 March to 28 Apr 2020
All order will be arrange on Monday, Wednesday and Friday.
Professional Online Seller since 2004, over 10,000 Happy Customer
Contact: newspeedstore@gmail.com
03-61406188 / 017-2216188
More products at our website:

Camera Valley - The Camera Pro Shop
Zoom H2n 2-Input / 4-Track Portable Handy Recorder with Onboard 5-Mic Array
Warranty: 1 Year Zoom Malaysia
In the box:
Zoom H2n
Operation manual
2 AA batteries
Set of download code for Steinberg Cubase LE and WaveLab LE editing software

Key Features:
Ideal for versatile, immersive capture of musical ensembles and audio for VR, the Zoom H2n portable handheld recorder with an onboard 5-mic array lets you record high-resolution stereo or surround sound audio in the palm of your hand. Make aurally exciting music tracks and create captivating sound beds with nothing more than the H2n.

Like other H-Series Handy recorders such as the H5 and H6, you can hold it in your hand, attach it to a mic stand or tripod, or mount it to a camera (shoe mount available separately); the H2n's multichannel capabilities and rugged, travel-friendly body make it more than ready to meet the varied demands of YouTube content creators, musicians, sound recordists, and more.

From its long battery life to its Spatial Audio support, the H2n is well equipped for tracking live music, recording sound effects and ambience, or producing sound for 360° VR videos. It can supply plug-in power for a lavalier condenser mic, or even accept a direct line-level connection from a mixer or wireless receiver. No matter the source, selectable auto-recording and pre-recording ensure that you'll never miss the start of a take.

Onboard 5-Mic Array for Customizable Audio Pickup
The H2n's onboard 5-mic array opens the door to true stereo or surround sound recording without external microphones. The built-in microphones—two form an X/Y pair, while the other three are configured in a mid-side pattern—can be used separately for X/Y or MS stereo recording, or combined to create 2- or 4-channel surround sound. A simple dial atop the grille grants effortless switching between the four modes.

Stereo/Surround Record Modes
X/Y mode utilizes two matched unidirectional mics set at a 90° angle (relative to each other) for clear, phase-accurate capture with a tight stereo image. MS mode employs one forward-facing mic and two side-facing mics to simultaneously capture direct signal and ambience while providing optimal stereo-to-mono compatibility. The H2n's internal MS decoder allows you to adjust the relative level of the mic element before or after the recording process, effectively manipulating the perceived stereo width.

Use 2ch mode to create a single stereo file of the combined mics, or select 4ch mode to record the signal from the H2n's X/Y mics onto one stereo track and signal from the MS mics onto another. The resulting pair of tracks can then be routed to separate speakers for an immersive listening experience or can be blended into a custom stereo track. In addition, the H2n's MS decoding feature can be used to independently alter the level of the Side signal in both 2ch and 4ch modes.

Spatial Audio for VR
Using Spatial Audio mode, you can create a single 4-channel, multi-track WAV file that includes omni, left/right, and forward/backward tracks. This Spatial Audio file is then ready to be combined with 360° VR videos recorded with the Google Jump-compatible camera rig (such as the GoPro Odyssey or Ricoh Theta). Once completed, the immersive videos are ready to upload to YouTube.

3.5mm Microphone/Line Input with Plug-In Power
Thanks to a 3.5mm stereo mini-jack input that supplies 2.5V plug-in power, the H2n can accommodate an external condenser microphone such as a clip-on lavalier for crisp, close-miked speech reproduction. Plugging in an external source to the 3.5mm jack overrides the onboard X/Y stereo mic, so no menu-based input selection is required. Since the 3.5mm input also supports line-level signal, you can route the output of a wireless microphone receiver into the H2n.

SD Card Recording and Audio Interface Functionality
Maximize portability by recording directly to a separately available SD/SDHC card (up to 32GB capacity). A 4GB card will yield over three hours of 4-channel recording at 16-bit / 44.1 kHz resolution using the BWF-compliant WAV format for uncompressed audio quality and industry-standard file compatibility.

Alternatively, use the H2n as a USB microphone, or as a 4-in/2-out USB 2.0 audio interface at up to 16-bit / 48 kHz. The USB port also enables the H2n to be used as a card reader for fast file transfers.

3.5mm Output for Hookup to a Camera or Headphones
The 3.5mm line/headphone mini-jack output features a dedicated volume control, making it capable of feeding your camera/DSLR or a pair of headphones. A built-in monophonic speaker on the back of the H2n makes it easy to review your recordings to make sure everything has been captured properly.

Powered via AA Batteries or AC Adapter
Power the H2n via two included AA batteries, or plug it into a wall outlet with an AD-17 AC adapter (available separately). Alkaline batteries can keep the H2n recording at 16-bit / 44.1 kHz resolution for up to 20 hours. When using the H2n as an audio interface, USB bus powering is possible.

Rugged and Portable, Handheld or Mounted
The durable, ergonomic body lends itself naturally to being handheld. Should you need to mount it on a mic stand or tripod, a threaded hole on the back of the H2n obviates the need for stand adapters. Obtain a hot shoe adapter (available separately) to attach the H2n directly to a DSLR.

Signal Processing Adds Sonic Polish
The H2n's onboard effects allow you to add polish to your recordings and compensate for common problems or limitations in the acoustics of the recording environment. Compression can be used to control fluctuations in level, and the limiter can prevent distortion by controlling input signals that have excessively high levels. The selectable low-cut filter reduces signal below 80 Hz, which is useful for controlling pops, wind noise, blowing, and other kinds of low-frequency rumble such as transmitted resonance from an onstage mic stand.

Musician-Friendly Features
The onboard metronome and tuner functions are helpful when recording musicians. Also, since you can loop playback and adjust pitch and speed independently, the H2n is an ideal tool for phrase training. Insert up to 99 marks per recording to create locate points, split files into smaller chunks, and normalize files for maximum gain.

Special Recording Functions
The H2n offers selectable recording functions designed to prevent you from accidentally missing the start of a performance. By keeping the previous two seconds (one second in 4ch mode at 96 kHz) of audio whenever you press the record button, the pre-record option ensures that you'll never cut off the beginning of a great take. Auto-record can automatically start recording when a user-set sound level is detected, making it great for voice-activated recording. The H2n's Data Recovery feature automatically repairs corrupted files—something that can happen if power is interrupted during recording or if an SD card is removed during a writing or editing procedure.

Streamlined Controls and Clear Display
Day or night, view vital information such as audio levels, recording time, battery status, and more on the 1.8" monochrome backlit LCD. Transport controls, menu navigation buttons, and analog-style mic gain are presented nearby for access to all the H2n's operations and functions. If you don't wish to manually set the input level, choose one of the three Auto Gain presets to automatically set the optimum recording level.

Supports External Remote Control
Use the wired remote (available separately in the APH-2n accessory pack) to control the transport and add marks at a distance while eliminating handling noise.

Includes Audio Software
The H2n comes with free download licenses for Steinberg's Cubase LE music production software and WaveLab LE audio editing software, representing a complete audio production toolkit.

Last Updated @ 20/1/2021 2:54:20 PM

Last Updated @ 20/1/2021 2:54:41 PM




















---
100% SAFE WITH NEWSPEED STORE
WE HAVE OVER 10000+ HAPPY CUSTOMER ONLINE
Easy Transaction, 3 Step Only:
1. ORDER
2. PAYMENT
3. EMAIL DETAILS TO US newspeedstore@gmail.com
IMPORTANT!!
AFTER you had made the payment, please email us your payment slip together with the following details to speed up delivery:

1. Order ID / Item number:
2. Date of Payment:
3. Total Amount Paid:
4. Method of payment (ATM Deposit/Transfer/Counter/InterBank Transfer / Credit card... etc):
5. Items purchased:
6. Name and delivery address:
7. Telephone:
*Tips for fast and easy payment recognition: You may add few cents in your payment,
Example: Instead of RM550, pay RM550.02, RM550.34 this way we can easily know this is your payment.
3. Credit Card Payment :
Card payment subject to credit card surcharge.
Easy Payment / Installment available at our retail shop.
100% SAFE WITH NEWSPEED STORE
WE HAVE OVER 10000+ HAPPY CUSTOMER ONLINE
Poslaju / Courier Delivery:
- We had sent thousands of parcel all over the world, and we provide good packing as you may read our customer feedback.
- For defective on arrival (D.O.A) items, we provide 1 to 1 exchange, but subject to official report from Poslaju / Courier.
- Your items will be ship out around 1-3 working days for ready stock items, 5-10 days for Pre-order items.
- Shipping charges are clearly stated in item page.
- Shipping charges are not refundable.
If you do not agree our terms and conditions, please do not bid. No cancellation of bid is allowed.
Please contact us to resolve any question before bidding. You should understand that your bid is a contract, if you win the bid for this item, you have to proceed to purchase this item.
Non-Paying Bidder / Joy bidder will be reported to lelong and will be blacklisted.
-Winner will received email from lelong after auction closed, payment info is included in the email. Please made payment within 2 days.
-If winner did not pay within 3 days we reserve the right to cancel the deal and resell the item without prior notice.
-As we are selling all over the world, if an item was out of stock, we may replace with a similar or same value item to buyer or refund.
-Non-Paying Bidder will be blacklisted, to remove from blacklist RM20 admin fees apply.
- Buyer pay postage for returning faulty item. Item returned and found not to be defective will be returned at buyers expenses.
-Item sold are not refundable and not exchangeable for Auction Item.
-Shipping charges are not refundable.
-We do not cover lost or damage during shipment. It will fall under Poslaju / Courier compensation, up to maximum value determined by Poslaju / Courier.
-For full insurance coverage, please add 2.15% of total sum insured, please email us if you need to buy insurance.
-Warranty start from the date of delivery.
-Most accessories do not cover under warranty.
-Feature and Specifications are for reference only.
-Lens and High end model are back to back order basis, item delivery may take 5-10 working days.
-Specifications are subject to change without notice. We are not responsible for any change of specifications and design by the manufacturer.
-Water immerse / leakage was not cover under warranty even for waterproof item.
-All pictures/colors are for illustration only, unless otherwise specified.
We offer professional, affordable solution of photograpghy equipment in the market through both online and retail channel which youll hardly find in the market!
We ensure that all our customers will get the best service from us.

We wont serve customers with attitude of "because-this-is-my-job" Well make sure customers will feel comfortable throughout their shopping. If they require our assistance during their shopping, well provide them the best support they can find online.
7 Days Return Policy
The returned goods / products should be in the original condition. If the goods / products has been used or found to be damaged by the user, there will not be any exchange / refund. All decision on all question relating to complaints as to defects either of workmanship or material shall be final and conclusive and the purchaser shall agree to abide by such decision. We will also not be responsible if your shipment is lost during the return transit.
Warranty Policy
Warranty
Warranty
All equipment sold are warranted solely by the manufacturer/distributor. All items requiring repair should be sent to the manufacturer/distributor directly for service.
Best Effort Service
All equipment sold by us, if customer need us to send for warranty service, customer have to pay transport charges send to manufacturer/distributor. All cost incurs have to be pay by customer.
We always provide the best and fastest service as we can as in line with our Best Effort Service, but the waiting period is depending on different service centre, we do not guarantee how fast it can be done.
Remark:
Accessories are not cover by warranty, including battery, charger, ac adapter, all types of cables, flash tube, modelling lamp and locking mechanism.

Wear and tear, breakage, firmware, software and any inappropriate usage are not cover under warranty.
We are not liable if the manufacturer/distributor fails to perform warranty service.
We will not be responsible for any consequential, lost or incidental damage resulting from the sale or use of any merchandise purchased from us.
Others:
All products once registered online, it is not available for exchange, must send for warranty.
DJI products once activated, it is not applicable for exchange and return, it must send for warranty service.
All decision on all question relating to complaints as to defects either of workmanship or material shall be final and conclusive and the purchaser shall agree to abide by such decision.
If you have any doubts / suggestions / comments about us, our products or our site, do not hestitate to contact us! We can be contacted through newspeedstore@gmail.com
Average Product Rating
0.0 stars out of 5
| | | |
| --- | --- | --- |
| 5 star | | 0 |
| 4 star | | 0 |
| 3 star | | 0 |
| 2 star | | 0 |
| 1 star | | 0 |
Share your thoughts with others
Write a review
Only buyers who purchased the product may leave a review