VIDEO COLLECTION DVD Description :   
Zuzka leads the ZCUT series by motivating viewers through a month long workout calendar that utilizes the 12 unique workouts that are included in this DVD. Each of the 12 short, intense, fat shredding workouts are based on her successful workout has helped millions achieve the abs and body of their dreams.

ZCUT leads my fans through a fast body changing program with short, under twenty minute workouts that are based on the actual workouts I use to create my body," said Zuzka Light. "I never workout longer than 20 minutes - its not necessary, especially if you do the type of workouts we have put on these tutorial videos. My fans allowed me to reach a worldwide audience and now these cardio DVDs give my viewers a 30 day system that will work for anybody and is very affordable!

Each of the Tutorial Training Videos introduce you to your workouts with a Warm Up routine, and each comes with it's own Bonus Ab Workout!
You may know her as co-founder of BodyRock.tv, but Zuzka Light (aka Zuzana Light) is taking the fitness world by storm on her own as one of America's Hottest Online Fitness Personalities! Her newly released ZCUT Power Cardio Series that's really creating a buzz! It recently caught my attention as one of the hottest sellers on Amazon, so for an affordable $29.99 I ordered a set to see what all the hype is about. If you're looking for a great at-home-workout that's easy to learn, and more importantly, easy to commit to.. then ZCUT is for you! Your goal is to complete one workout per day for a total of 12 weeks.

Training program

ZCUT: Power Cardio Series - 12 workouts plus Zuzka Ab workout

These are short, intense body-weight workouts with a cardio and core focus. The workouts range from 10-15 minutes. If you keep Z's pace, these are all advanced workouts, but you can easily modify the pace. In my view, having done most of the workouts, they are all about the same level, but the longer workouts are more challenging due to endurance. Zuzana does distinguish #11 as "super intense," but it is also one of the longer ones. I really love these workouts, and they are useful as both add-ons or they can be combined to make a longer intense session.

Videos 1 - 7 WORKOUTS:

Workout times (includes Z's demo of each exercise):
Dynamic warmup 7:48
Dynamic cooldown 7:09
Abs approx. 10 mins (actual workout 8:32)

1--13:40 min (actual workout 9:52 min)
2--21:03 min (actual workout 15:24 min)
3--14:13 min (actual workout 10:00 min)
4--17:38 min (actual workout approx 13 min)

Warm-Up (no music and no clock)

10 Walkouts to Push-Ups
10 Air Squats
10 Reverse Lunges (alternating 5 each side)
10 Side Lunges (alternating 5 each side)
10 RDL Stretches
10 Side-Twists on Ground (5 each side)
Abs:
2 rounds
Ab splitters (touch toes, reach between legs, tuck to ankles in v-sit) 5 complete cycles
20 Elevated Plank with front and side knee tucks (on chair)
20 Competition Sit ups
20 Side Plank toe touch (lift top leg to arm)
Workout #1
10 Burpees
10 Jump Tucks
10 Burpees
20 Jump Lunges
10 Burpees
30 Kick Ups
10 Burpees
40 Jack Kicks
10 Burpees

Workout #2:
Time Challenge

10 Prisoners Get-Ups
20 Sumo Squat Jumps
30 Side Lunge Jumps
40 Skaters
50 Pendulums
60 High-Knee Jumps to Plank
70 Plyo Jumps
Workout #3:
10 Minutes (as many rounds as possible) A.M.R.A.P.
10 Lateral Jump Burpees
10 Mule Kicks
20 Crab Toe Touches
10 Ab Slitters
Workout #4
5 Round TABATA Training (20 seconds of work; 10 seconds rest)
180 degree Burpees
Jump Lunges
Push Ups
Sit Ups
Sumo Squat Jumps

Videos 08 - 11 will feature:
Warmup and cooldowns as in videos 01-07

Workout time (demos + workout):
5--14:14 min (actual workout 10:33 min)
6--13:56 min (actual workout 10:00 min)
7--15:02 min (actual workout 10:00 min)
8--19:10 min (actual workout 15:10 min)

Workout #5:
4 Rounds
10 Broad Jump Burpees
20 High Knee Chair Toe Touches
10 Tricep Chair Dips
Workout #6:
10 minute interval training?40 seconds no rest
Lows Jacks
Flying Jump Lunges
Side Burpees
Superheroes
Workout #7
10 minute interval training
Sumo Jump Squat to Normal Jump Squat
Side Hops
Burpee, Roll Over & Knee Hug
Mountain Climbers
Plank?down and up on elbows
Workout #8
3 Rounds
3 Point Burpee with High Raked Push Up
20 Jump Lunges
20 Jump Squats
20 Reptiles (aka spider planks)
20 Side Jump Lunges
20 Dragon Lunges

Videos 12 - 15 will feature:
Warmup and cooldowns
as in videos 01-07


Workout times:
9--17:04 min (actual workout 11:55 min)
10--16:54 min (actual workout 11:46 min)
11--18:21 min (actual workout 13:38 min)
12--17:25 min (actual workout 13:29 min)

Workout #9:
2 Rounds
20 Jump Squat & Leg Lifts
20 Knee Hugs
20 Jump Lunge Kick Ups
20 Diagonal Plank Jumps
20 Surfers

Workout #10:
2 Rounds
10 Competition 180 Burpees
20 Low Jacks
20 Bicycles
20 Forward-Backward Jump Lunges
20 Side to Side Plank Jumps
3 Jump Lunges & 1 Jump Squat

Workout #11 (super intense):
3 Rounds
10 High Knees & 2 Commando Push-ups (5 sets)
10 Half Burpees (2 sets)
10 Side Lunges Knee Ups
Side Lunge Jump
20 Pike Hops (side to side)

Workout #12:
2 Rounds
10 Side Hops & 1 Competition Burpee
20 Mountain Climbers & Kick Ups
10 Pike Jump, Jump Up, & Side Leg Lifts

Instructor Comments:
Zuzana is alone is a grey room, and she is both inspiring and encouraging. I really enjoy working out with her; she has a unique ability to kick your butt while remaining humble.
 
Tutorials Video sample Snapshot: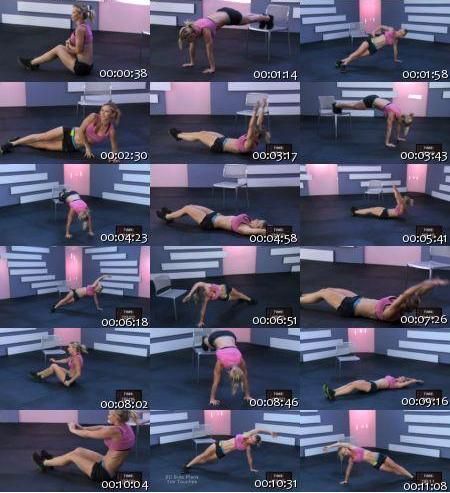 So, what are you waiting for? Join the extreme fitness revolution today!
The Complete System Includes a total of 15 Videos+ Printable Workout Guide pdf format:
please view demo video above (note:does not include original DVD covers and packaging)

 As with any workout, this

is an extreme and physically demanding workout. Consult your physician and follow all safety instructions before beginning. Results may vary. Exercise and proper diet are necessary to achieve and maintain weight loss and muscle definition.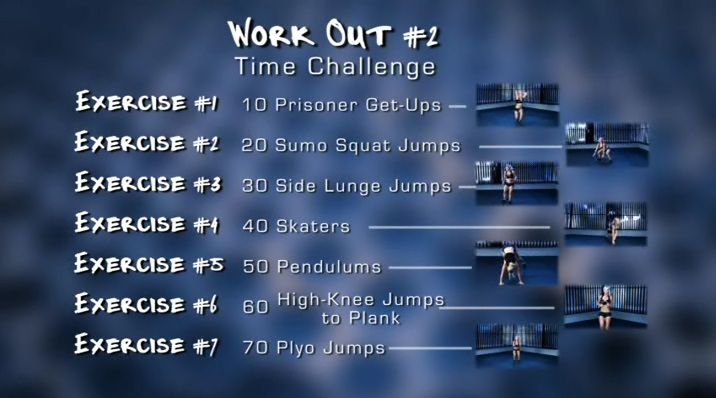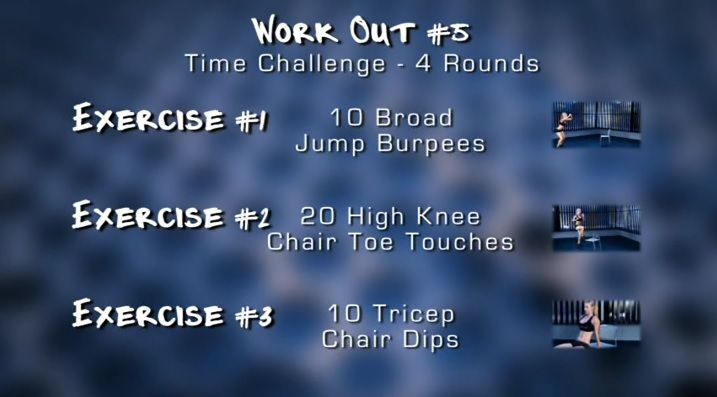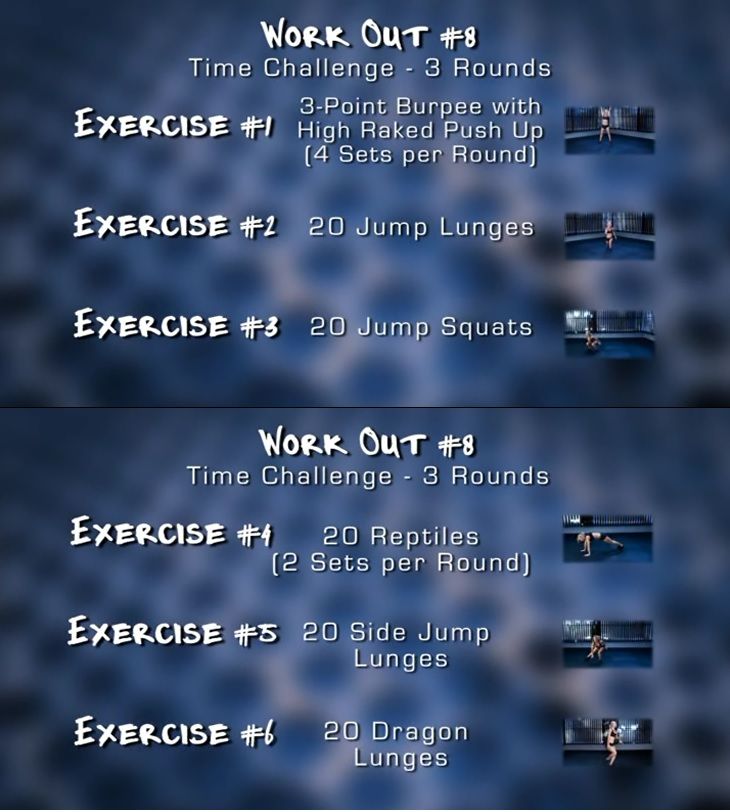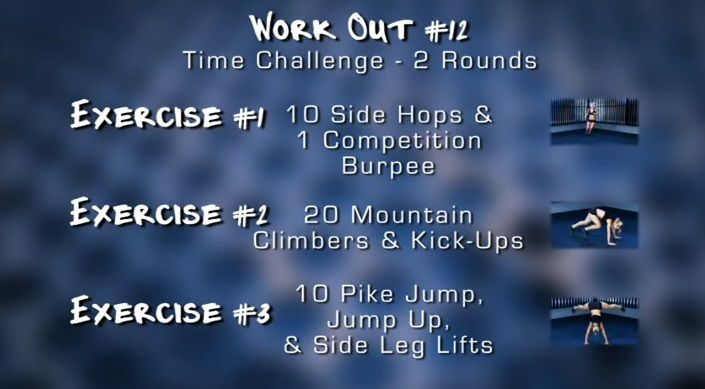 Lets Get Down to the Works:

Videos 1 to 7 in this DVD is from Disc One which
covers Workouts 1 - 4 and kicks your butt with exercises like Burpees, Jump Tucks, Kick Ups and even introduces you to Tabata Training. Tabata training falls under the category of high intensity interval training or (HIIT). These are short intense workouts are designed to stimulate fat loss. When you get into Zuzka's Time Challenges, trust me, you'll be breaking a sweat!



Videos 8 to 11 in this DVD is from Disc Two

:

Gives you workouts 5- 8 and takes you through a series of fat melting, heart pounding movements like High Knee Chair Toe Touches, Superheros, and Reptiles. Don't be scared by the names of the exercises! I want to reiterate, that these are all workouts you can do at home! No equipment is needed, and there are NO any complicated choreographed routines to memorize.



Videos 12 to 15 in this DVD is from Disc Three :

Guides you through workouts 9- 12, and once you hit disc this section, you've more than earned the title of one of Zuzka's WarriorZ! Congratulations! But there's no time to rest you're on your way to Mountain Climbers, Competition Burpees, and Pike Jumps not to mention a slimmer sexier you!

 
What will you receive ?
Contents of 1 DVD :
01. ZCUT_D1_00 Dynamic warm up
02.
ZCUT_D1_01
03.
ZCUT_D1_02
04.
ZCUT_D1_03
05.
ZCUT_D1_04
06.
ZCUT_D1_Bonus ABS workout
07.
ZCUT_D1_Dynamic cool down
08.
ZCUT_D2_05
09.
ZCUT_D2_06
10.
ZCUT_D2_07
11.
ZCUT_D2_08
12.
ZCUT_D3_09
13.
ZCUT_D3_10
14.
ZCUT_D3_11
15.
ZCUT_D3_12
This also includes:
ZCut Power Cardio Workout Schedule.pdf
printable ebook format
- Language : English
- File Format : Plays only on PC, Laptop . Player software included for PC viewing.
- Winner will receive all the 15 tutorial videos above in 1DVD of Zuzka's ZCUT Power Cardio Series
 Complete Course
( complete withworkout schedule printable ebook )

 
" A compact ,authoritative tutorial guide to Strength Training and Fitness Level Enhancement  "
Testimonials :